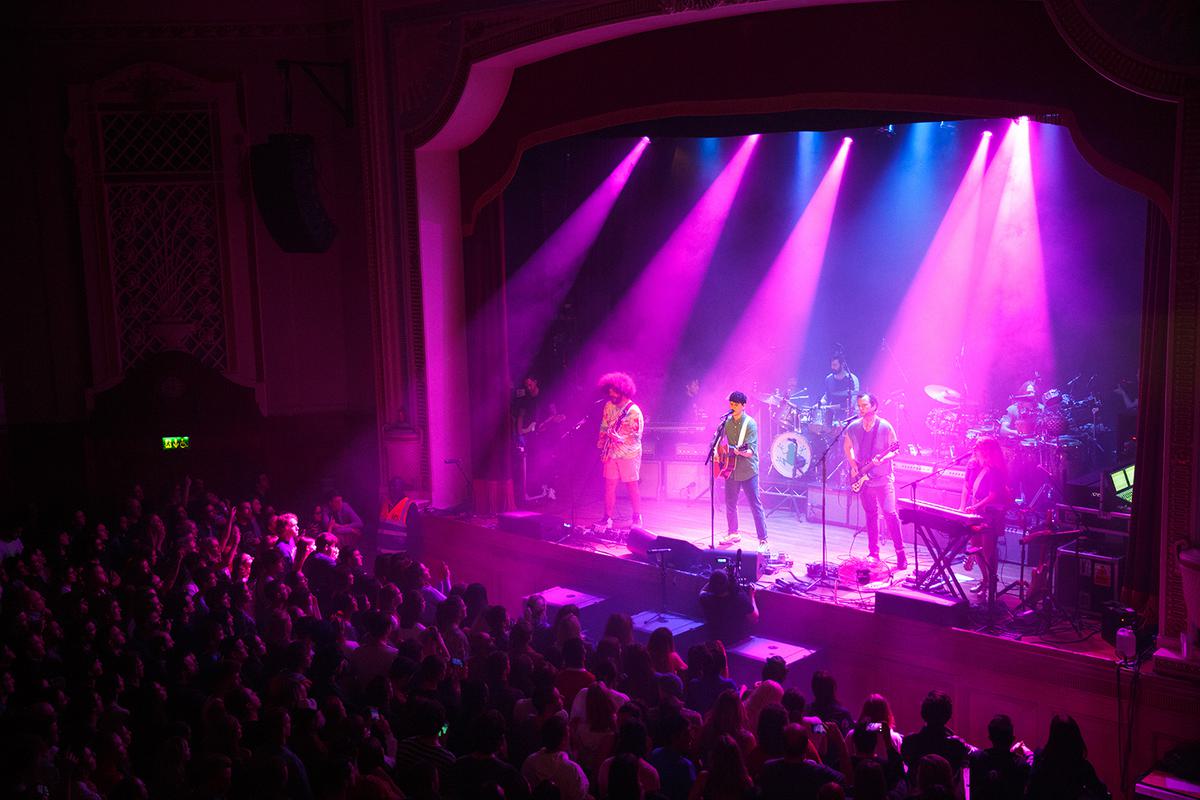 Vampire Weekend tease a huge new sound at three exclusive shows, Live in London
23 March 2019, 14:14
The New York indie pop heroes returned to the UK this week for their first headline show in 5 years to give us an intimate taster of their new vibe, and new album Father Of The Bride. Affectionately named the 'Three Little London Shows', they played EartH in Hackney on Thursday, before a Friday night and Saturday morning show at Islington Assembly Hall.
No longer a traditional indie four piece, Vampire Weekend stand as a seven piece band including two drummers and captivating guitarist Brian Robert Jones. Frontman Ezra Koenig is keen to tell us how they couldn't wait until festival season to return to the UK and that these shows are a chance for them to experiment within their new line up and how the songs – old and new – are sounding live.
With the new album announced at the beginning of the year, we've only had four tasters of the huge 18 tracks that are to come, and again these are all that are shared tonight. They're keeping their cards close to their chest on this one but, new gems "Sunflower" and "Harmony Hall" are a sight to behold, with Robert Jones's stunning guitar solos stealing the show. Plenty of time is given to the musicianship of each song now, and that's exciting.
What we did also receive gratefully was an immense celebration of Vampire Weekend's history, with a fresh sound and energy.
Much of 2013's Modern Vampires of the City appeared, pumped to the roof by the possibilities of their expanded line up. And many of the huge classics – "Holiday", "Cousins", "A-Punk" – were reeled off sounding better than ever. They even dropped a rock and roll version of Koenig's 2014 collab with SBTRKT, "NEW DORP. NEW YORK."
It's hard not to leave this show brimming with excitement. With the joy that their music brings already, Vampire Weekend have really stepped up their game to do massive things with their music, and that's before we've even heard the new album.
Vampire Weekend release Father Of The Bride on 3rd May with festival dates at Radio 1's Big Weekend and Glastonbury as well as an extended UK tour in November.
Setlist
Sunflower
Cape Cod Kwassa Kwassa
Diane Young
Unbelievers
Big Blue
M79
Harmony Hall
Cousins
Everlasting Arms
Ottoman
Step
NEW DORP. NEW YORK.
2021
White Sky
Ya Hey
Holiday
A-Punk
Oxford Comma
I Think Ur a Contra
Diplomat's Son (By request)
I'm Going Down (Bruce Springsteen coer)
Walcott