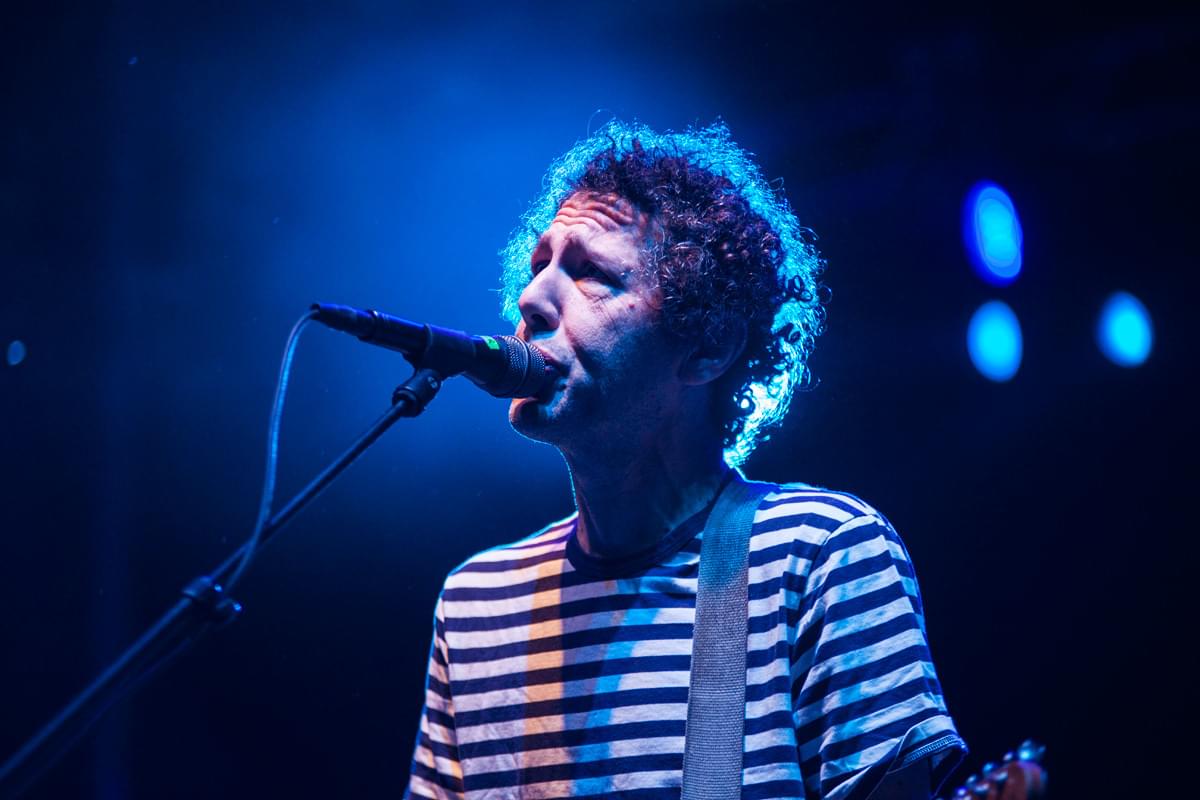 Under the covers: Yo La Tengo live in London
27 October 2015, 16:26
"See how many Bonzo Dog songs you get at the Johnny Marr show."
Ira Kaplan had done his homework. Humbled by the attendance for this decidedly different Yo La Tengo set, he'd looked up gigs going on in London on the same night (20th October) and was at pains to stress how much it meant to him to see a sold out room when we could have been watching the John Spencer Blues Explosion up in Camden, or the aforementioned Smiths guitarist across town in Brixton. But he was right – those who wanted Bonzo Dog covers had come to the right place. Or rather, the only place.
The whole "shucks, why are you here when you could'a been there?!" shtick is one I'd seen Kaplan pull before, but everything else about this Yo La Tengo set was decidedly different to anything I'd witnessed the band attempt in our five previous meetings. An entirely acoustic set half made up of cover versions (many taken from their cult classic Fakebook LP of 1990, and this year's excellent, sort-of follow up Stuff Like That There), and half of re-workings of their own material, it featured none of the squall or instrument swapping that usually are the hallmarks of a Yo La Tengo set, no matter what else they might be up to on the night (be that soundtracking nature documentaries, acting out episodes of Seinfeld, or whatever).
Shuffling on to a humbly lit stage decorated only with paintings of prior album covers, everything about the set up was as minimal as the songs could get away with; Kaplan on acoustic guitar, Georgia Hubley on a minuscule drum kit played mostly with brushes, and James McNew on upright double bass. Only returning guest guitarist Dave Schramm – who was with the band for two years from their formation, and only returned this year – played an electric instrument, which he did beautifully, be that standard electric guitar or pedal steel. Schramm also took every single solo in the night's set; quite the responsibility when sharing a stage with Kaplan, who – when he has an electric guitar in his hands – is one of the noisiest, most gifted soloists I've ever seen.
But noise was not the order of the day. If anyone in the crowd were to have whispered, it would have endangered the music. Everyone stayed as quiet as a mouse, with the band not much louder. I feel bad even typing my memories of it up so loudly.
The moral of the evening was that good songwriting speaks its own volumes. And not just Yo La Tengo's, or even necessarily the artists they were covering – they moved through so many different scenes and genres with their choices that one came away with a renewed respect for the art of song craft across the ages, an admiration that wasn't limited to the fine renditions we'd just been treated to. It was like a pat on the back to music.
Of course, their choices and masterful re-workings helped. My heart melted as they opened with a take on Sun Ra and The Cosmic Rays' "Somebody's In Love" (who knew Sun Ra had a doo wop period?! Not I, sir), managed to make "Friday I'm In Love" - arguably the most overplayed Cure song – sound fresh as a June morning, and even deliver a Bonzo Dog cover ("I Want to Be with You") with a straight face. Stylistically, the originals of these songs share next to nothing in common. When stripped to their bare bones by Yo La Tengo, they became the cosiest of bedfellows.
The band treated their own material with just as much love for the melody and disregard for their original incarnation as they did that of others. Songs such as the gorgeous "Today Is the Day" didn't sound drastically different to their recorded incarnation, but even attempting to provide an acoustic take on the nine minute noise jam "Pass the Hatchet I Think I'm Goodkind" would've be a feat beyond other bands. It highlights that even at their most cacophonous, there is a good song hidden amidst Yo La Tengo's squall. All these songs, covers or otherwise, sounded like they were in the hands of their masters, if not their makers.
By the time support act Gruff Rhys joined the band for an encore run through of Super Furry Animals' "Rings Around the World", the good feeling in the room had escalated to the point where nobody really minded that the crowd knew the words better than anyone in the forgetful, ramshackle supergroup who then occupied the stage (including Rhys – and he wrote the thing). If the night proved anything, it was that no matter where you are in time or space, charm and melody will make you friends.
Setlist:
Somebody's in Love (The Cosmic Rays cover)
Did I Tell You
Butchie's Tune (The Lovin' Spoonful cover)
Rickety
My Heart's Not in It (Darlene McCrea cover)
Double Dare
Automatic Doom (The Special Pillow cover)
Deeper Into Movies
Naples (Antietam cover)
Awhileaway
Feelin' Low (Ernie Chaffin cover)
Today Is the Day
Pass the Hatchet, I Think I'm Goodkind
I Want to Be With You (The Bonzo Dog Band cover)
Friday I'm in Love (The Cure cover)
Yellow Sarong (The Scene Is Now cover)
Ohm
Our Way to Fall
---Encore---
All Your Secrets
(Drawing) Rings Around The World (Super Furry Animals cover with Gruff Rhys)
Oklahoma U.S.A. (The Kinks cover)
Get the Best Fit take on the week in music direct to your inbox every Friday