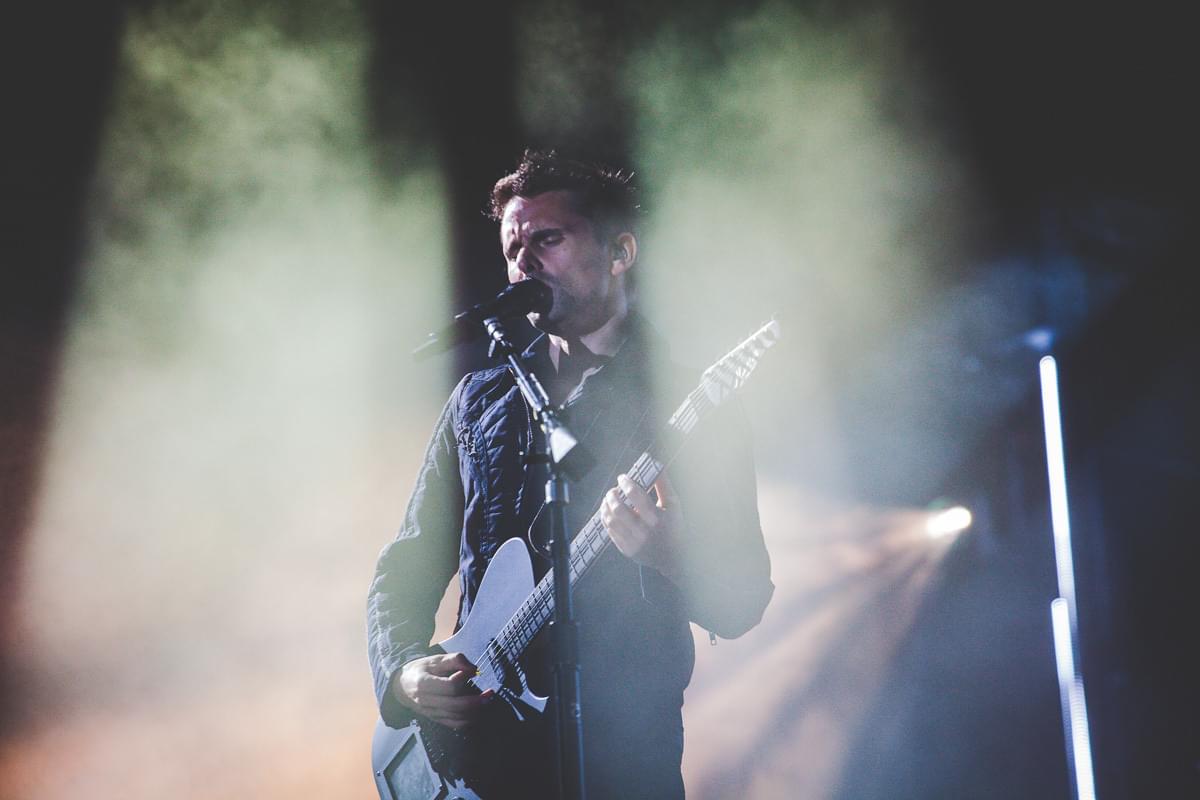 Talking to Colombians about resistance: Muse live in Bogota
30 October 2015, 14:30
Muse are a funny thing. In their quest to sound as much like the bastard-child of Queen and Skrillex that no-one wanted, they've made a steady slew of utterly bonkers albums without a jot of irony.
A commonly traded nugget of trivia among fans is that virtuoso frontman and possible nutjob Matt Bellamy owns a jet-pack. It therefore figures he'd write songs with names like "United States of Eurasia" and "Neutron Star Collision (Love Is Forever)".
I used to love Muse when I was a teenager, because I was a teenager and it was okay then. Now, I'm all-growed-up and tend to look at their brand of call-to-arms pomp as silly and a bit lazy. They hark on about resistance and revolution without ever engaging with the ideas. And Colombians do understand those ideas as they've been living with insurgent rebel groups for over fifty years.
But then, that's the point of Muse, isn't it? They go on about all this highfalutin stuff - about giving "the fat cats a heart attack" and "taking the power back' - but really it's just a bit of escapist pop, albeit dressed up in effects pedals and samplers pricey enough to make The Donald wince. There's no problem with that, but it does make them very hard to take seriously. That's why I struggle to listen to any record of theirs without thinking maybe I'm supposed to be stoned and then it would all make perfect non-sense.
Live however, they're a different beast entirely. Live, when confronted with the volume and showmanship and pageantry and pizzazz that Muse bring along, no-one gives two hoots about how they've long disappeared up their own supermassive black holes.
Instead, vacant calls to the barricades become excuses to pogo, mosh, or in the case of "Madness", throw your hips around a bit. (Remember, this is the country that gave us Shakira. They don't need telling twice. They will dance. Those sexy, snake-hipped motherfuckers.)
The hits are as rancorous as you'd expect. "Time Is Running Out" is a belter, so simple and so silly, that it can't be anything else. "Starlight" is a nice chirpy blast of platitudes, and it has that drum beat which serves as an acid test for the megafans: those who can clap along in time, and those who must try harder next time.
"Plug In Baby" gets the biggest cheer, Bellamy introducing it with impishly prolonged feedback. God knows what the song's about, but Muse know how to bring the fiesta. Someone says to me it's "the best riff ever". I smile and also pretend Jimi Hendrix never happened.
Speaking of sweet-ass riffs, "Supermassive Black Hole" gets an airing and by jove it makes me wish they would channel Prince more often.
"The Uprising" is a blinder of a two-stepped stompalong, even if its lyrics are beyond stupid. A chap stood next to me brought a lyrics sheet along with him; I have never had so much, and yet so little, respect for anyone in my life. I don't think he speaks much English, which for his sake is for the best.
"The 2nd Law: Unsustainable" is an abomination live, as it is on record. They should delete the masters and burn the profits made from it. It worked for Bill Drummond's street cred. Even the way they stylise "2nd" pisses me off. No style guide anywhere would allow that. Oh well, there Muse go, smashing the system. While sounding like Skrillex.
The songs from Drones - this year's concept album riffing on the dehumanising effect of militarised conflict and the revolt it just might spark - are a hoot. Given their reliance on the guitars/bass/drums combo that made their earlier work so cacophonously infectious, it's not much of a surprise. "Dead Inside" is a particular joy. "Psycho", the opener tonight, is so chuggishly heavy I can't help but bop around like a tit.
Fan favourites back home turn out not to be fan favourites in the Andes. "Stockholm Syndrome" and "Citizen Erased" are greeted mostly with indifference, even though a devout few - and I do, believe it or not, count myself among them - have a ball. The dude with the lyrics sheet gives a go at them but one problem with Muse gigs is that the vocal range of the males in attendance is seldom aligned with Bellamy's. That's one reason why everyone should go see Bill Callahan instead.
But hey, it really is impossible to be curmudgeonly with a Muse gig. They are shitloads of fun and make no mistake, no-one felt shortchanged tonight. The energy in the venue - which in case I didn't mention is Parque Deportivo 222, a big park in Colombia's capital, two and a half kilometres up a mountain - never really let up. And all this fun was had without beer. (I'm not teetotal, they just weren't selling beer.)
And closing with the one-two punch of their skuzzed-up cover of Once Upon A Time In The West ditty "Man With A Harmonica" - factually the best song from the best soundtrack from the best film of all time, no further discussion - and "Knights Of Cydonia" was always going to be a winner.
So, while my days of liking Muse on their terms are pretty long gone, the comforting Devonshire hotpot of nostalgia and in-yer-face bombast mean I will never leave a Muse gig without a massive grin on my face.
Get the Best Fit take on the week in music direct to your inbox every Friday