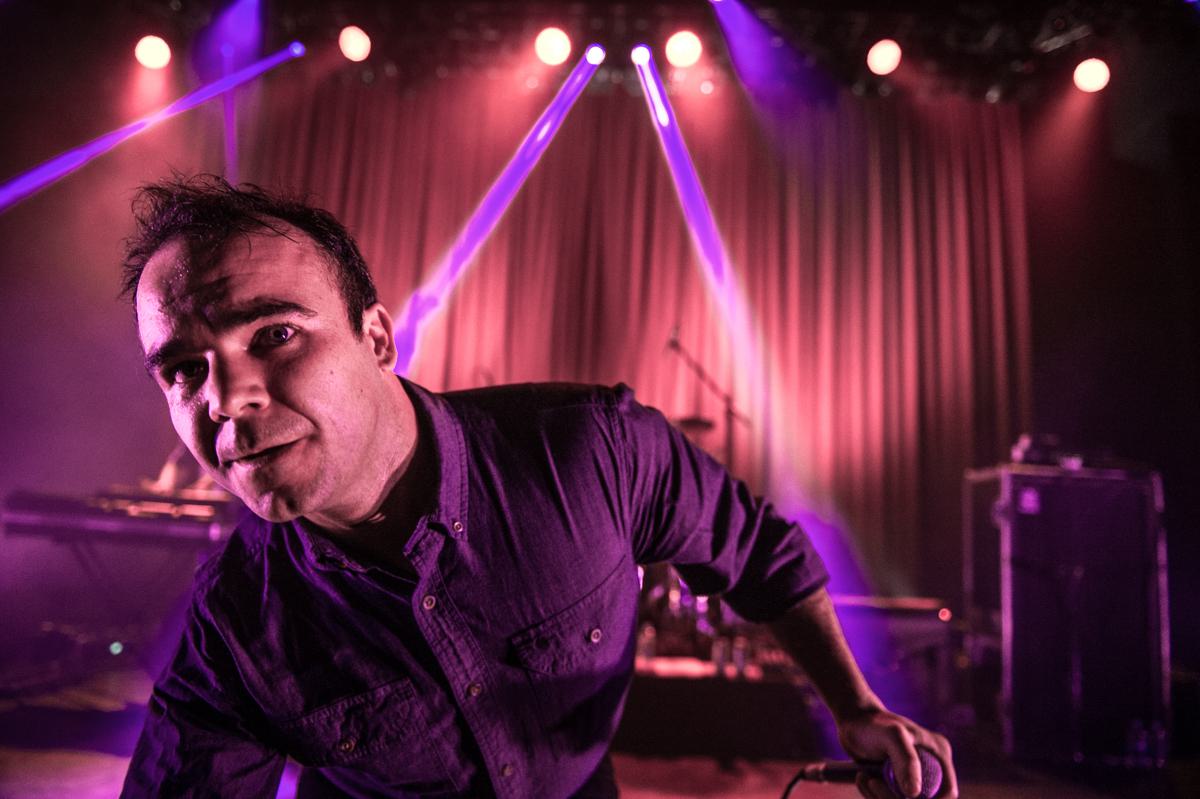 The Line of Best Fit Song of the Year 2014: Future Islands – "Seasons (Waiting On You)"
02 December 2014, 15:15
OK, hands up – which of you had heard of an indie synth pop band called Future Islands prior to Spring 2014? And keep your hands up if you're currently lying... there, that wasn't so hard. For while the Baltimore quartet had been going at this whole 'being a band' thing since 2006 (releasing a charming trio of records along the way), it wasn't until this year that – if we're being honest – much of the world had taken any notice. That all changed, thanks to "Seasons (Waiting On You)".
Or, more accurately, it all changed due to the good taste and foresight of whichever booking agent was responsible for inviting them to perform it on The Late Show with David Letterman in March of this year. Owing almost solely to the demonically possessed dancing and guttural, death metal growls of frontman Samuel T. Herring (which seem totally incongruous to the track on first listen, yet somehow become integral to its brilliance on your second) being given their biggest public platform yet, Future Islands leapt from being a cult concern to worldwide indie darlings in the space of a single night. I remember waking up to the sight of hundreds of friends extoling its brilliance across various forms of social media (for that's how we hear about bands these days – kinda nice, isn't it?), and deliberately not pressing play out of some misplaced belief that I'm above the flash in the pan nature of internet hype. Turns out I'm an idiot. Turns out, this song is brilliant, and given hindsight I would have liked it to have been in my life a few hours earlier.
It's difficult to think about "Seasons (Waiting On You)" without going back to that performance, but what makes it our Song of the Year is the fact that even when considered on its sonic merits alone, aside from any visual accompaniment, it's still magnificent. In removing the dancing, and the way Herring's vocals and entire physical demeanour seem so comically at odds with the stoic nature of the band he fronts, you do subtract a lot of the potential to have some fun with it. But it also distances the song from any of that troublesome 'internet hype', and the idea that it exists primarily on screens rather than in hearts. If you've only ever watched the song rather than listened to it, you're missing the point.
If you didn't get it from the performance, a glance at the lyrics reveals that this is a song from a band who want to speak to your soul, man. The words here are as cheesy as any love song you'd like to mention, but they're given formidable weight by the sincerity of their delivery. Frankly, it's difficult to think of many more living frontmen who currently inhabit a band's songs so convincingly as Herring. The only performers you're likely to name in comparison are each true greats – Nick Cave, Morrissey, even Prince. There's a Venn diagram of the three in which Herring exists comfortably in the middle, beating his chest, his eyes as wide as the sky. As Larry Day said of "Seasons" in his review of Singles, "The lyrics are clichéd, but therein lies the charm: it's such a gorgeously simple song, free of pretension and clutter. It's equal measures dreamy nocturne and new romantic subterfuge, Pied Piper-ly luring you into a state of bleary-eyed bliss."
Cliché, Herring told Best Fit in May, was a goal rather than something to be avoided. "Some criticism that bothers me that some of the lyrics are cliché, but the whole point is that they're supposed to be. I'm pushing cliché and making it my own. It's about trying to boil down pop to its essence by saying something simple in a simple way." He's heartbreakingly successful at it. A line like "When people change, they gain a piece but they lose one too" – when delivered with the candour with which Herring imbues it – is enough to make a fella want to call his mum for the first time in months, if just to be reminded that things will probably all be OK, one day.
The actual music of the thing is a delight all of its own, as staccato-heavy, Peter Hook-indebted bass lines combine with enormous washes of synths that may as well be an orchestra of heartstrings to lay a ground atop which a playful vocal melody expertly performs that oldest of pop tricks – use a jaunty melody to say something sad, and the dance floor will be putty in your hands. That's been true of massive festival audiences the world over throughout 2014.
Even though it's not one, the song's parent album Singles (their first for new label 4AD) is both titled like a compilation album, and plays like one. In fact, the same can be said for all of their records prior, each of which is highly worthy of investigation. My research has revealed that there really aren't any 'bad' Future Islands songs. All their songs, in honesty, sound a bit like this one. But "Seasons" is the most remarkable one of all - both the sound of everything coming together for Future Islands after eight years of knocking on the door, and a world of possibility opening up in front of them.
Want more? Find out what our Fifty Essential Tracks of 2014 were.