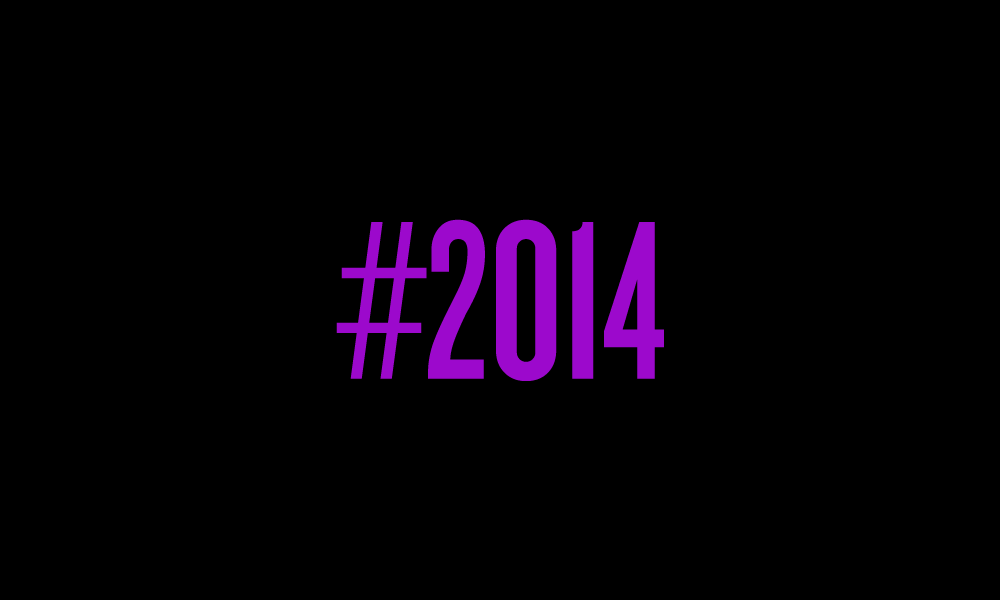 The Best Fit Fifty Essential Tracks of 2014
01 December 2014, 17:59
A year in songs: check out our fifty favourite tracks of the year.
"The song's the thing," as someone once wrote and and a gush of self-confession and hastag-irony this year saw the world come out of the closet en masse and embrace pefect three minute melodic slabs in all their naked, bubblegum-skinned glory.
Yes, in 2014, your doubting, Swans-vinyl hoarding, Linn turntable owning older brother finally gave in and admitted that "Shake It Off" was the song he found solace in when life got just a little too stressed. The smug and the converted were united as one and everyone agreed that Charli XCX could be as revolutionary as, erm, Shellac.
This was a year of some fantastic diversions into genre noise: Deers found a glorious lo-fi between C86 jangle and reverb-soaked garage. Kwabs took a core gospel vocal and Sohn made something special out of it. The eighties continued to be an inspiration for many new artists like the frighteningly talented Shura while guitar music found new life through the likes of Girl Band, Alvvays and Wolf Alice. What a time to be alive!
As with our selection of the albums we felt a real connection to this year, there is a an emotive sway at work when it comes to a similar ringfencing of tracks. Perhaps moreso: the sensory and immediate reigns neck and neck with longevity, depth and rationality when it comes to songs as entities in their own right. We retain one core enciple, as always: everything on this list move us, not least the one track in particular. "Seasons (Waiting On You)" was this year's curveball success - read why we think the Future Islands track deserves a more wordy appraisal or stick with us for a fifty-strong hit of pure bliss.
If you're of the TL:DR school, there's also a Spotify playlist containing most of the tracks, barring those absent following a Swiftian exodus.
1987 - "Michelle"
​After penning songs for the likes Sportsman and Faye, London-via-Stockholm producer Victor Holmberg's second track under his 1987 guise was a real tug at the heartstrings. Again, sung entirely in Swedish, the track is all slow burning melancholy that builds to a wonderfully emotive conclusion.
Alex G - "After Ur Gone"
It's an eerie, strange finality when someone you know, someone you've seen, isn't there anymore. It could be death, it could be relocation of a friend, it could be newly divorced ex-spouses. It could be someone famous that we may not know personally but are familiar with. The cliché is overwhelming true that "there are no words" for these circumstances. Accordingly, lo-fi Philadelphia indie rocker Alex G hits the nail on the head with "After Ur Gone", from his amazing DSU album. G breathes the simple, desperate question everyone has in this situation – what do we do, how do we tell others?
You can barely hear him beneath his brassy strums and between his glaring, fuzzed interludes; it's an echo of the meekness that one's soul inherits in this experience, struggling, though sometimes not even trying, to break through the din. Rarely does two and half minutes both justify its brevity and leave you wholly satisfied as here.
Alice Boman - "Over"
The burgeoning darkness can be so dense it seems alive – it shifts, it wafts, it burbles – and even the tiniest, softest pinpoint of light appears white hot and intense. Swedish lo-fi angel Alice Boman's "Over" features her waifish voice piercing through succulently viscous layers of organ-like electronics. It's driven by pulsating, blood-filled synths, gently led by its deftly scratchy percussion. Just as minimal in construction as its predecessor, it teems with vitality in comparison. When Boman declares, "I need the darkness / just as much as I need the light", we ought to thank our lucky stars, lest her exquisitely haunting music never been born.
Alvvays - "Archie, Marry Me"
"We are all in our 20s and watch a lot of people 'grow up' and get mortgages and have big dumb weddings and this song takes the piss out of that. In society it's sort of looked at as 'The Next Level'. The song is talking about the 'in-the-cell-beside-you' Bonnie and Clyde type of love." - Alvvays
Arianne Grande ft The Weeknd - "Love Me Harder"
Grande's homage to classic RnB as it should be: hot, sticky and filled with verses that err just on the right side of overt. As one might expect from The Weeknd the track itself is deceptively simple and for all the gentle coos and runs there's no getting away from what's being said: "And if in the moment, you bite your lip / When I get you moaning you'll know it's real / Can you feel the pleasure between your hips / I'll make you feel like the first time." Sitting in that pleasantly uncomfortable space between blatant and merely suggestive, this is Grande at her best: sexy but not sexual, struggling with the maturity that comes from recognising the limits of naivety.
Asgeir - "Was There Nothing?"
Ásgeir clocked up the highest-selling debut album in his native Iceland's history with Dyrd í dauðathogn; a record thought to be owned by a staggering 1 in 10 of the population. The impressive second single from the English version, "Was There Nothing?" weaves despairing lines of misused power and the complexities of faith.
Ballet School - "Cherish"
Name-checking the likes of Cocteau Twins and early Madonna is one thing, delivering upon those exalted names is quite another but Ballet School perfected their retro, shimmering aesthetic on "Cherish". Filled with playful 80s pop-isms à la Mads with chiming synths and driving electronic drums, there's a certain smudging, ethereal quality about the song, frayed at the edges by cutting guitars. Vocally, Rosie Blair is more in the Liz Fraser camp; her voice dominating the track and delivering the melody, itself a thing of joy and beauty. It is, frankly, impossible not to love.
Bernard & Edith - "Spell On You"
Taken from their debut EP Poppy - released via SWAYS records in March - Bernard & Edith's "Spell On You" undoubtedly pays homage to the great Nina Simone and equally great Screamin Jay Hakwins but the Manchester duo (now with Bella Union) twist their love of soul and old school blues with a dark, creeping psych pop streak. It's a beautiful, swollen track brimming with a touch of mystique.
Beyonce feat. Nicki Minaj - "Flawless (Remix)"
As usual, Nicki Minaj excels within the confines of someone else's track. With Beyonce, it's a match made in heaven - slick, fun, pounding and, erm, flawless.
Caribou - "Can't Do Without You"
A warm palette of distorted synth, ratting percussion and motif lyrical swirls characterised the return of Caribou this year on "Can't Do Without You" - a sound that recalled the halcyon days of summer before they've even begun.
Dante - "Whitney"
Swedish singer-songwriter Dante returned this year with with his first solo material after a three year absence. With nods from Elton John (who called him "the future of music") and recording sessions with some of the world's most respected writers, Dante scrapped two years of work and recorded his overdue debut album in just a week at his Stockholm apartment. The first fruits of that record were a sweet tribute to the late Whitney Houston, maintaining Dante's previous flirtations with reggae and dancehall rhythms but with a level of restraint and lightness of touch not seen on previous offerings.
Deers - "Bamboo"
"Bamboo" is an underwater pop song, pumped full of squall, reverb, twanging guitars, and cantering beats. There's nothing not to love about it.
Douglas Dare - "Nile"
"'Nile' explores my fascination with the extreme lengths we'll go for someone - in this case, how that extreme love can sometimes lead to extreme pain." - Douglas Date
Emilie Nicolas - "Grown Up"
A sparse, warm synth line accompanies Nicolas' rich vocal and eerie background FX adds to a gentle melancholy on this standout track from the Norwegian singer/songwriter
Future Islands - "Seasons (Waiting On You)"
The song of the year? We think so.
Girl Band - "Lawman"
Dublin noise quartet Girl Band unleashed a sprawling, six-minute beast of a song in "Lawman". An "anti single" rife with with industrial stomp and dissonant guitars that meet in a dirty cacophony of sound, the channels energy into every available nook. Part of its charm is that is immediately splits opinion.
Grimes & Blood Diamonds - "Go"
Originally written for Rihanna, Clare Boucher's Blood Diamonds-collaboration was a surprise return from the talented Canadian ahead of 2015's inevitable follow up to Oblivion. More importantly it offered a tantalising repositioning for Grimes - pop's new saviour?
Hockeysmith - "But Blood"
With "But Blood", Hockeysmith took the dronetronica and hypnotic shoegaze of earlier work and fused it with a knowing (and incredibly fierce) pop sensibility. An urgent drum beat pins everything together and acts as the foundation of a series of layers, twists and turns that arrest the senses upon first listen. Melodically, it's a brooding beast – sexy and assured – however, it's the song's coda that really sets "But Blood" apart as something very special: a drawn out instrumental passage of inspired guitar feedback and electronic flourishes.
Jessie Ware - "Tough Love"
A nuanced teaser for her album of the same name, "Tough Love" re-announced Ware back into the fold after a seemingly endless touring schedule. Gentle, paced and finely tuned, the song is a defining piece of work for Ware.
Jhene Aiko - "The Pressure"
Neo soul star Aiko produced a track in "The Pressure" almost as impressive in its ability to conjure a mood as for the raw honesty of her lyrics. Her style is direct: that's been clear throughout the work she's thus far released - Aiko's made a name for herself adopting an explicit, direct, and at times almost confrontational approach. The nature of her writing (she freestyles most of her lyrics) has made her adept at depicting the emotional fallout of a failed relationship, and "Pressure" is no different. In a tone that alternates between melodic and conversational she calls out her faltering lover, her delivery reinforcing a facade of emotional austerity that serves to highlight a vulnerability present in the tired sighs of her vocal: "have you seen my fucks to give/I've got none I cannot live/with the pressure."​
Katy B - "Crying For No Reason"
The emotional centrepiece of her Little Read album, "Crying For No Reason" is Katy B's "I Will Survive" moment, cut with finer lyrical truisms. It's a song that could easily have found life as a toothless piano ballad in any other hands and puts her in the recognisable trajectory of a proper pop star. "Forgive me now cos I said that I'd be there for you/Take care of you," she recounts, invoking the inexplicable self-pity that comes from being the guilty party rather than the wronged. She's come a long way from being "the Hermione Granger of UK funky", as The Guardian dubbed her back in early 2011.
Katy Perry - "Dark Horse"
The song on which Perry finally proved her edge, "Dark Horse" threw out the neon pop for a paced club banger of a track.
Kwabs - "Wrong or Right"
Every so often, a producer and a singer team up that are so perfect for each other that it seems like fate. Kwabs' deliciously earthy, soulful voice works so perfectly with SOHN's digitally rich soundscapes. It's like pairing the perfect bottle of wine with a meal, taking the whole thing to a whole other level. Kwabs' worn croon soars above SOHN's lush production on "Wrong or Right" and you just don't want it to stop.
Mausi - "My Friend Has A Swiming Pool"
One of the staples of the Mausi live set for quite some time before getting a release, "My Friend Has A Swimming Pool" is easily one of the most infectious tunes in the band's repertoire. Another sun-soaked song about all about good times and probably lots of drinking, the shimmery synths and infectious beat are drenched in euphoria and the good vibes that Mausi are all about. It bubbles, bounces and implores you to get on your feet and dance until your legs feel like jelly.
Naomi Pilgrim - "House of Dreams"
A co-write by Naomi Pilgrim with Fredrik Okazaki and fellow Swede Dante, "House of Dreams" manages to encompass the jarring influences of her dual Bajan and Swedish heritage, stuck somewhere between electro-pop and an RnB slow jam. Over crisp beats her moans are sawn into melodic samples, bouncing off piano chords that lap tentatively on the edge of menace. Marrying electronically methodical harmonies with skipping, syncopated rhythms, it catches you off guard, leaving you swaying in the dancehall-worthy warmth of her delivery. The whole thing is sweet enough to persuade you of its simplicity, but sufficiently intricate to reward hitting the repeat button, drawn in by the repetition of the lyrics: "This is my palace, this is where I live, so take your shoes off and stay…." If there's a smile of assurance in Pilgrim's voice it seems deserved. Such a tantalising invitation is not to be declined.
Ought - "New Calm Pt 2"
Taken from the Montreal band's Once More With Feeling EP comes an amazing rework of the 2012.
Perfume Genius - "Queen"
The seachange in the Perfume Genius of 2014 truly began to occur on "Queen". An immediate departure from anything he's previously laid to tape - marked by a full drum kit, blasts of ear-rattling synth and tribal oofs - Mike Hadreas offers a searing indictment against those who've caused the New York transplant what he describes as "gay panic". It's a measure of his newfound confidence and comfort bracing these issues that he's able to cap it with one of the most touching and hilarious sentiments ever expressed in a Perfume Genius song: "No family is safe when I sashay."
Prince - "Clouds"
Released amidst a serious of shows in the London capital, Prince's Lianne LaHavas-featuring track "Clouds" was more than a return to form. As with all of his work, it moved things forward for the Minneapolis-born legend on his own terms while always retaining the qualities and eccentricity we've come to know him for.
Royksopp & Robyn - "Monument"
Monument" skulks and murmurs, deep throbs penetrating glasslike synths and a gradual, climactic volley of synths. Robyn's idiosyncratic croon pierces through, more fragile and solemn than perhaps she's demonstrated in recent years – it's not a ballad, and though she's revealed emotion and a delicate side in tracks like "With Every Heartbeat" or "Indestructible", there's never been the innate fear that grips "Monument". It's refreshing, and with Röyksopp's sonic menace expanding like a charcoal-black mist, it excels at putting a new side to each artist under the spotlight.
Seinabo Sey - "Hard Times"
Teaming up again with uber-producer Magnus Lidehäll (Katy Perry, Kylie Minogue, Sky Ferreira), the young Stockholm-native Sey to set herself apart from her peers. Her powerfully characteristic voice chants away above military percussion and dark, brooding chord progressions, while eerie backing vocals and a hugely motivational break-down provide the final kick in the stomach.
She Keeps Bees - "Owl feat Sharon Van Etten"
"'Owl' is about desire in the sense of what your truest self desires. It creates an arch which gives and receives energy. The life you breathe into being - does it match the person on the inside? Once you get all you desire - is it self sustaining? Is it held together with flimsy materials? This song wants to explore the depth of that journey." - Jessica Larrabee.
Shellac - "Riding Bikes"
The portentous "Riding Bikes" (the title is literal) shows off how wonderful Trainer and Weston are as a rhythm section; Trainer remains to this day one of the most gloriously unpredictable time keepers in rock. His assaults on the drums are stunning – here he rules the pace of the song, keeping it funereal and just out of step in 3/4 time before the, um, chorus lets him off the leash, pounding away as Albini roars "aaaand I'm RIDING BIIIKES!", that brutal kick drum threatening to send the speakers crashing.
Shura - "Touch"
The mature, sultry sound of Shura's vocal belies the lack of pop cliché in "Touch". It was the most confident and underplayed debut of the year, hands down. And what cutting lyricism to boot: "I can't believe that it's been three years/Now when I see you it's so bittersweet".
Sia - "Chandelier"
"Chandelier" bursts with honesty and emotion, portraying the party lifestyle as a way to escape any existential crisis; getting smashed for a reason other than getting smashed. Its heart-bursting chorus of swinging from chandeliers but "holding on for dear life" is classic Sia that really does bring to mind that fear of emotions present in "Titanium" but all wrapped up in some proper tasty Top 40 production; less "throw your hands in the air" and more "clutch your heart and grab the people you love".
Swans - "A Little God In My Hands"
Frontman Michael Gira drawls like Lou Reed, yelps like Damo Suzuki, barks like Iggy Pop, roars like Nick Cave, and leers with Howard Devoto's sadistic lubriciousness; he's like a one-man archive of the punk periphery. Between the vast oceans of soaring noise there are more uptempo beats, more rollicking bluesy hooks, more riotous viscerality, all bursting out through the atonal surfaces like the eruptions of submerged volcanoes. "A Little God In My Hands" is inflected with jazzy funk and is a great deal of fun.
TĀLĀ - "On My Own In Hua Hin"
London born - and of Iranian descent - the enigmatic TĀLĀ, churns out some seriously harrowing and gutsy music. "On My Own In Hua Hin" zips along with hammer-head beats, synths, Middle Eastern melodies and an aquatic gloop to rival Jai Paul's signature shroud.
Taylor Swift - "Style"
"Shake it Off" made a fair play for song of the year but Swift's notable curveball on 1989 was this slice of bubblegum Italian disco that really sounded nothing like anything she'd ever done. With a funk-infused melodic that wrapped around itself before breaking in a classic Swift chorus (lyrically and musically), it was evidence of the ubiquitous singer/songwriter taking risks when she really didn't need to. Oh and obviously, we can't give you a stream of it because she's pulled it from the internet.
Tinashe - "Bet" (feat Dev Hynes)
It wouldn't be unfair to begin worrying that the effusively productive Dev Hynes may soon run out of burgeoning talent to work with and his co-write with RnB chanteuse Tinashe, "Bet" was a more than adequate follow-up to the monster hit that broke her (both over here and in the US) "2 On". The cut sits somewhere in the Frank Ocean school of song writing – it may only be five minutes or so, but it's not far (stylistically) from his magnum opus of a track "Pyramids" – they share a husky vocal, counter-intuitively disturbed rhythms and a killer guitar solo. But where "Pyramids" favoured the kind of simplicity that Hynes does so well, albeit it in his own idiosyncratic way, "Bet" revels in uncharacteristically complex production: reverb-heavy vocal samples layer under Tinashe's yearning timbre, almost drowning the trap beat that claws at the underside, adding a frenetic, stuttering edge to the whole shebang.
It is Tinashe's fiercest and most intriguing piece of work thus far – she's previously remained in the shade of other, more experimental RnB singers: lacking the emotive prowess of Jhene Aiko, and the sultry, borderline lewd sexuality of Miguel or The Weeknd. "Bet" landed a striking blow to anyone who'd care to question her ability.
Tirzah - "No Romance"
Few indies can boast a better 2013 hit-rate than Joe Goddard's dance boutique, Greco-Roman; at the apex of the Hot Chip man's roster rests London soulstress Tirzah – aided very capably by childhood pal and producer extraordinaire, Micachu. The title track of their EP offered some trip-hop, RnB and pop thrills as it dissected romanticism - they dubbed it their "emo" record. This didn't dull their dancefloor appetite: performed live it was sensational.
Tove Lo - "Not on Drugs"
"I'm not on drugs I'm just in love", Tove Lo declares over one of the year's most earth-shattering choruses. Continuing her ascent as one of the new leading figures in Swedish pop music (or y'know, "pop"), the Stockholm based singer-songwriter is all out defiant. Over the course of 12 months, Lo has delivered a handful of songs that all focus on the same subject – each being a fragment of a time period that recounts a past relationship. From the carefree beginnings of a new romance ("Love Ballad"), the excessive self-loathing of a breakup ("Habits") right through to the hindsight that distance ultimately brings ("Out Of Mind"). "Not On Drugs" sees Tove in blissful mode – comparing her love to that of being under the influence of a bunch of Class A's.
Tove Styrke - "Even If I'm Loud It Doesn't Mean I'm Talking To You"
Sweden's Tove Styrke gave us the ballsiest pop song we've heard this year. Produced by Calle Ask and Johan T Karlsson (Familjen), the track marked the first new material in three years from the Stockholm resident and the beginning of a very fruitful comeback (and some amazing live shows!).
Viet Cong - "Continental Shelf"
The Calgary four-piece featuring two members of the much-loved Women signed to Jagjaguwar this year and delivered this impressive cut of spiky indie pop.
War on Drugs - "Under The Pressure"
Perhaps Adam Granduciel's most Springsteen moment to date, the near-nine minute epic "Under The Pressure" is a heartbreaking snapshot that tells of "when it all breaks down and we're runaways...". It's all set to pseudo-motorik beat and results in a modern-day classic perfect for any and every road trip.
Wild Beasts - "A Simple Beautiful Truth"
A centrepiece track on Wild Beasts amazing Present Tense record, the power in "A Simple Beautiful Truth" is hard to pin down. They sound more like Talk Talk than ever...until they sound nothing like Talk Talk at all. The song weaves around then fragments and breaks apart. It's weirdly compelling and brilliant.
Jungle - "Busy Earnin'"
A bombastic celebratory track with synths that sparkle, a funky bassline and an addictive soul flavour in the horns and the falsetto vocals, "Busy EEarnin" is a track that glides along with a real swagger in its step and despite numerous syncs - with many more yet to come - retains its original power to impress and, more importantly, entertain.
Lana Del Rey - "West Coast (Radio Mix)"
Apparently a 'cleaner' version of the single sent out to German radio stations, Dan Auerbach's alternative production of "West Coast" surpasses its official version and pretty much anything Del Rey has done so far with a pace and yearning that translates the fullness of LDR's breathy vocal.
Run The Jewels - "Close Your Eyes and Count To Fuck"
The Zack de la Rocha-featuring "Close Your Eyes..." is a visceral, frenetic fireball of a song that attacks the prison and court system with Killer Mike going in hard on how broken it is, calling on inmates to riot while Zack De La Rocha's brilliant verse makes the link between death, prison and unemployment as stark as it can possibly get.
Wolf Alice - "Storms"
Kim Deal-esque bass-lines and sheer grunge power combined in "Storms" - not so much as song as a mission statement for the BBC Sound Of 2015-nominated Wolf Alice.
Sharon Van Etten - "Your Love Is Killing Me"
The third track taken from her incredible Are We There album, "Your Love Is Killing Me" distills every strength of Etten as performer, lyricist and songwriter into one glorious, emotionally wrought track.
Ryn Weaver - "OctaHate"
Jessie Ware-approved newcomer Ryn Weaver made a striking impression with "OctaHate", the highly strung debut track LA/NYC-based Weaver. It packs a punch with its super emotional chorus and weighty production.