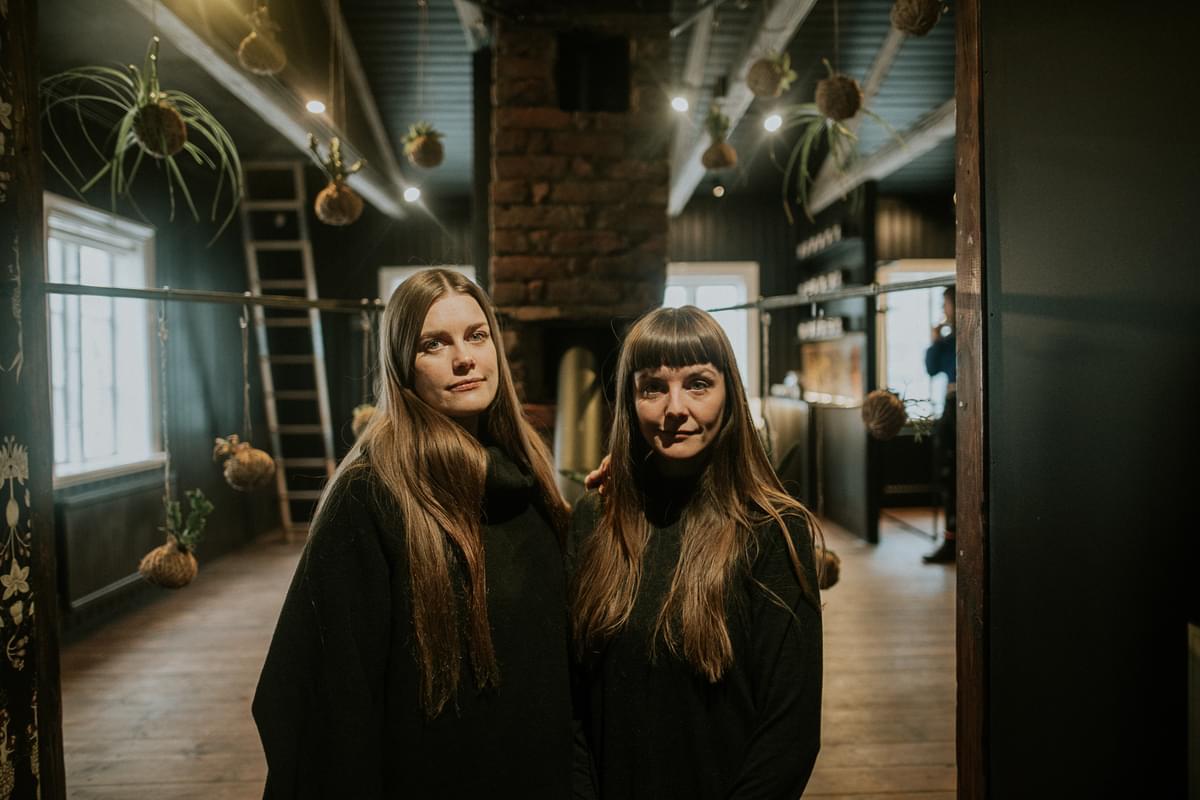 Sensory overload at the Reykjavík design space owned by Jónsi from Sigur Rós and his family
14 November 2018, 08:46
Tucked away in the heart of Reykjavík lies a cabinet of curiosities. To most, it looks like your standard shop but once inside, your senses are treated to scents, stunning visuals and shelves stacked with handmade treats.
Fischer is a store run by three sisters - Lilja, Inga (pictured above) and Sigurrós - with the whole family chipping in to make it what it is. Their father, a carpenter, crafted the beams and floors that provide the room's darkened interior. Their mother, a dab hand at sewing, helped to put some of the pieces together while their brother Jónsi not only helped to create the dripping and crackling soundscapes but finally found a place where he could officially release his own scents. Their boyfriends Sindri, Kjartan and Alex also helped to bring the whole thing together.
"Fischer is all about the senses. It's really important for us," Lilja explains. "So when you enter the store, you come in, what greets you is this smell of perfume and it is made with Icelandic medicine oils, so a lot of woody oils, Icelandic pine for example. The idea is that when you come in, the smell grounds you.
"And then when you go further, you hear the music and there's some weird sounds everywhere. The first photo series you see is all Icelandic plants and they're in the stage of decaying – we went to the countryside and built a small studio and we took portrait photos of these plants. The inspiration for the light is the renaissance, the old Dutch masters, this dramatic light coming from one side."
Icelandic medicinal herbs not only take over the store but these ancient plants also serve as the grounding for each product on sale. There's hard shampoos and conditioners that contain lavender and pine; scented candles carefully constructed into tin and ceramic holders; natural deodorants and charcoal toothpaste and containers boasting a tea blend of these special herbs, picked only by Icelandic women. "There's an old book called the Icelandic Way of Living and it was written in 1924 by this guy who wrote down stories of how people had it in the old days basically," Inga says, bringing out the tattered hardback book. "One chapter is Icelandic medicine which is basically like sorcery, they had all sorts of remedies."
She takes one of the blankets on display and spreads it out across the floor. Illustrations of herbs adorn the textile and Inga explains how each drawing represents the ingredients for these sorcerous remedies. "This blanket design is based on the herbs that help to cure a fever," she says. "The book itself is so amusing because he is so appalled by this medicine that Icelanders used to do. So yeah, you would use these herbs and then use a blanket so the patient would sweat out the fever."
"If you look at the jewellery for example, there's a chapter in the book called 'health and remedies' and there we have really interesting remedies for all sorts of illnesses," Lilja adds, gesturing towards a carefully constructed display. "This is a remedy for back pain: What is highly recommended is to make a rope from the hair of an unspoiled person and tie it around your back. Another advice, is the take a virgin and lay her or tie her to your back, that should improve your back immediately." Taking inspiration from that particular excerpt, the sisters designed jewellery, showing the rope of the hair of the "unspoiled person". Elsewhere, there's a design based on the remedy for a sore throat – here you should make an incision between the thumb and the forefinger and suck the blood and rub it onto your neck and the sore throat would be cured.
They never really intended for Fischer to be turned into a store. Lilja and Inga always knew they wanted to set up some sort of space for a big family project but they were convinced that would be a gallery. However, once they got their hands on the book of Icelandic medicinal herbs, they felt inspired to create some of their own products.
"We also decided early on to have Icelandic herbs because Jónsi uses that a lot in his perfumes. He's been making perfumes for years. He hasn't released anything before the store though. We had to twist his arm because he's always developing," Lilja explains, spraying 'Fischer no.23' onto my wrists. The scents are displayed in the basement of the store, next to a unit that shows off dozens of essential oils. "It's Jónsi's perfume organ. In the perfume world, it is actually called a perfume organ. The desk that they work from -- it's basically a desk with a lot of small shelves. Him being a musician, he had this old organ at home and my father helped him change it into a real perfume organ."
Lilja is keen to stress to connection between Jónsi's talent as a musician and his ability to craft otherworldly scents. "Both of these senses are really intangible and they both have a strong connection with memory. When you have real oils, every oil has its own note or character so that's why it has a nice connection with the musical note... the perfume note. You can almost imagine him playing the perfume organ."
Fischer no.23 contains 46 different oils in it. "So when you first spray it on you, that's when you talk about the high note of the perfume and that is usually pine, citrus and anis," Lilja adds. "And then 5-10 minutes later, these oils settle into your skin and that's when you talk about the middle tones of the perfume and then about an hour after that, the oils settle more and that's when we talk about the base of the perfume. So it is changing a little bit the longer it's on your skin."
Having only opened last December, the family are looking forward to their first birthday party. The sisters regularly host gatherings, having recently welcomed musicians into the store to create a live soundscape that was then pressed to 50 copies of limited edition vinyl. "It's total freedom, you can do whatever you want, there's no theme," Inga says of the event. "You can do whatever you feel like doing. For this one, the guys found a song that we had recorded when we were about 11 or 12 and then they reworked it using stems from the song. The song itself isn't there any more, the original version is hidden. This new thing sprouted from that." While nothing is set in stone for their birthday, the sisters say that Jónsi should be coming home to celebrate. "It'll be some sort of music and performance," Lilja says. "We always want an excuse to have parties."
Get the Best Fit take on the week in music direct to your inbox every Friday