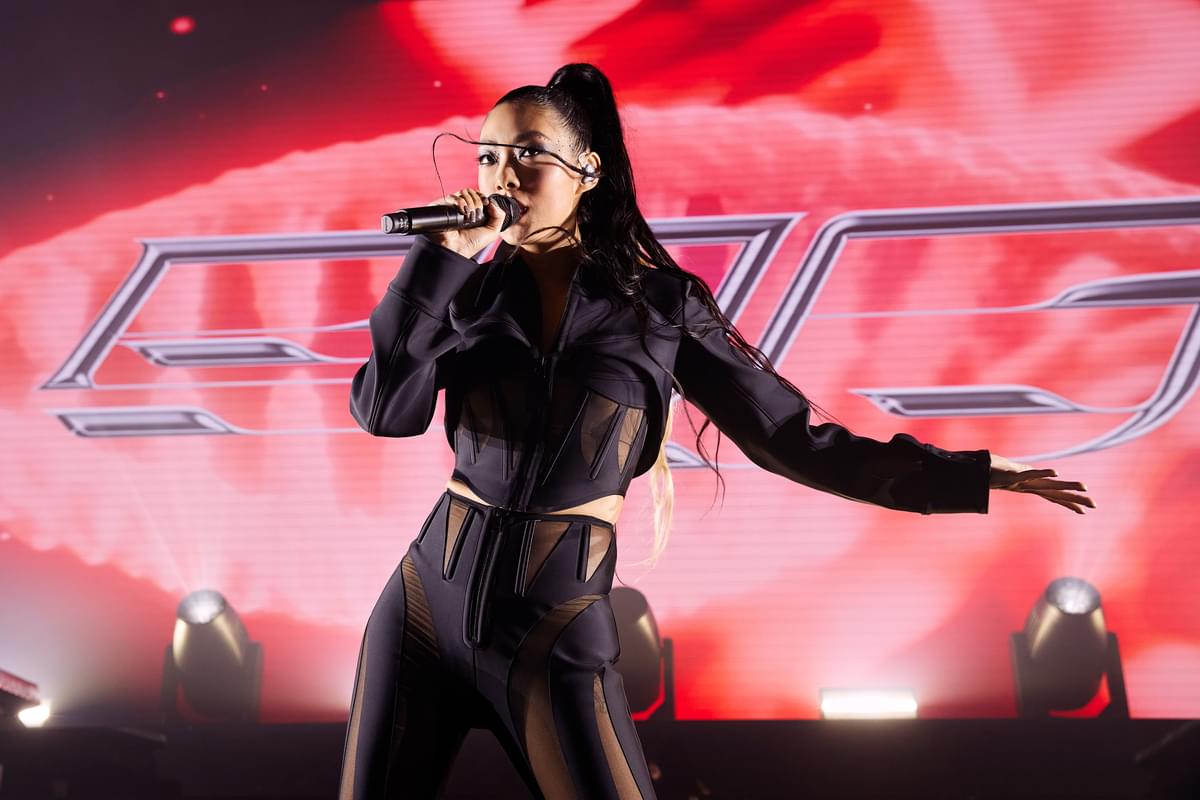 Rina Sawayama's Roundhouse headline show is a sanctuary of euphoria
18 November 2021, 09:30
Delivering the greatest pop show of 2021, Rina Sawayama has spent the last two years anticipating this moment and her biggest headline date ever is literally what dreams are made of.
In 2018, Rina Sawayama played her last UK headline show at Heaven, the iconic London club venue, and it was filled with her hardcore fans screaming along to every song. Fresh off the back of her first unapologetically queer anthem "Cherry," her much-lauded 2020 debut album SAWAYAMA was just demos on a hard drive. Complete with costume changes and backing dancers, even then Sawayama's staging and production were leaps and bounds ahead of her contemporaries.
Fast forward to 2021 and the final night of The Dynasty Tour – her first headline tour of the UK wrapped up with the second of two London headline dates. Proving that no matter what space you perform in it can feel like a stadium, as she brings her out of this world visuals and killer live band to Camden's Roundhouse for a truly special night charging through genre-mashing bangers and commanding singalongs of her relatable pop smashes which deal with everything from racial microaggressions to crippling depression, the climate emergency and being a bad friend.
As the first notes of "Dynasty" wail through the sold-out venue, the crowd erupts as they get their first glimpse of Sawayama. Giving it her all, it's never too early for genius adlibs or a singalong to the track's infectious guitar riffs. "Welcome to the LGBT community centre," Sawayama smiles, "are you ready to scream?" she asks as she ushers in a chant of "shut the fuck up" before dropping the hair-raising nu-metal "STFU!" which was the first single Sawayama shared from the record, almost two years to the day.
Hair flips and shout outs to her fans continue as she speeds through confidence-boosting banger "Comme Des Garçons", album highlight "Akasaka Sad" and the mesmerising "Snakeskin". Giving a nod to her beloved EP RINA, "Cyber Stockholm Syndrome" gets an outing with a Y2K-inspired visual as the show segues into its second act. Launching into "Paradisin'", as images of AIM and MSN conversations pop up alongside images of the Bratz dolls, Sawayama grabs a plastic saxophone and enthusiastically mimes along to the riff which propels the track to another level.
"You gotta look after yourself. You gotta look after others. You gotta look after the Earth," Sawayama declares as album interlude "Fuck This World" tells a story of environmental collapse, considers a move to Mars before looking closer to home for answers. The video interlude which follows points to the societal issues we face and includes an impassioned speech from Labour MP Zara Sultana discussing inequality, racism and anti-LGBT sentiment, calling for solidarity as we look towards the future and vow to end these deeply entrenched issues.
The show is an audio-visual delight, with friend and artist Chester Lockhart on board as Creative Director for the tour. Their vision is immaculate and feels arena-sized even in this smaller venue. Expanded to a larger stage Sawayama and crew could easily command tens of thousands of fans, especially when stadium-rock smash "Who's Gonna Save U Now?" exists. It really feels like Sawayama could be the one to save us all.
"Chosen Family" marks an emotional moment in the set as groups of friends embrace their own chosen family and sing along to the track which Sawayama penned about her own chosen family and the LGBTQ+ community who have rallied around her when times were tough. Holding back the tears, Sawayama is clearly choked up as she addresses the room; "I'm so proud of all of you, because of who you are, because I know it's so hard." Phone torches are lit up and tears stream.
New cut "Catch Me In The Air" – which is set to feature on Sawayama's forthcoming second album, slated for release in 2022 – is another sentimental one, written about the relationship between single parents and their children. Sawayama's mum is in the audience and she describes the titular lyric as something both parent and child do for each other, a safety net ready to help you avoid that lofty fall. Spotting a fan in distress towards the end of the song, Sawayama pauses the show in order for the security team to reach them. Fan favourite "Cherry" closes the show, pre-encore, as Sawayama and dancers perform against a swirling rainbow backdrop with cherry blossoms falling like snow.
For the encore Sawayama blasts through her ode to maximalism "XS", which is proof of concept for Sawayama as a singular and unique talent who is ready to take the reins atop the pyramid. Teasing that her album is quite an intense listen, she chuckles explaining "sometimes I just wanna write a cool east, breezy summer bop" before unleashing Bloodpop-produced monolith "LUCID" which makes way for her remix of "Free Woman" from the Dawn Of Chromatica remix compilation. Watching Sawayama close the show, at this moment, it feels like she is her future self, a chart-conquering pop icon up there with the likes of Lady Gaga, Beyoncé, Katy Perry and Rihanna.
Get the Best Fit take on the week in music direct to your inbox every Friday