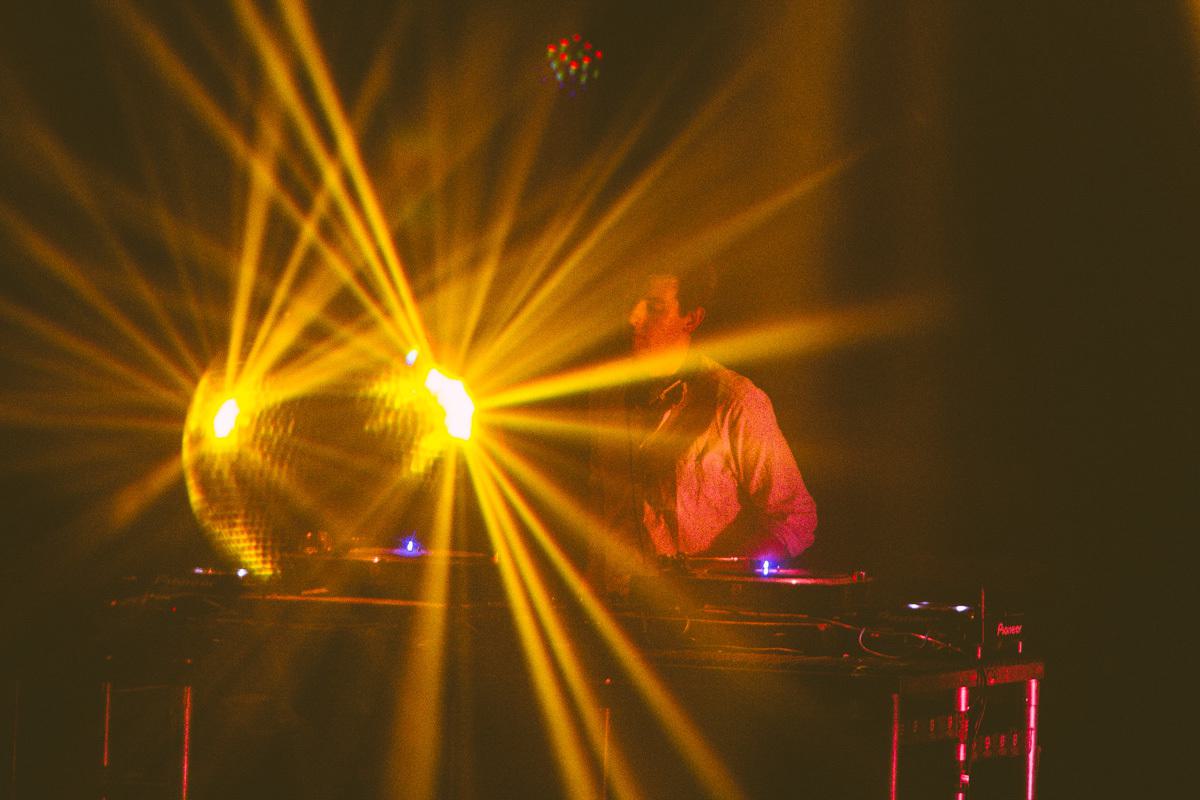 Nostalgia for the future: Jamie xx live in London
20 October 2015, 14:13
Everyone here knows there's gonna be good times (good times). They're here to make sure of it.
Even if Jamie xx was about to suck, which he resoundingly didn't, I don't think this crowd would have allowed him to. Long has it been since I've witnessed a room so crammed full of… well, let's just pause there. Brixton Academy might be dangerously full tonight (15th October). It's ridiculous. But to carry on, I struggle to remember the last time I've been in a room so packed with people intent on having an excellent time. The globetrotting Jamie xx, who only three days prior was playing at the Shrine Expo Hall in Los Angeles, could have been forgiven for feeling a little run down in the run up to his biggest London headline show to date. Somehow though, a beyond capacity crowd draw from him the set of his life.
I'm sure there must be an adrenaline rush that comes from playing such highly-lauded solo material to a sold out Brixton Academy which would lift any performer into a slightly more animated state, but this feels more communal than that, despite the gig taking place on a school night and not being the Friday-into-Saturday-and-perhaps-even-Sunday mega party it could so easily have turned in to. The feeling of willing on a prodigal local boy done good is palpable, a success that almost felt as much London's as it did his. In this town, headlining Brixton Academy is still the point where you've really made it, sunshine.
On stage, Jamie xx (aka Jamie Smith) carries himself in a manner that's humble, assured and playful in equal manner. The only moments of the set where the energy in the room dips – a small handful of trance-y soundscapes that go on a little too long each time – seem to be built in to allow Smith himself time to recover from his own exuberant dancing, which sees him make full use of being the only person in the venue not seated on somebody's shoulders who had any elbow room. The rest of it – from the simple but effective light show in place of any spinning album cover-oriented visuals I half feared, to the selection of early 00's garage classics and solo hits – is pretty difficult to fault.
Though there are many detours in to songs his audience either didn't know or had forgotten they knew (Smith regularly updates an excellent playlist of these on Spotify, if you're that way inclined), the set was anchored by those aforementioned solo hits – and, having seen the reaction they got here, I'm fully confident in assigning that term to them. They are more than 'bangers' - they are Proper Hits. Made up though they often are largely of a slew of samples that date back decades, the feeling here is not one of mere nostalgia for dancefloors past. Using soul, techno and UK garage from bygone eras as his palette, Jamie xx paints something that sounds both new and familiar – and, I'd wager, the kind of thing everyone here is going to feel nostalgic about themselves in the not too distant future.
Hoity-toity ex-clubbers who've swapped having cheeky dabs for being cheeky dads and now presumably get their only joy from slagging off 26-year-old producers like Smith on the internet have accused Mr xx of being some sort of chancer, a boy too young to know what he's doing, marking him out as some kind of opportunistic, stylistic vulture as opposed to the friendlier chameleon character I prefer to think of him as. Even though this room is full of people who won't stop spilling beer on me and elbowing me in the ribs, at least it contains none of those people. There isn't a killjoy among this friendly bunch of good-time wreckheads. Take the reaction to the appearance of the wistful guitar line in "I'll Take Care Of U" as an example – it's a roar which couldn't have been bigger had Drake and Rihanna appeared on stage for a run through of their own chart-slaying take on it.
Though his album In Colour makes great use of them, there are no guest appearances at all tonight; "Higher Places" certainly doesn't need one, with the crowd ably taking Romy xx's effortlessly sexy vocal part on for her, and even "I Know There's Gonna Be (Good Times)" soars without input from Popcaan and Young Thug, both rumoured to be in the building but, as it happened, were nowhere near it. No matter – "Good Times" was the song of every summer anyone in this room had just lived through, and when it finally arrived there was a feeling of trying to suck in any last remaining warmth from the outdoor autumn air, to carry it with us through a winter hibernation. He hadn't only soundtracked the summer, but tonight, Jamie xx shut it down with memorable grace.