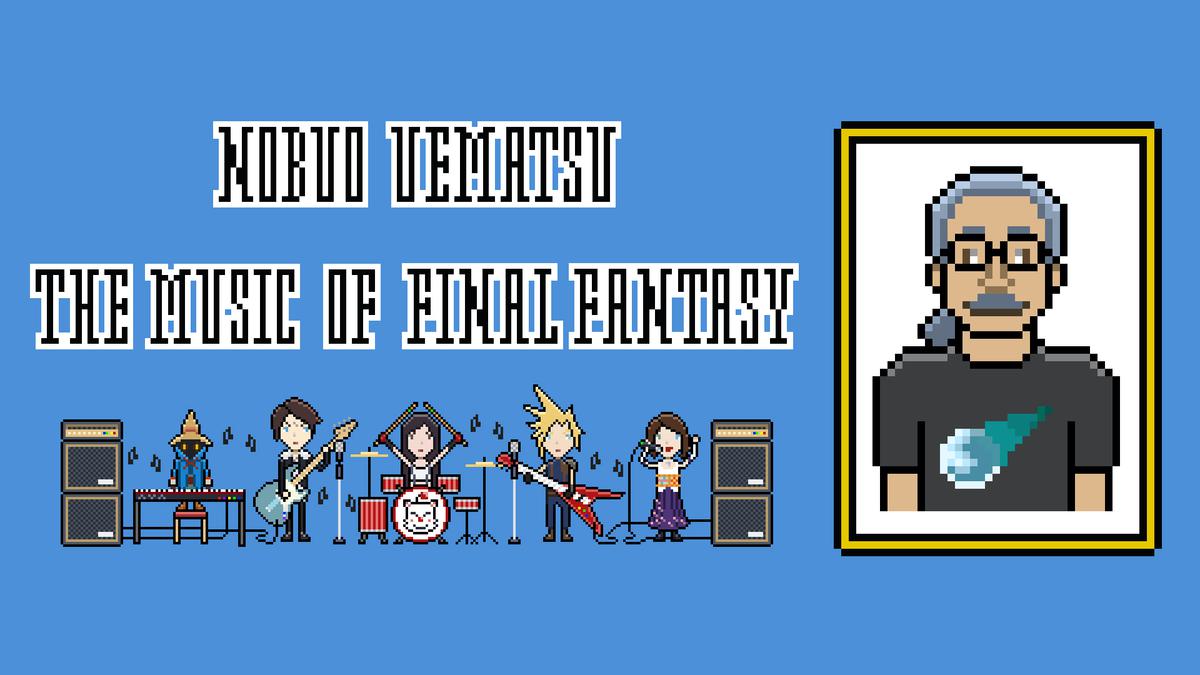 The lasting impact of Nobuo Uematsu and the music of Final Fantasy
06 July 2020, 07:00
Influenced by Western role-playing games like Ultima, along with the Dungeons & Dragons tabletop game, the Final Fantasy series has grown from its humble 8-bit beginnings in 1987 to become one of the most well-known gaming series on the planet, complete with books, Hollywood movies, TV show spin-offs and more.
You, the star of the show, journey through a fictional fantasy/sci-fi world, amassing allies to eventually save the world and beat the big bad, and there's often some crystals, chocobos (giant yellow chickens to you and me) and a guy called Cid along the way.
Aside from that, the mainline games aren't connected to each other, so you won't have missed anything from not playing the first 14 games if you decide to leap into the latest entry. The same can be said of the series' scores - they share a few common elements, such as the Prelude, Opening, Fanfare and Chocobo themes, but pretty much stand entirely on their own.
So what makes this game series' soundtracks so special? The lead composer for many of the Final Fantasy games, Nobuo Uematsu, is the best place to start.
Arguably one of the greatest videogame composers, the self-taught Uematsu (pictured above in a recent documentary by Square Enix) joined Square in 1985 in his mid 20s as a stop gap before intending to move on to film music production. However, after composing for games like Genesis, King's Night and Aliens, he was soon asked by director Hironobu Sakaguchi to write for Final Fantasy. The game, released on the Famicon/NES in December 1987, unexpectedly become a major commercial success and Uematsu went on to provide full scores for the next eight games; co-composing on the tenth (2001) and eleventh entries (2002).
After forming The Black Mages (2002-2010), a cover band specialising in Final Fantasy songs in hard rock-/prog-rock style, Uematsu departed from full-time work at Square Enix in 2004, forming his production company Smile Please, and then a record label, Dog Ear Records, in 2006. After The Black Mages disbanded in 2010, he established a successor band, the Earthbound Papas, which covers Final Fantasy and other game series tracks. He still contributes as a freelancer to several developers including Square Enix, most recently working on the main theme "Hollow" for the Final Fantasy VII Remake.
The long-awaited Final Fantasy VII Remake, released in April 2020, features adaptive music, taking Uematsu's original melodies and adding instruments and arrangements, as well as several new compositions. Most remarkable of all is that though the game only covers a quarter of the original story (more remake parts are planned), the developers included tracks from across the whole of the original FFVII as collectable items throughout.
One of the Final Fantasy soundtracks' lasting impacts have been the many video games concerts they've spawned. The success of the series' official concert series (including the Dear Friends, Distant Worlds, Final Symphony tours), which have featured guest appearances from Uematsu and toured worldwide, have had a major part in popularising video game concerts (pictured above: Distant Worlds Concert, London). Part of this mainstream acknowledgement arrived in 2012, when Uematsu's "Aerith's Theme" from Final Fantasy VII became the first of two videogame songs to be included in the Classic FM hall of fame.
Uematsu's influences are as wide-reaching as the games themselves. You have the use of cinematic leitmotifs in the vein of John Williams, James Horner and Hans Zimmer, but also input from classical composers like Bach, Chopin, Debussy, Tchaikovsky, Ravel and Stravinsky, all of which are topped off by a love of 70s prog rock, jazz, and Celtic music.
Yep, you heard that right - prog-rock. Uematsu lists Yes, Led Zeppelin, Pink Floyd, Emerson, Lake and Palmer and King Crimson as important influences for some of his themes, along with other 70s pop and rock artists like The Beatles, Elton John, Jimi Hendrix and Kraftwerk. And once you know that, you'll be hard pressed to not hear echoes of those powerhouses, whether it's the hypnotic riffs and synths, the folk-style, melancholic acoustic numbers, or the catchy, jazzy percussion.
Unlike many other fantasy games, which lean heavily on classical composers, such as the Dragon Quest series (Koichi Sugiyama), Uematsu's love for rock, pop and electronica definitely shines through and adds a more modern twist to the genre's musical conventions.
Aside from influences, one of his key strengths are his memorable character themes, not only channelling sentimentality and emotion to great effect, but re-used and remixed in the form of leitmotifs resurfacing during key narrative points. Finally, he has the uncanny ability to produce incredibly catchy melodies, perhaps owed to the hardware restrictions he faced when first composing.
An easy thing to forget today is the technical mastery required to produce engrossing songs on early consoles like the Famicon/NES (pictured above: the Famicon/NES 1.79 Mhz 8-bit microprocessor). The audio on the Nintendo Entertainment System was restricted to a mere five simple channels - two pulse waves (melodies), triangle wave (simple bass/percussion), white noise (metallic effects/percussion) and digital sample (audio/effects), plus memory limits. The restrictions meant many early tunes were heavily melodic, though sound programmers used a lot of audio tricks to get around the limitations, such as using arpeggios to simulate background chords.
There was a massive leap forward with the Super Famicon/SNES (1990), with channels increased from 5 to 8, larger memory allowing for longer, more varied tracks, and more control over channel volumes, allowing for a more natural fade out of notes. An even greater step came with the introduction of CDs on consoles like the PlayStation (1994) – 24 channel digital audio arrived, and the technological barriers between game composers and musicians were finally been torn down.
Despite all these the restrictions, Uematsu managed to produce stunning tracks with a lot of variety, and most impressively of all, many are still being used today, albeit it at a higher bit-rate!
So let's head back to where it all began...