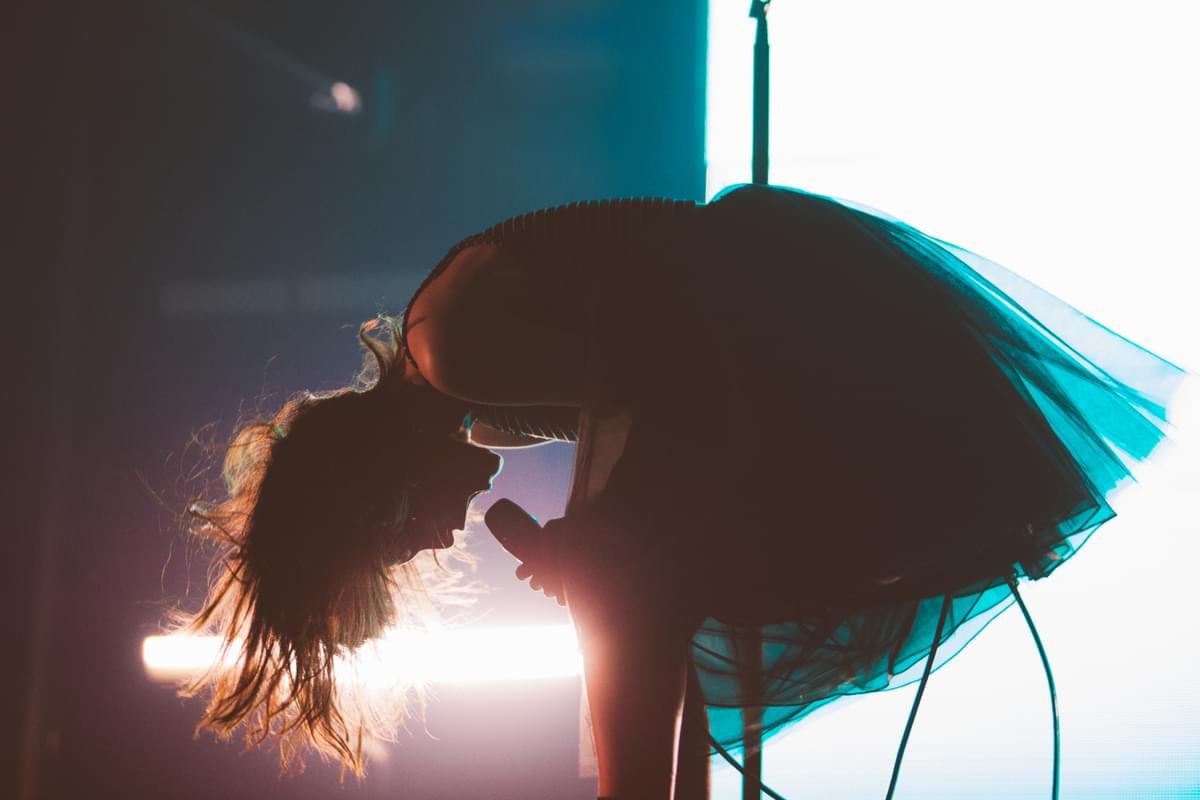 Love Is Dead: Chvrches, Live in Manchester
15 February 2019, 08:52
"I had a packet of spicy Nik Naks yesterday."
By their own admission, Chvrches are trying to suck up every drop of British familiarity they can; after all, they're seldom here these days, with their latest world tour in full swing. Their third record debuted at number seven last summer, and tonight's show at Salford's cavernous Victoria Warehouse is the first night of two that will see them shift 10,000 tickets here in Manchester, before moving onto a Saturday night, sold-out arena homecoming at Glasgow's Hydro.
For now, though, they've got bigger issues to attend to. "I'd love a packet of salt and vinegar Discos," drawls keyboardist and occasional singer Martin Doherty. Skips are mentioned, too; a brief onstage quarrel breaks out over the precise branding of the aforementioned Nik Naks. This is not standard fare for an outfit perched tantalisingly on the cusp of the arena circuit.
Banter notwithstanding, though, the rest of the show is. Of all the talk of musical progression over the course of their three albums to date - and most of it, on last year's Love Is Dead - the truly impressive transformation for Chvrches since 2015's Every Open Eye has been singer Lauren Mayberry's ascension from reluctant frontwoman to bona fide pop star.
She prowls the stage in fiercely energetic fashion throughout, bouncing her way through the out-and-out pop cuts ("Recover", "Graves", the Love Is Dead standout "Graffiti") and bringing measured nuance to a slew of tracks from The Bones of What You Believe, the Scots' critically-acclaimed debut - "Gun" rattles with nervous tension, whilst there's something quietly panoramic about the softly epic "Recover" later on.
This is not a show without flaws and after the thumping disappointment of Love Is Dead, which evidently sought more to enhance Chvrches' fists-in-the-air arena appeal at the cost of genuine creative expansion, that's to be expected. Still, though, in every other regard, they're looking like every inch the country's premier purveyors of epic pop; from the towering percussion that their live drummer lends to the retina-scorching live show, Chvrches have grown into their new roles gracefully.
Get the Best Fit take on the week in music direct to your inbox every Friday