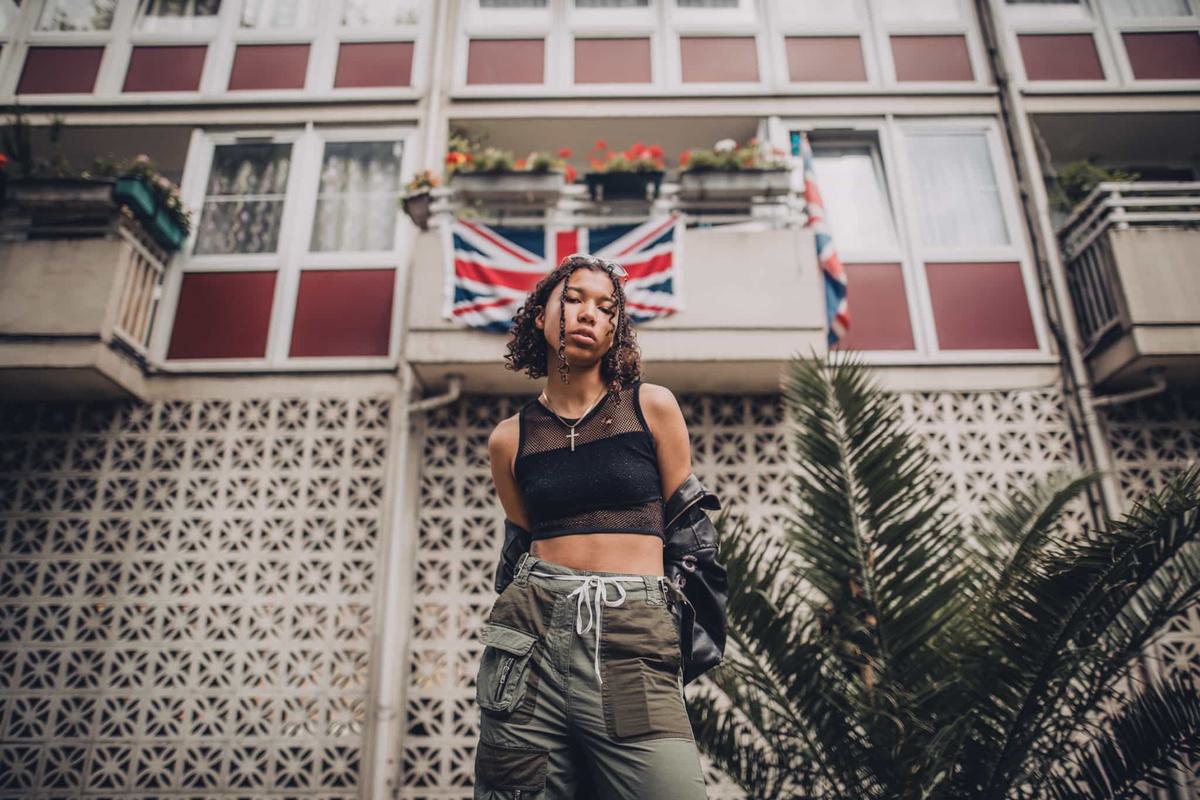 On the Rise

Lava La Rue
11 July 2018, 09:00
Defiantly West London and working class, Lava La Rue is the Renaissance woman we need right now. Emma Burfitt meets the intensely creative musician, designer and producer behind the NiNE8 Collective.
Lava La Rue has her feet in a dozen-and-two artistic shoes; MC, musician, rapper, clothing designer, producer, there isn't a lot she can't do. She's also the founder (and House Mother) of the NiNE8 collective.
The first thing you notice about Ava Laurel - of which Lava La Rue, her performance name, is an anagram - is that she's cool. Cool is one of those words so overused, it's difficult to do so without cringing. But she is, and on one of the hottest days of the year, that counts. Case in point, as we're crossing the road by Acklam Village Market, a gentleman asks if there's a war on. Turning in her step, boots to the road, she coolly responds, "Just against the system."
See? Cool.
Born and raised in West London, La Rue is proudly working class. Working class voices aren't rare in the area with one of the biggest class divides in London.
It's easy to hear Notting Hil and picture Julia Roberts and That Other Guy, to see a Portobello Road of tourists posing by multi-coloured housing, expensive cameras in hand for that one great blogging shot. Shamefully, even after the horror of last year's Grenfell tragedy, it's these pictures that still come to mind.
"It's crazy," she says, taking us to a rec area at the base of Trellick Tower, Golborne Road's iconic Brutalist landmark. "You have the most affluent people living right next door to the poorest of people."
This is where a lot of the Grenfell fundraising occurs, and La Rue goes on to tell me that it's also a spot where, if you have nowhere to go, you can be. Chairs and benches are scattered around the area; there are trees and barriers, a stool, and a large green heart feet away from a piece of street art listing the names of Grenfell's identified victims.
Around one corner, builders are taking their lunch break. Around another, a who-knows-how-much-it-cost Range Rover is parked before double lines. Lava fills us in on the bouji kids; the sons and the daughters of the whos and the whatnots; she tells us about the in memoriam tags to the three graffiti artists who were hit by a train in June.
Lava La Rue and her art, as well as the collective of talent that make up NiNE8 - a tribute to the year that many of the artists involved were born - are the heart of West London. Their voices are influenced by the parts of London that aren't always recognised or listened to, but ones that are a very real part of the city's DNA.
As we sit down to chat, I ask her how much a influence West London has been for her art. "Oh, massively," La Rue replies. It's the right political climate to confront the fact that creativity has never been exclusively a privileged person's step up, and the right political climate to speak out.
"We were just, like, creative kids with working class backgrounds, no funding, and zero connections"
"Notting Hill and Brixton were the areas where the Windrush generation came, where they were known to have Caribbean communities. They brought the big sound system culture over. They'd rent out, like, a community hall because they weren't allowed into pubs. There was literally a "No Black" policy in the clubs and on the dance floors, so they created their own fusion music."
This fusion music is, wholeheartedly, the origin of the West London Sound. "From that dance hall music, you get things like pirate radio where they're playing Reggae," she adds.
In the early 1980s, the antennae at the top of Trellick Tower was used to broadcast Rebel Radio, a pirate radio station, to the surrounding area that played rhythmic, West Indian beats, to nearly ten thousand people. These sounds can still be heard from Ladbroke Grove to Golborne, whether you know where to walk or not.
"After Reggae, you had dub," explains La Rue. "Then you had garage, drum and bass, and jungle. Then through that, you have stuff like grime and the hip hop we have today. It all makes up the timeline of the UK music we listen to now. That heritage comes from here.
"A lot of the young people, my age, that make music, look to America. Of course hip hop is born in the Bronx, but we also have our own sounds here. A lot of people totally forget how strong the heritage and roots are, but me growing up around that, I see it day-to-day. I can't forget."
NiNE8's inclusive roster differs from the usual. Listening to tracks from La Rue, Biig Piig, and producer and beat-maker Mac Wetha, there's no sense of the Bronx. The melodies and the beats coming out of the NiNE8 world- while influenced by the city around them - are wholly unique.
The collective came together by happenstance - they all went to the same school together and found themselves in the same class. Each of the founding members are, in Lava's own words, from different walks of life with incredibly similar upbringings. You could argue that NiNE8 was meant to be - kismet.
"We were in the same boat," La Rue tells me. "We were just, like, creative kids with working class backgrounds, no funding, and zero connections."
La Rue's rap is poetic, enlightened by the fact it started as spoken word and with NiNE8 she's been able to mix the two. For the videos released thus far, "Widdit" and "LETRA" she worked tirelessly to film, cast, and edit them.
"Doing hip hop from the aspect of a queer woman is creating a voice."
The second - and main video from the EP - involved friends and locations she frequents like the local skatepark she's gone to for years, as well as her home - a council flat near Ladbroke Grove. "Everybody there's my mates; we're doing what we normally do. We're just representing that on film. I didn't get any money from it because I was making sure that everybody could eat." She smiles, caringly. "And, like, so that everybody could have hand warmers because it was shot in January."
The concept of the films, she says, was an authentic introduction to who she is. Her flat acts as a place for friends to stay, so long as they produce the art they're there to make, like a modern day Chelsea Hotel on the other side of Hammersmith.
La Rue is the West London sound, West London look, and then some.
She's also refreshingly and openly queer; a voice we both agree is underrepresented in the world of hip hop, a world that, historically, she points out rightfully, has been anchored by heteronormativity and misogyny.
"Doing hip hop from the aspect of a queer woman is creating a voice. It hasn't not been done before, but it's never been platformed and widely recognised, and if it has, it hasn't been overt." She considers her words, empowered. "It's still kind of presented for the male gaze. It's still very much for the male point of view. I definitely think there needs to be just something representative of, 'Hey, I've made a hip hop song or it's an R&B song, and it's a love song. It just so happens to be about a girl.' But that that's also not the main point of it."
The NiNE8 name is attached to plenty of ongoing and upcoming projects. Regular events have led to a clothing line, merchandise, a mixtape. There's no slowing down for this inspired group, and to hear La Rue speak of her 'made family', each one with their own new vein of art: "I just started making clothes for everybody to wear on stage at our shows, then people were like, 'if you were to put that out as a line, we'd buy it.' So we started making more, and then we were like, 'Okay, let's have 50% of it a boutique label, just DIY garments, and then 50% of it actual merch that we can mass produce so people can get them at shows'."
After features in a couple of fashion blogs, the British Fashion Council reached out to the collective, approaching them to do a Menswear runway collection. La Rue put together the visual show, handmade half of the clothing line herself, and then modelled it. From there - and this is where the excitement in La Rue's face increases even further - one of London's most renowned establishments paid attention.
"We're doing a collaboration with the Tate. We're doing a Tate Late as well, so I'm looking forward to that. That's gonna take up a lot of my time," she tells me. I respond accordingly, with plenty of expletives, because that does sound like a hell of a lot of fun and we're both grinning.
Along with all of these opportunities tapping both herself and the collective on their backs, La Rue is gonna continue to work hard in doing what she loves. What else is there to be done? Plenty, she tells me. After her current EP LETRA there's another on the way as well as a mixtape with the other talent from NiNE8, and something exciting that will have her treading further onto brand new ground. She hasn't talked about it yet, because, she says, "I forget to mention it, even though I recognise it's really important." How important? Very.
"For the longest time I wanted to start my own little independent label where I just put out music on the platform. It's comprised of all female sound engineers, producers, and rappers and vocalists. It happened really organically." A group of talented women working together to make their voices heard in a male-dominant arena? I ask, tell me more. "I started these writing sessions, and then I met this amazing producer in a gay bar in Dalston. It was after a show I did and she'd come to my show. She was like, that was the first time I've went to a hip hop show where a female was headlining."
"I put it on so I could headline it. And she was like, oh by the way, I produce. She was living in France, sent me some beats and one track with her singing - it was incredible. And yeah, I realised I'd created this all-female UK music group and independent label. Like, an all-female queer hip hop group and label with female sound engineers and producers."
Its name? "Hydration Studios."
Her name? Lava La Rue. She's at the very beginning of her career, and she's already brought her past and present together for the first footsteps in her future.
Twenty years ago, boy bands were booming, Blondie made their return with "Maria", and the NiNE8 collective was born. Twenty years from now, I suspect we'll all know the name of Lava La Rue, and I know for a fact she'll still be as cool and as real as she was when she knelt beside some lavender and said how much she loved wild flowers.
Maybe because it's the wild ones that have the most vivid presence.