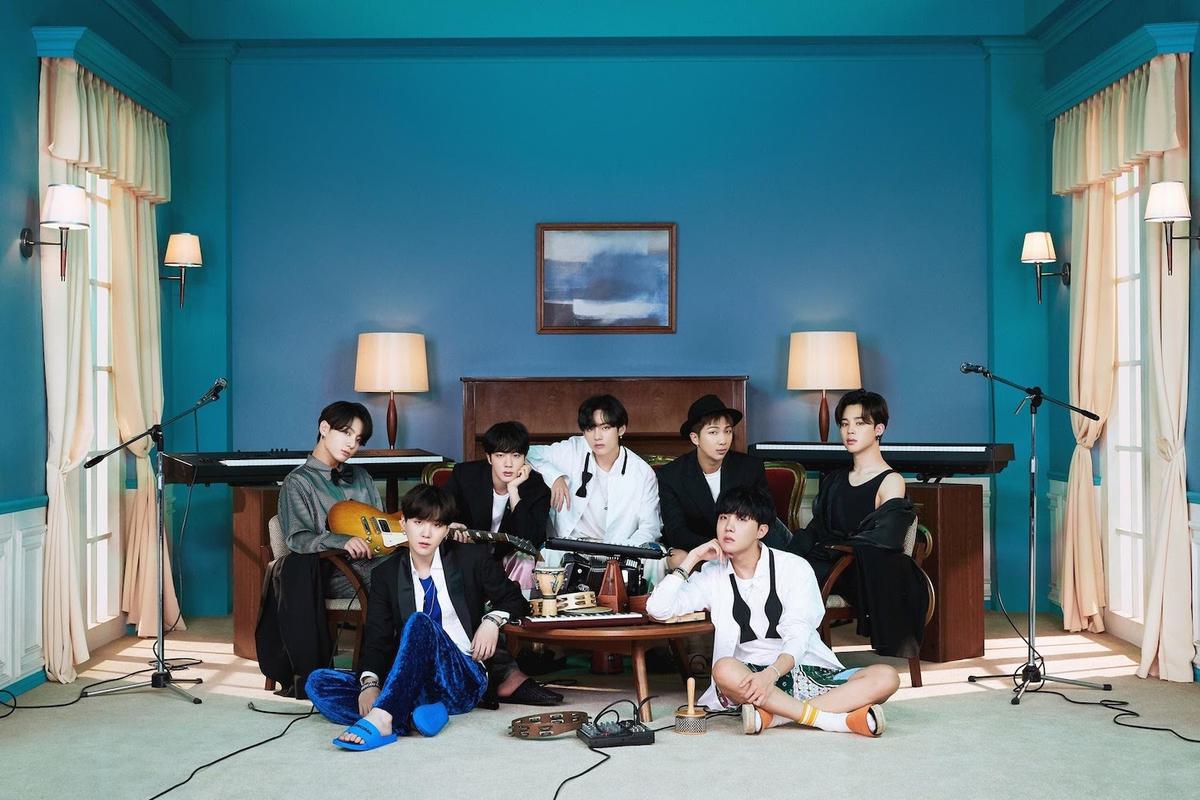 A beginner's guide to K-pop's best boy groups
29 January 2021, 18:00
I'm an eighties kid - K-pop couldn't by default have been introduced to me in my teens. My teens was Britpop, mostly. Although both can be said to materialise what we today call "soft power", the ability of a country to attract and co-opt itself (rather than force) by using pop culture, these two genres are more like inverted versions of each other.
The former sold itself on authenticity, even though its bands were dominating the charts as well as MTV. The latter introduced itself as the opposite; as fantasy and artificiality. And, of course, as machine, with thousands of young trainees working their asses off in hopes of making it big.
Because of this, K-Pop has been scrutinised for treating its idols as disposable dolls - in part rightly so. But let's remember that K-pop is based on a machinery already in place since, well, arguably most of the 1900s (especially if we count old Hollywood, of which much of the Korean wave, or Hallyu, was modelled).
Since the birth of K-pop in the late 1990s, much has happened, not just within the industry, but in South Korea as an international force. The Korean entertainment industry is still highly strict and cut throat, authoritative and based on deeply unrealistic ideals, but things are also changing. It is perhaps not surprising that some of Korea's biggest scandals, Burning Sun being the most covered, and which sparked a major #metoo movement in Korea, happened precisely in the entertainment industry, shining a light on much deeper issues within the country as a whole. K-pop isn't only a product of a fixed society, but the battle ground for its adjustment to globalism.
But K-pop has become so much more than anyone probably dreamed of 20 years ago. It is the genre of our times, the soundtrack of the internet, and of leading the way for how we might consume pop culture in the future. It is highly political, in everything from being banned in neighbouring countries (particularly China) to being used to tank Trump's rally and drowning out alt right-voices online.
And at the centre of all this is the emotional connection millions of fans has to something so seemingly cynical and commercialised. It is innovative, extraordinary, sparkly, joyful and otherworldly. Because in the midst of all this augmented escapism, people seem to find solace, comfort and togetherness. A strange beast, that also forces the West to look at ourselves.
So, without further ado, let's get into a humble little K-Pop primer. It'll be personal. Because K-pop is. I'm sure stans will miss all their own favourite tracks. That's just how it is. The first batch will be boy groups, and the second girl groups, mostly because I think ten songs for all of K-pop just isn't enough, and also because boy groups and girl groups in K-pop partly express different types of aesthetic and music styles that come into their own better in relation to each other.
BIGBANG are the only second generation K-pop group on this list. The second generation is where K-pop really took off and became truly international. Together with groups like Super Junior, SHINee and TVXQ, BIGBANG made a lot of K-pop firsts. Dubbed "The Kings of K-Pop" and with G Dragon as leader, songwriter and producer, they broke the machinery mould by making a lot of their music themselves, experimenting with genres, dark lyrical themes, focusing more on outlandish expression and less on dance and performance, and breaking a lot of records in the process. G Dragon is still often cited as a main influence for young trainees, and he also invented the K-Pop lightstick now a staple for every stan at concerts.
During four out the band's five members doing military service in 2019, the youngest of them - Seungri - managed to get caught up in the Burning Sun scandal and quit the group. It was a tragic end to one of the most transformative and innovative groups in pop music. I chose "Bad Boy" for this primer; it's not their most well-known song, but the very first K-Pop song I had ever heard in 2010, and subsequently my first BIGBANG music video.
EXO's "Monster" from 2016 is the gateway to their universe and wildly popular as a "first time reacting to EXO" music video on YouTube. It joined the 350 million views club in October last year, perhaps in part due to K-pop's ever increasing popularity amongst the reaction videos-community. No wonder - it's pretty great seeing the video gather a new stan the moment they watch (and hear) Baekhyun starting off the song with "She got me going crazy" wearing that insane lip ring.
The song is darker than you might expect from K-pop with lyrics about an obsessed lover, but it manages to balance western influences with the augmented elements of K-pop perfectly. It doesn't hurt that the video pushes this grittiness further and depicts the members as rebels. Which also makes the mv strangely timely. EXO probably has the best vocal line in all of kpop. And you'll hear it. "Monster" really couldn't sound more like an Exo song if it tried. And that leg choreography in the chorus. Oh it's just soo good.
3
"Don't Wanna Cry" by Seventeen
Seventeen is often labelled as self-made. Even though they formed and work under their label Pledis Entertainment until very recently, they do almost everything within their 13-member group. They compose and produce, they choreograph, they get involved in designing merch, and sometimes even stand behind the camera on their own videos. As the title suggests, "Don't Wanna Cry" is kind of a sad song but it's the choreography that really highlights this sadness, turning the video into quite the emotional journey. Not only is Seventeen in impeccable sync - which is also what they're famous for - but their movements communicate so many stories and have so much colour. It'll hit you right in the feels.
4
"You Calling My Name" by Got7
Got7 are one of my favourite groups. They are funny as hell and have a great dynamic and presence. Genre-wise they also seem to have carved out their own little corner within K-pop. Surprising, elegant and understated, last year's "You Calling My Name" is one of their best comebacks ever (instead of saying an artist is releasing a new album, K-pop fans say that they're having a "comeback").
Although the groove eventually sets in, the mood is mournful from the start with leader Jaebum's first line: "I hated myself". Aren't those bright and dark clashes usually the best anyways? The fact that the "You" being expressed is about AhGaSes - the name for Got7's fanbase - just adds to its charm and allure. Oh and that lil hip move in the choreography? Cheeky.
5
"Blood, Sweat and Tears" by BTS
Choosing a BTS music video isn't easy. I did opt for "Dope" at first, as I think BTS was at their very best when they were still reaching and forming their universe of support, hope and spirit. A lot of their spark came from struggle, and I believe this was the connection a lot of their fans picked up initially and perhaps why ARMY is such an intense fandom.
However, "Blood, Sweat and Tears" is the real pop cultural beast here - from the Nietzsche quote to the Brueghel painting "The Fall of the Rebel Angels", from Michelangelo's "Pieta" to "The Lament for Icarus" by Herbert James Draper, from the backstory of abuse and suicidal thoughts to giving in to evil, from the Greek mythology references to dealing with very dark themes of truth and death. Each image in this video means something, each scene part of a greater whole, each time you watch new details emerge. It cemented the idea that K-pop music videos are almost always multi-layered, dense with references and symbolic play and a stunning piece of pop culture history.
6
"Love Scenario" by iKON
Oh iKON! They've been through it - most specifically, their leader and producer, B.I, often cited as being "the next G Dragon" because of his song writing skills, had to leave the group following drug allegations in 2019. But iKON - just like their mentors in BIGBANG - aren't your typical K-pop boy group. They are open and imperfect, and have often struggled with finding their place in the genre.
"Love Scenario" isn't really a typical K-pop song either. It's simple and kind of bashful, but so lovable and catchy that you'll feel like it's all going to be alright in the end. In fact, the popularity of this song is almost unheard of and it isn't surprising that all Korean kids know it and cover it on YouTube - it truly sounds like a song you'd sing in the schoolyard, despite it being about a break-up. It got so popular that some schools actually banned it but was among the top 20 most-sung songs in noraebang (Korean karaoke) for a long time after its release in 2018.
7
"God's Menu" by Stray Kids
It took me a while with Stray Kids but I'm not the only one who really fell for them with this recent comeback. It starts by politely hitting you in the face and then doesn't let go.
As the name of their group suggests, Stray Kids conceptually presents themselves as the rebels of K-pop, trailblazing their own path and often being very musically intense. Those ideals really fell into place with "God's Menu". The track is just so hard, and the music video is a visual marvel.
The first thing that came to me when I watched it was: "this is so much FUN. Everyone involved LOVES what they do." And that's exactly it - pure pop cultural joy. From the fantastic transitions and movie tricks to the food references in the choreography and the lyrics, to the settings of building sites, labs, kitchens, all places where new things are created. All I can do is agree with member Hyunjin's humblebrag line: "What's our secret ingredient? We don't even use one".
8
"Can't You See Me" by TXT
Tomorrow By Together, or TXT, are BTS's little brothers, so they started off being well looked after. But since their debut the've really have come into their own, experimenting with visually stunning, dream-like and fairy tale-themed music videos; their visual for "Eternally" was 20-minutes long and quite out there thematically.
As with their seniors, they give a lot of content for their fans to dig into, making it possible to endlessly discuss, create theories and find new references and easter eggs. Most of TXT's music deals with friendship and companionship, which in itself is fantastic to me, because it's so uncommon. Both "Eternally" and "Can't You See Me" are from the same EP, Eternally, which deals with coming to terms with reality, and "Can't You See Me" deals specifically with the fragility of friendship when you're a teenager. I can barely think of another song that so clearly deals with this theme.
When I first watched the video, I got kind of envious of kids having a song and a music video like this, expressing the loneliness that one can feel within a group of friends, of feeling like you have to pretend or not understanding each other. More so, this video is dark - Like dark, dark - and disturbing at times. It dares to tell you, perhaps because it needs to be said, that things don't always end well. Sometimes things burn down to the ground. I think it might be one of the best musical depictions of friendship ending that I can think of.
There's been a lot of darkness on this list so let's make it a little brighter with a concept that K-pop does so fantastically well – flowers. If there's one thing most Western K-pop stans can agree on, is that the soft masculinity depicted in many of the genre's videos is a selling point, because, well, Western masculinity often so fragile that it doesn't even dare to buy a rose gold phone. A video like "All Night" takes that fear and anxiety and sprinkles rose petals on it.
This video is the definition of pretty. Everything is pretty. There are pretty flowers everywhere. Pretty pastel hair colours. Pretty Chanel jackets. Lovely R&B vibes. The song is about wanting to talk on the phone all night. It's just full on romance: not everything has to be tough and hard. I'm really happy Astro exists.
The Boyz perfectly represent a great shift for fourth generation K-pop. Synchronised dancing isn't enough anymore, and some younger groups are turning their performances into what could more be categorised as acrobatics. In the TV show Road to Kingdom, which The Boyz won, seven rookie boy groups competed by trying to outdo each other in intensely difficult choreographies. They fell from stuff, backflipped and somersaulted their way through elaborate stages, turning K-pop into something truly spectacular, but also, at least for me personally, sparked a worry about where things go from here. Perfection doesn't always equal presence.
Luckily, The Boyz also consists of a bunch of charming young men, who, if they stick around, might benefit from a little of that laid-back "less is more" attitude of BIGBANG down the line. I chose "No Air" for this list, not because the music vifdeo necessarily showcases their crazy talents the best, but because the song is so godamn good. After you've watched it, go check out their performance of "Heroine" on Road to Kingdom, where they collab with another rookie group, ONEUS, and together perform what it feels like to become an idol. It's like a little ghost in the machine.