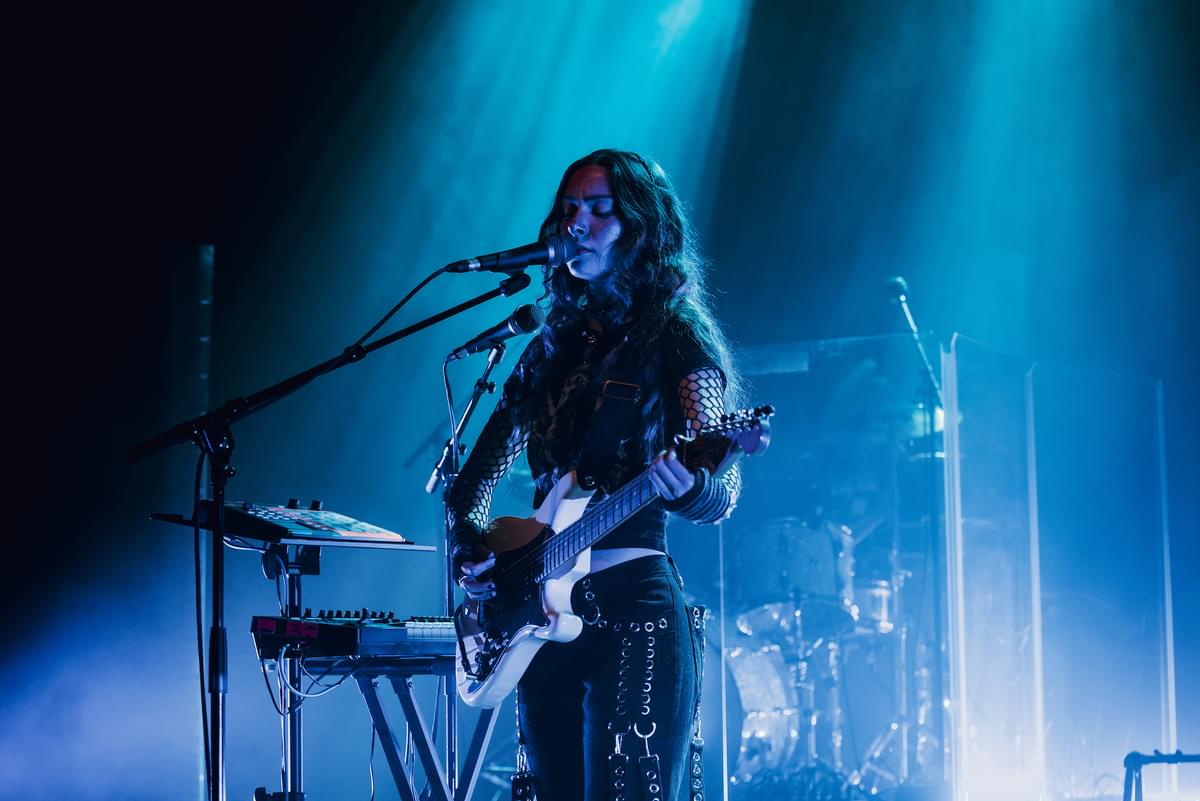 Holly Humberstone cements her meteoric rise live in London
09 November 2021, 10:00
Grantham-raised singer/songwriter Holly Humberstone's expertly crafted sad-pop lights up a sold-out Shepherd's Bush Empire on a grizzly, grey November night.
Like so many artists emerging last year performing live is something new, however, for Holly Humberstone, who dropped her first single at the top of 2020, she's already had a lot of practice. Joking to her fans about having only played shows for her parents and cats over lockdown, Humberstone's rise has actually seen her head out on the road a bunch already. She did a headline run in the US last month, and her Shepherd's Bush date is the penultimate date of a UK tour. Back in summer, she even played a handful of secret shows before storming through four sold-out nights, in a row, at Omeara. Impressive.
There is something slightly different about tonight's show – it's her first live show where she's not the only musician on stage. Welcoming drummer, Lauren O'Donnell, into the mix, it's hard to envision a Holly Humberstone show without drums and it surely never hit as hard. Rising New Yorker Dora Jar opens proceedings with a stirring set that includes her genius single "Scab Song" and "Polly", a highlight from her Digital Meadow EP, in which she changes the titular name to Holly, in ode to Humberstone. Humberstone tears through highlights from her debut EP Falling Asleep At The Wheel and her upcoming second EP The Walls Are Way Too Thin, debuting new music too.
Opening with "Vanilla" and silhouetted against the stage even from this moment it's clear Humberstone is ready to give it her all for this show. The audience knows every word and attentively sing along as the track slowly builds. "I can't lie I'm shitting myself a little bit," Humberstone laughs as the applause dies down, "I don't think I've ever seen this many people in one place in a long time, let alone at a gig of mine." A standout from the first EP follows, "Overkill" in particular feels like a hot water bottle hug of warmth despite its tangled lyrics about falling in love for the first time. The EP itself is sure to have been a comforting companion to many throughout the pandemic.
Between wishing someone at the front a happy birthday and breaking down the stories behind her songs, Humberstone looks and sounds at home as she addresses the room; "you guys are actually physical people who exist." Seeing the product of her breakout success finally manifesting itself into something more tangible than numbers, like the almost 40 million streams on "Falling Asleep At The Wheel" alone, Humberstone is still very much at the beginning of her career so she's bound to see more and more adoring faces staring back at her the next time she plays in London.
New songs "Thursday" and "Feel Fine", the latter she performs with special guest Bombay Bicycle Club frontman and solo star Mr Jukes aka Jack Steadman, are set to feature on the new EP which is out at the end of the week. The absolute standout moment from the set is "Scarlett", also lifted from the new EP, despite it being her most recently released track it receives the loudest roar as fans realise what's coming as Humberstone indulges in an extended instrumental introduction. The lyric "we go together like bad British weather on the one day I made plans" was made to be screamed at shows like this – where entering the venue is an escape from a cold and rainy winter's night.
Debuting a brand new song in the encore, Humberstone explains "London Is Lonely" is about her love/hate relationship with the capital. The soft piano ballad is made even more cinematic by its staging, complete with a disco ball refracting sparkles around the deadly silent space as fans let Humberstone's lyrics soak in. Before closing with "The Walls Are Way Too Thin," Humberstone takes another moment to thank everyone. "I've been looking forward to this for two years, I'm going to need to sit down and make sense of it all some other time" she reflects.
A career milestone ticked off the bucket list in such transcendent glory, it's going to be exciting to see how Humberstone's live show grows. Firstly, as she releases more music (so it lasts longer than an hour) and secondly as she brings more musicians into the fold to bolster and build her sound into something even more captivating in the live space.
The Walls Are Way Too Thin EP is out 12 November
Get the Best Fit take on the week in music direct to your inbox every Friday