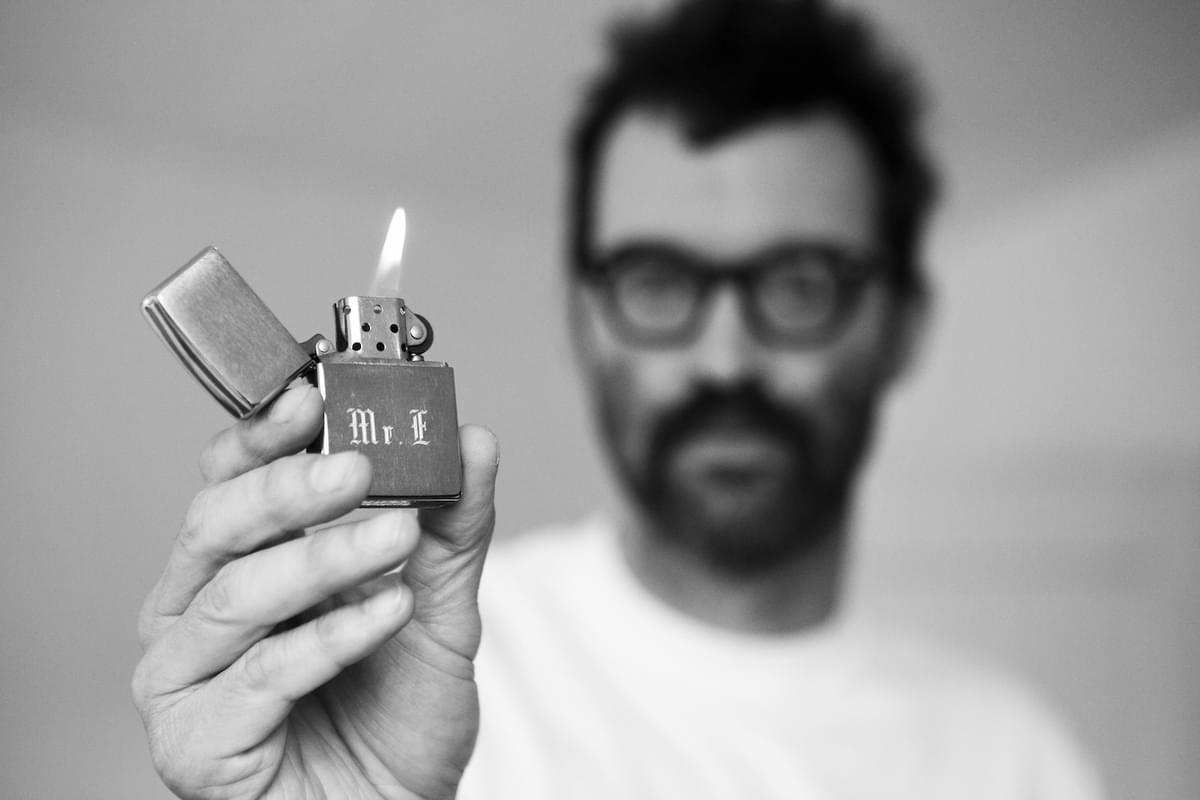 Goddamn right it's a beautiful day: Eels' Dreamworks back catalogue reassessed
21 December 2015, 14:42
Eels are one of humanity's greatest offerings to history. When this planet is finally voted off the intergalactic map, somewhere between the light bulb and Tinder, "Mr E's Beautiful Blues" will soar across the highlights reel.
This Christmas the pioneer producer Mark 'E' Everett has packaged The Complete DreamWorks Albums into a vinyl boxed set, and it's just about the best thing to find under the tree. Celebrating a heavy but colourful 20 years of musi, the collection features reissue 180 gram vinyl copies of Beautiful Freak, Electro-Shock Blues, Daisies of the Galaxy,Souljacker, Shootenanny!, and for the first time ever Electro-Shock Blues Show as a double live LP. If this band was part of your growing up, going out, and putting out, the chances are you invested in that vintage technology called Compact Disc but the time's come to upgrade to wax. Here's your sodding chance.
If you've read Things The Grandchildren Should Know, and chances are if you're clicking a review of an Eels box set then you have, you'll know the curious and uncomfortable story of E and his music. By time he adopted the Eels moniker and the wider world began tuning in he was already a prolific multi-instrumentalist who was unravelling what song making could be. His first release under the brand was Beautiful Freak where something clicked between the odd and the acceptable. Eels are on occasion a difficult listen, but the reward is transformative.
The album featured "Novocain for the Soul" which scored Eels their first UK top-10 single, and the deeply personal "Susan's House", another top-10 hit and the beginning of a commercial career for the self-sufficient craftsman. The album is recreated here with original artwork, in this case a wide-eyed girl not looking unlike one of Margaret Keane's 'Big Eyes' and printed inside, those words, "produced by E". His painstaking devotion to detail in these earlier recordings is what allowed them to be tenderly challenging, and what a lack of numbed later releases.
When Britpop was becoming its own parody and "indie" was shorthand for anything with a guitar and haircut, the intelligent Beautiful Freak made no attempt to fit in. There's little pomp or plan to it, just compulsion. After such attention from the charts a lesser artist might recoil from that approach though, and pander, but on the follow up release Electro-Shock Blues Everett only offered more of himself. The album, named after the electroshock therapy his sister was receiving ahead of her suicide, and featuring material directly lifted from her own diary, is even more personal.
The original release featured a limited run of double 10" clear blue vinyl that I was hoping to see recreated. The 2015 box set version is still a double LP, however a standard black issue. What you do get is cartoon sleeves and graveyard centrefold, which in a simplistic way shows a struggle on Electro-Shock Blues between agony and optimism. Despite its gravitas, Eels purpose is to help you find a way through the horrors of life and death with a positive outlook. Or with at least something to whistle.
By Daisies of the Galaxy Eels had shown that making pop music for people who disliked pop, and using that to confront uncomfortable scenarios, was a perfectly palatable and sustainable virtuosity. In fact it includes one of Eels' most known tracks, "Mr E's Beautiful Blues" which on this re-issue is still tucked away as a bonus track.
"...Beautiful Blues" is dreamy however a slightly towering track in comparison to the looser feel of the album, which though isn't his most subjective is one of his more creative. It's a carousel of ideas, taking perhaps a nod from Magnetic Fields' 69 Love Songs which slightly predates it, occasionally calming into a song like "I Like Birds". On vinyl with winter steam on the windows and a glass of your chosen grog, it frames an atmosphere of its own.
For whatever reason Souljacker seems the most distant of the records for E. There's not the same intimacy. This is a bloodier album. It's louder, fantastic, more electric and features extravagant concepts rather than wrapping the cogs of people he knew in clouds. There are no broad strokes though, and on "Fresh Feeling" that depressed attachment allows E to present a more universal picture.
The titular track "Souljacker Part I" was one of the first Eels tracks that drew me into the band when I was listening to White Stripes' White Blood Cells and The Strokes Is This It. That's what I've come to really appreciate about Eels since; that they can be a contrasting entity on each album and have different people find them. There's so much range to their music as a whole it's like sticking a pin in a map that expands in every direction from wherever you plot it.
Shootenanny! is a less eloquent place to land it, but with "Love Of The Loveless" and "Somebody Loves You" it's not empty. The most straightforward of all the albums in the box set it has saluted resistance over the years, but to close an era of song writing it passably collates threads which have dangled from predecessors. Acting as a scrapbook for the themes and approach E built a career on it makes a statement that Eels were ready for a sense of closure. E had made his peace.
The Complete DreamWorks Albums are a body of work by an outsider coming in and out of focus. These for me are the crux of Eels. After Shootenanny! there was a more lived-in sound, and while there was no shortage of light the spark seemed to have been put into a cracked glass jar. The outsider became establishment while legacy was given space to build over the years that followed to the present day. That in itself is a miraculous thing, and E is a miraculous man for against the odds making it happen. These albums are miraculous. Play it again, Man.
Get the Best Fit take on the week in music direct to your inbox every Friday