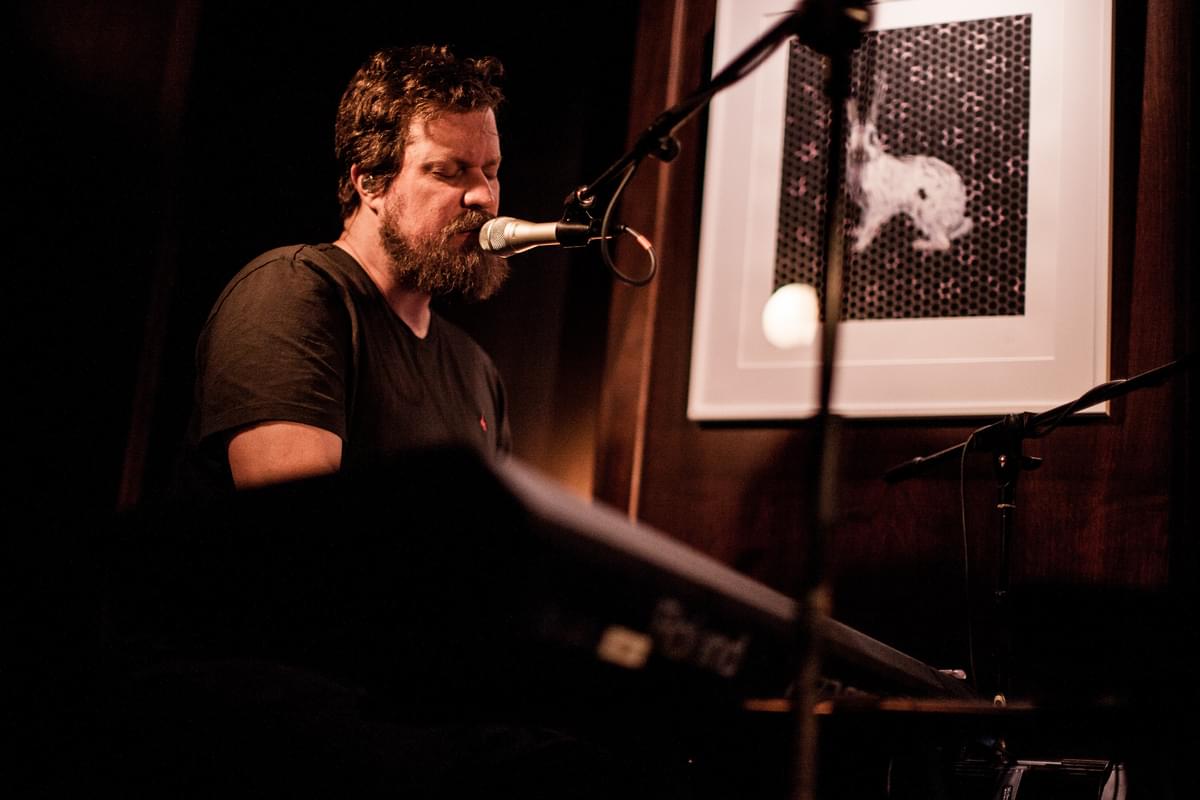 Getting intimate at the Society of Golden Slippers
22 April 2016, 11:00
Gemma Hampson gets inside a secret club that puts on shows with massive names in tiny venues.
On a chilly February night, I sat on a worn velvet armchair and John Grant sang to me.
There were other people there, but he sang to me. He was two metres in front of me. I watched how he breathed and controlled his voice. I saw his diaphragm expand as he slid his shoulder blades down his back. I saw how the shape of his mouth subtly transformed words into gut-wrenching beauty, rounding the sound and prolonging the note so it dug even deeper into me.
The wonder and power of seeing incredible talent in a small and intimate setting can change the way you think about music, or at least a musician. I see a lot of music live and have been lucky enough to experience some of my favourite artists on stage. I make a point of seeing them when and where I can, from one of Arthur Lee's last ever performances to Bjork in Iceland's impressive concert theatre surrounded by giant swinging pendulums. I usually go by myself. I'm the first to admit that I'm probably a bit weird when it comes to live music.
When you watch a lot of music and have everything you could ask for and more on your doorstep (sorry non-Londoners), it often comes down to experience over artist. An intimate gig is always top of my list. I seek out the unusual and special and have been known to scrap one of my favourites in a popular venue for someone I merely admire in an oddball corner of town. Wrapped in silence and immersed in the atmosphere, you hear songs in their rawest form. You hear the meaning of the song so much clearer and you see the affect that song has on its performer and its listener. The song becomes more than a thing on the radio.
I've probably seen John Grant ten times: Royal Festival Hall, Heaven, Shepherd's Bush, Apollo, 100 Club, festivals, to name but a few. This time, I was at a private gig hosted and curated by the Society of Golden Slippers: guest list only, 40-ish music obsessives, special-moment hunters. Weirdos like me. When Grant sang 'Where Dreams Go To Die', I could feel the vitriol he had for the subject of that song like never before. In 'Caramel', I was left only hoping that I could be loved that strongly by someone else. It was a personal moment.
An intimate gig can bring a reality of music that you often can't get when there are bright lights and talkers and bars and barriers.
There was a freedom for Grant to play what he wanted, to interact with his audience and to be a comically darker version of himself without a backlash (and this from someone who has publicly been very open about his dark past and feelings). On this night, there was a story about a cocaine dealer who slept on Grant's sofa. It ended with the phrase 'he bloodied the place right up'. You probably wouldn't hear that in an interview in the Metro.
An intimate gig can bring a reality of music that you often can't get when there are bright lights and talkers and bars and barriers. A handful of music-hunters and I once saw the legendary Tom Jones in a church in Soho performing gospel-inspired songs from his 2010 album 'Praise and Blame'.
I would never choose to see Sir Tom at the O2 or in Hyde Park, surrounded by people desperate to sing along to 'Delilah'. Here, he stood under a subtle few lights in a simple suit, backed by a wonderful trio of singers who lifted every song, even though they had to melt behind him. They were The Staves.
Jones forgot the words of his new songs constantly. He gazed worryingly to his team at the side of the stage, then cracked a joke about it. Even Tom Jones was concerned he'd buggered up a show. He could probably wing it in Vegas, but here, he could see our faces and looked embarrassed.
For us, definitely for me, that only added to the experience. I was seeing a man regularly mocked for mopping his brow with women's knickers, but, actually, he was just a man whose amazing voice had given him an amazing life. Here, he was a person and not a parody. We could see his facial muscles move when he sang a note and a word that he wanted people to feel in the pit of their stomach. We could hear his voice the way it should be heard: loud, husky, occasionally breaking and incredibly soulful. It's like 'Sex Bomb' didn't even exist.
Intimacy isn't just about numbers of course; venues are just as important. I was recently on the verge of tears when The Unthanks clog danced in the Union Chapel – a much larger setting, but still an intimate performance in my eyes. I was definitely in tears when James Yorkston sang a song for his friend and former bass player Doogie Paul in a chilly tent with crap sound in a park in a Christmas winter wonderland. Paul lost his battle to cancer in 2012.
At another Golden Slippers event, this time in the lounge of a Georgian townhouse, I was blown away by the guitar skills and song structures of an unknown Nick Mulvey, mesmerised by his fingers floating over strings, creating intricate rhythms and grooves. It was like nothing I had seen before. It was hypnotic. He now sells out the Roundhouse, where you'll get a wonderful show, but will never be able to hear the taps of his fingertips on the fret.
Churches (a lot of churches) boats, basements, front rooms and tiny clubs. 100 people, 50 people or even just a few of you, sat on the floor at a secret show at a festival, where the rubbing of hands together can be all the percussion you need (thank you This Is The Kit and Rozi Plane!).
These are the gigs that mean the most to me and feed my music obsession. These are the gigs I can never say no to. These are the experiences that stay with me.
Get the Best Fit take on the week in music direct to your inbox every Friday