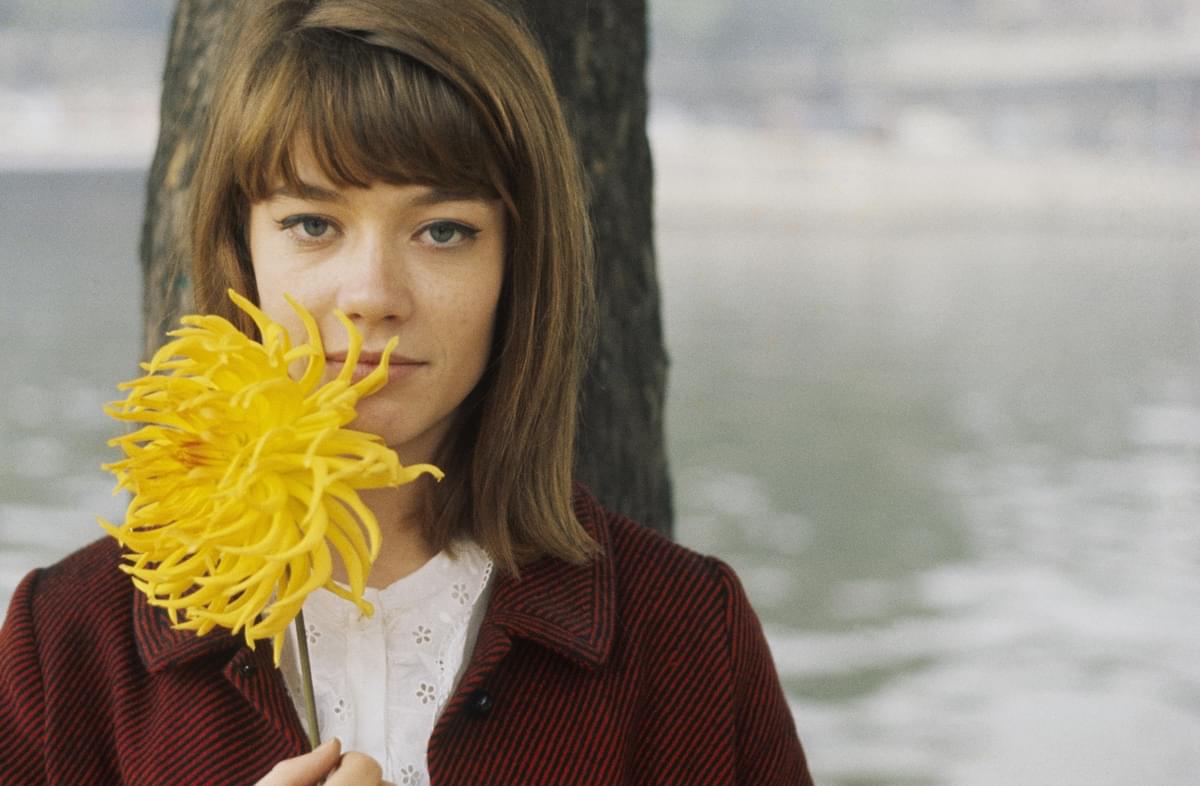 The fleeting voice of a generation: Françoise Hardy's first five albums reassessed
23 February 2016, 12:23
In the 1960s, Françoise Hardy had found herself on the fringes of the yé-yé movement. Although confounding in retrospect (Hardy always negated the kitsch-y child-like image of yé-yé that singers like France Gall and Sylvie Vartan were proponents of) it was typical of a music press that had a tendency to pigeonhole female singers that added a peculiar Frenchness to mid-Atlantic pop.
But while French yé-yé was usually defined by innocence - songs of adolescence and love – and typically penned by adult male songwriters, Hardy was the more sophisticated counterpart. She had become somewhat of a poster girl for the breathy, sad lament, but writing melancholic verses was always more functional than autobiographical for the Parisian singer: "I don't see myself as an especially sad person. When I write, it's always the melody that comes first, and it just happens to be the case that the most beautiful tunes are sad" explains Hardy in a 2005 interview with The Telegraph.
Although Hardy didn't reject the genre as such, she certainly challenged the formula. While France Gall sang about lollipops and Clothilde focused her attention on fables, Hardy was writing songs that portrayed a soul in torment; someone complicated and vulnerable. Her first self-titled release, 1962's Tous Les Garcons Et Les Filles, highlighted this perfectly, and showcased Hardy at her simplest, most affecting, particularly on the indelible "Le Temps De L'amore" – its blend of rockabilly-tinged pop and subtle jazz percussion now iconic having been used to soundtrack Wes Anderson's 2012 film Moonrise Kingdom.
Of course, Hardy wrote most of her own material on that debut, which was another important facet that separated her from her contemporaries. Though things weren't entirely disparate to that of her peers: similarities can be heard within the slight nod to yé-yé traditions on tracks like "Il Est Tout Pour Moi" and her cover of Bobby Lee Trammell's "Oh Oh Chéri" where the playful vocal echoes are typical of the genre.
Despite Hardy's familiar despondency being mostly functional, there's certainly a degree of autobiographical truth to her lyrics, as she delivers them with such wistful conviction: "They walk in love without fear of tomorrow, but me, I'm single with a tormented soul, yes but me, I'm single because nobody loves me" she sings on the title-track "Tous Les Garcons Et Les Filles" – a song that remains archetypal of Hardy's aesthetic: honest, romantic music for lovelorn wallflowers.
Her vision had changed by 1963, to something more indicitive of Hardy's vision and heightened confidence. Le Premier Bonheur Du Jour compensates for the lack of artistic understanding from her collaborators on her debut, and it gave fans more of an insight into her true identity as a songwriter and composer: simple but never devoid of substance, she made pop music that told tales we can all relate to, but was by no means a folk singer.
The following three years would see her become more renowned internationally: she ventured to Britain to record her third album Mon Amie La Rose where she worked with former protégé of Joe Meek, Charles Blackwell, alongside his roster of studio musicians. This revealed a stronger, more embellished sound, and an unfailing hybrid of pop, chanson and soul.
By 1965, her celebrity status was rapidly growing despite her shy disposition. It was a new era for the singer, as evidenced on her fourth album L'Amitié - the close-up countenance of Hardy evocative of its personal sound. From breezy opener "Ce Petit Coeur" to the beautifully devastating "Tu Puex Bien", the combination of sprightly French pop and typically refined ballads create a wonderful juxtaposition. The overall sound of "L'Amitie" is considerably more expansive, "Non Ce N'est Pas Un Rêve", for example, reveals more of a propensity for sweeping strings, vast, pronounced percussion and warm, contemplative brass.
Hardy's final album, La Maison Ou J'Ai Grandi - released in 1966 - saw her vision fully realised, and incorporated elements from previous LPs with added world-weariness and maturity. Its contents mostly informed by her home town in France, La Maison Ou J'Ai Grandi's slow-paced, soft and intimate style is reminiscent of 1950s crooners at times - see "Surtout Ne Vous Retournez Pas" for conviction, where the sound is bigger than ever - those emotive background harmonies adding plenty of layers alongside Hardy's seductive refrain.
Lyrically, subjects deviate from self-pity, to friendship, love and nature across all five LPs, and musically, there's plenty of nuance here: it would be wrong to describe Hardy's music as explicitly dour in tone – even some of the saddest songs here contain faint tinges of playfulness.
By the time Hardy had established herself as a serious songwriter, the British music press in particular seemed more enamoured with her looks than with her music. The idea of someone so striking writing songs about the grievances of feeling unloved was somehow mystifying to a relative few. A seemingly unlikely voice for introverts and sullen teenagers everywhere, Hardy's visceral portrayal of loneliness and desolation was as valid as anyone else's.
As a collective, all five of these albums serve as a revealing insight into Françoise Hardy's progressive trajectory: from a pensive outsider to singular pop singer and celebrated chanteuse. By burying her adolescent insecurities in pop, she became a fleeting voice of a generation, and a pivotal part of France's cultural landscape.
Reissues of Françoise Hardy's first five French language albums from 1962-1966 are available now on Future Days (Light In The Attic).
Get the Best Fit take on the week in music direct to your inbox every Friday