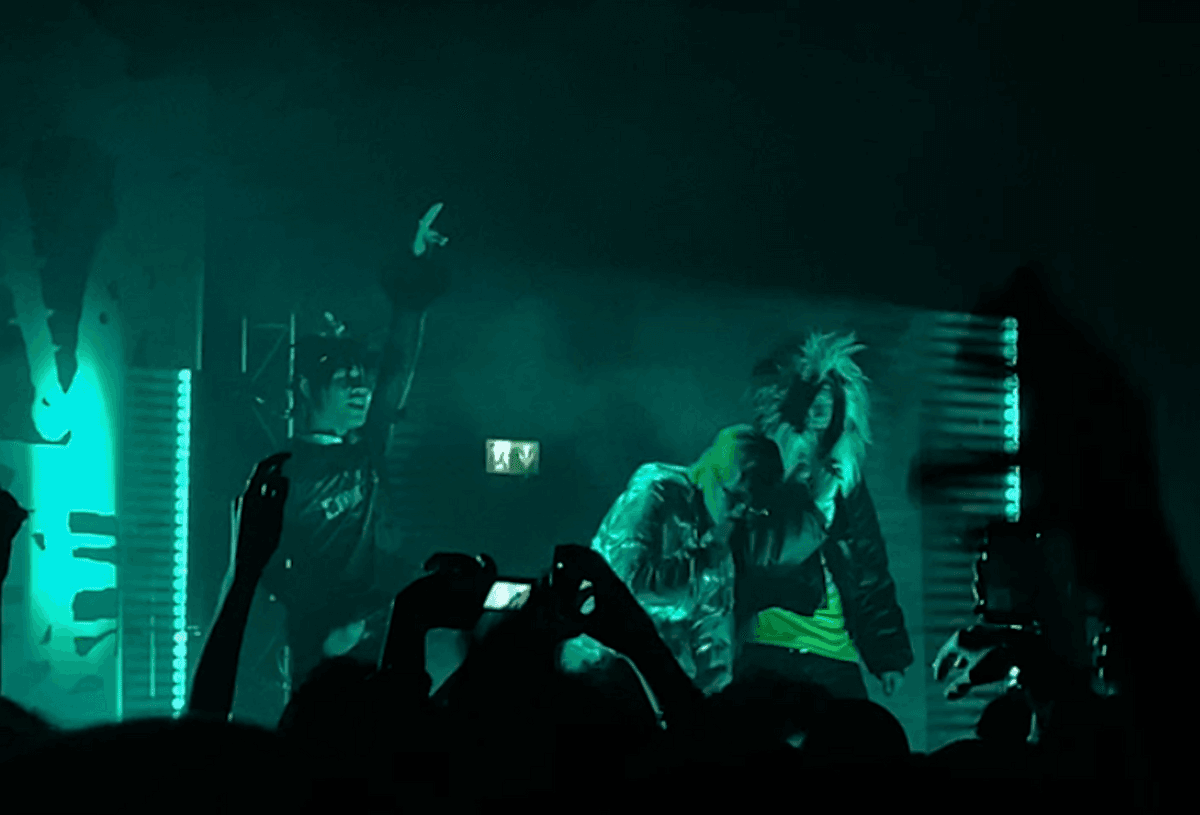 Drain Gang are not in the business of meeting your expectations
28 February 2022, 11:30
If you were lost on your way to Drain Gang's world tour kick-off in Kentish Town, then you need only follow the cult-like procession of teenage boys who are the mirror image of Bladee: all long limbs and baggy t-shirts, spiked chains, Palace beanies and Supreme zip-ups, with their lordly ringlets skimming their shoulders.
You'll know you're going the right way when you pass a huddle of e-girls smoking on the curb, donning ushankas and platform moon boots, with eyeliner sharp enough to pass as a weapon. They've been waiting here hours before doors – not for any gain, as such, but for the pilgrimage.
Swedish rap collective, Drain Gang, are the godfathers of internet music as we know it. Their sound is symptomatic of a generation both obsessed and bored with excess, a kingdom built from the hell and glory of SoundCloud at its creative zenith. Their hollow, glacial style seems to exist in an emotional hinterland, with feelings flatlined in swathes of autotune. In its absolute emptiness, people found feeling. Drain Gang have pushed the parameters of what it means to be 'emo' in the furthest, opposite extreme; looked through a Swedish lens at American hip-hop and distorted its reflection; taken the fizzing universality of pop music and exiled it to another, warped dimension. Ask any artist you consider to be 'hyperpop', and they will all identify as a 'drainer' – as if you needed to ask at all.
Being the musical cryptids that they are, it's incredibly difficult to condense their sprawling legacy and make sense of it without rolling out the red string, sticky notes and thumb tacks. Their ascent alongside close friend and Yung Lean almost eight years ago meant that Drain Gang and Sad Boys bled into one another, with Bladee, 'Drain Gang CEO', having been a constant collaborator on Yung Lean's projects and supported him across tours around the world. With fans widely believing Bladee to be an angel, with his shape-shifting image and tendency to obscure himself in any appearances he makes, he is the architect behind and central mystery of Drain Gang.
But each member, distinct in style and aesthetic, has earned their own devout following independent of the group. Ecco2k, who notably supported Yves Tumor on the US dates of his tour, is an androgynous, pixie-like creature whose instinct for image has been behind the creative direction for both Drain Gang and Yung Lean's visuals. When he's not at the helm of design at Eytys, modelling for Alyx Studios and pioneering his own brand, g'LOSS, Ecco2k is making gleaming experimental pop that feverishly interrogates self-image, perfection and the weight of being seen. The final of the triad of vocalists is Thaiboy Digital: 'Chief Commander'. He is by far the most elusive member, partly because he was removed from Sweden by immigration and now resides in his native Bangkok with his wife and baby daughter. The closest aligned with rap in its traditional sense, Thaiboy Digital is still undeniably melodic, and with their music guided by producer Whitearmor, the effect of their sound is otherworldly.
Given their warp-speed collaborations with one another, with an album from at least one member being dropped each year, it's a testament to the unseen forces of the internet that the first time Drain Gang share a stage together is on a world tour. For fans, this show is of religious gravity. Forget the stage: the merch stand is the altar. All of Drain Gang's merch is designed by Bladee himself, surreal with barbed, medieval iconography. It's also incredibly rare, with their merch occupying a thriving underground market on the likes of Grailed, primed for the up-selling. People immediately wrap the scarf around them, pulling on their fresh hoodie and discarding their old t-shirt for the latest design, which brings the rush of catching rare Pokémon.
What begins as a collection of nervous, sweaty fans who might cry if you yelled at them becomes a much heavier, lad-centric gathering, with plumes of vape smoke and the sticky smell of blunts hanging in the air. With every false alarm, there is a sharp-elbowed surge forwards: a prickly, communal hunger.
Producer Varg2TM - who has collaborated with Bladee on two cybergothic anthems "SHINIE" and "FELL" - begins his set and as soon as fans hear his disembodied voice over turbulent, glitched-out drops, that's when the revolt begins. On a strategised count of three, those confined to seating in the balcony above begin storming the stairs and leaping over bannisters, overwhelming the single staff member tasked with stopping them. The scene would make a great renaissance painting: a Drain Gang religious artefact in the vein of Playboi Carti's artwork for Die Lit.
The stage is set like a dungeon, or, perhaps Bowser's Castle on Mario Kart. With a larger budget you can imagine the fireballs being spat out of vats of lava, heavy with chains and metal spikes. Drain Gang burst on the stage to the hallowed banger, "Western Union" taken from their iconic 2019 collaborative album Trash Island, and the crowd descends into rapturous chaos. To see them all, in the flesh, together on stage is a pinch-me moment beyond belief. Thaiboy Digital's blonde hair is slicked back, clean-cut in a suit as any chief commander would be; Ecco2k wears a wig of staccato, girlish pigtails ripped from the pages of a manga comic, wearing a black football top with a fluffy-cuffed undershirt; and Bladee, whose style has always been a kind of 404-error code, is consumed by an enormous fur hood, wearing a fluorescent yellow t-shirt that pops in the blue neon light.
With a discography as dizzying as Drain Gang's, with their solo and collaborative projects to account for that amasses to hundreds upon hundreds of songs, it was a wonder what the setlist would hold. The group are acutely aware of how to electrify their audience, deploying the most iconic tunes in their arsenal: era-defining "Obedient", and Trash Island classic "Victim", to prove that their command was no effort. But in a classic Drain Gang tradition, there are more curveballs than you'd imagine for a world tour, leaving you second-guessing their logic.
The setlist is Ecco2k-heavy, which is a distinct realm of Drain Gang sound that can galvanise but also alienate certain pockets of the audience. Drawing largely from his stunning solo record, E, peppered with unreleased deep cuts such as "Guardian Angels" and "3rd Crush", the set takes a far softer, attention-demanding turn: you watch, rather than move. There is very little representation of Thaiboy Digital's own material, and a very curious selection of Bladee's. While Drain Gang essentials like "Lovenote", taken from Bladee's beloved record Eversince and "Reality Surf" from pop-leaning record 333 released last year, are dropped, many of his most treasured songs are left unacknowledged.
Albums Icedancer and Red Light, arguably fan favourites, are hardly represented at all – an unusual choice, considering the appetite and wealth of material that would go down like a spoonful of sugar to the crowd. Instead, slightly more divisive tracks without the same feverish levels of devotion, including "MERRY GO ROUND" and "The Fool Intro" make the cut.
However, we are treated to the previously unheard track "3STAR", which has stoked rumours on the subreddit for an upcoming collaborative album featuring all three members, which is already being forensically discussed by fans. The encore holds a surprise that no one has on their bingo card: after playing the euphoric "Girls Just Wanna Have Fun" and Bladee's crossover anthem "Be Nice 2 Me", their final track, "Vanilla Sky" is mixed with The Kid Laroi and Justin Bieber's "STAY", which feels like the final flourish for a show defined by such disorientating, dream-like ideas.
Nothing Drain Gang does has ever been easily predicted – but they are not in the business of meeting your expectations. Their chaos and spontaneity is what draws us back to them, and it's the ever-renewing surprises that has meant that their legend, even after all these years, has endured.
Set List
MERRY-GO-ROUND
Lip Service
Thee 9 Is Up
Yin & Yang
30th Floor
CC
Calcium
Reality Surf
AAA Powerline
3Star
Fruit Bleed Juice
Fragile
Guardian Angels
Victim
Sugar & Diesel
IDGAF
BBY
Alive
In The Flesh
Security!
I Go I Go
God
Don't Ask:Lovenote
Peroxide
Obedient
The Fool Intro
3rd Crush
Blue Eyes
Truefriend
Girls Just Wanna Have Fun
Be Nice 2 Me
Vanilla Sky
Get the Best Fit take on the week in music direct to your inbox every Friday