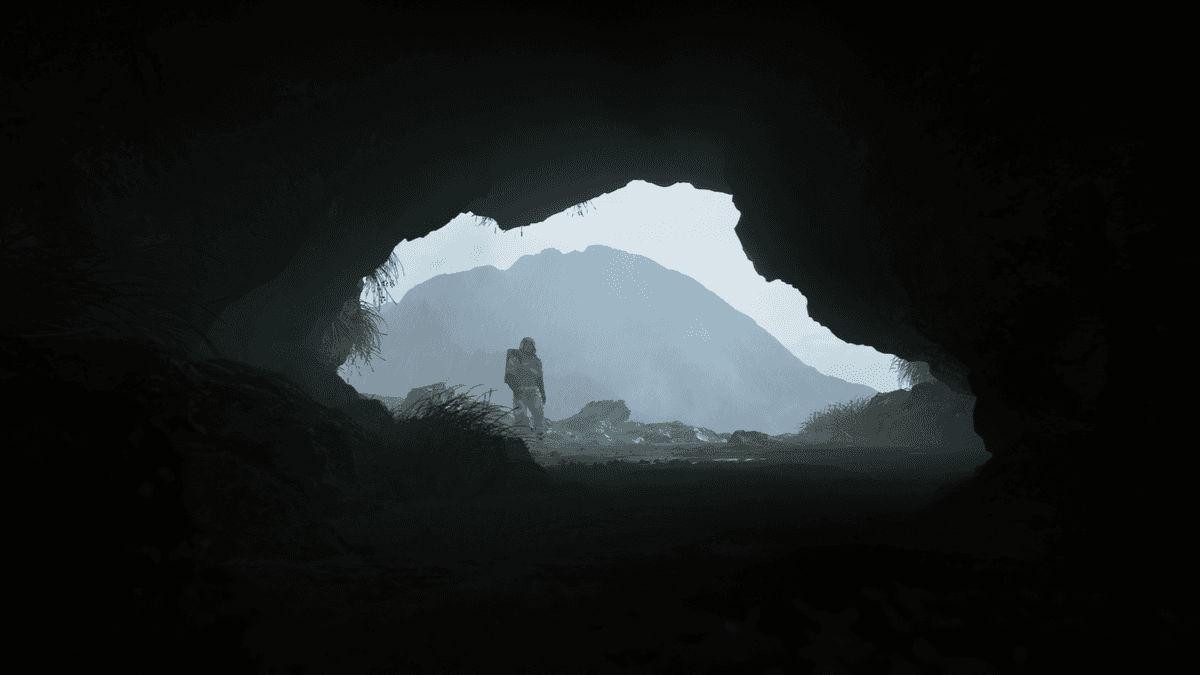 The Soundscapes of Hideo Kojima's Death Stranding
20 November 2019, 22:18
As game auteur Hideo Kojima's latest release finally descends upon us, we take an in-depth look at how he picks his music and why it works so well.
While you might be blown away by the A-list cast (Mads Mikkelsen, Léa Seydoux, Guillermo del Toro), incredible visuals and baffling plot of Hideo Kojima's latest release Death Stranding, take a minute to appreciate the audio magic that accompanies you on your lonesome journeys across an empty, yet beautiful landscape. When your character, played by The Walking Dead's Norman Reedus, isn't traversing cliff-sides, cradling a crying baby or simply hiding from the Timefall ('rain' to you and me) in a cave, you'll be faced with a selection of hand-picked tracks.
And who do we have to thank for our carefully curated road-, or rather hiking-trip, mixtape? It's US via Reykjavik (now Warsaw) post-rock artist Ryan Karazija aka Low Roar of course, who recorded his first two albums in the Icelandic capital, having lived there from 2010-15. According to Kojima, as soon as he heard Low Roar's second LP 0 while in a record store in Iceland, he had to snap up the rights to use the tracks "I'll Keep Coming" and "Easy Way Out" for trailers for the upcoming Death Stranding, eventually leading to a much larger collaboration for the final release.
Aside from the rousing, synth-filled title track from CHVRCHES, Low Roar makeup the vast bulk of the songs that accompany your travels in Death Stranding, with cuts taken from all three records - Low Roar (2011), 0 (2014), and Once in a Long, Long While... (2017). The choice tracks have to be the sweeping, stripped-back guitar and strings-filled "Breathe In", the distorted, slightly menacing drumbeat-led "I'll Keep Coming" and the delicately mournful duet that is "Bones", featuring Jófríður Ákadóttir.
The use of Low Roar's catalogue is an intriguing choice. All three records tilt between post-rock, folk and dream pop, at times recalling Sigur Ros, and at others Beach House and early Bon Iver. The carefully layered instruments and falsetto vocals combine with melancholic musings to wrap the listener in an intimate, reflective and contemplative audio space. While there is a fair share of slow-building tracks leading to an epic, atmospheric conclusion ("Easy Way Out", "I'll Keep Coming" and "I'm Leaving" in particular) – perfect for matching the progress of far flung journeys moving purposefully towards an unknown, often mysterious destination – the use of these tracks suggests they are there for their fluidity – allowing the player to interpret the music, their journey and their experience on their own terms.
On top of this selection, the actual soundtrack, composed by Ludvig Forssell is a masterpiece in itself, filled with unnerving synths and other sounds, some inspired by the 2014 horror film It Follows. Forssell also directed the soundtrack for Kojima's previous game, Metal Gear Solid V: The Phantom Pain (MGSV) (2015), the final entry in a long-running series of sneak em' ups that Kojima worked on since the late 1980s.
Set in the 1980s, MGSV featured a hit-packed set of pop songs which your character could find via cassette tapes, the best bit being blasting them through the speakers of a helicopter as you traversed Afghanistan and south-central Africa. Yes, these tracks included Ah-Ha's "Take On Me", Kim Wilde's "Kids in America" and Joy Divisions' "Love Will Tear Us Apart Again", though the option to add your own custom playlist was probably more welcome. Sadly, you couldn't share your tapes. On top of the 80s hits, there is a big shout out to Kojima's musical hero David Bowie (his games have referenced everything from Major Tom to Diamond Dogs and even his physical appearance (Raiden) in the past) in the use of his song "The Man Who Sold the World" in the intro and ending, though sadly apparently they could only afford to license a cover.
So how does music fit into Kojima's latest post-modern gaming vision? Well, it's all about connection. Aside from the plot and mechanics, connecting with other players online is an integral part of Death Stranding. In an era of toxic online multiplayer games and interactions, this title does away with that, only allowing for positive interactions, whether that's building structures to help others on their journeys, delivering other players' goods, or my favourite – adding songs to structures which play when others walk by. Yep, players can add tracks to items they build which are then shared between the worlds of other players, creating mini mixtapes for you as you walk, run or drive by. Thankfully the in-game soundtrack doesn't have any howlers, so you won't be running away to avoid any unsavoury music picks.
1/2
When I visited Iceland few years ago I accidentally got to know LOW ROAR that was playing at the record store. pic.twitter.com/f78sGroPo0

— HIDEO_KOJIMA (@HIDEO_KOJIMA_EN) June 14, 2016
Kojima has long used his productions to show off the bands and musicians he loves and idolises, and this latest entry is no different. But what makes it special is the fact that you get the feeling that in a game about sharing and connections, he enjoys not only sharing his music tastes, but attempts to replicate that feeling – just like his chance encounter in Reykjavik – of the joys of new music discovery.
Get the Best Fit take on the week in music direct to your inbox every Friday