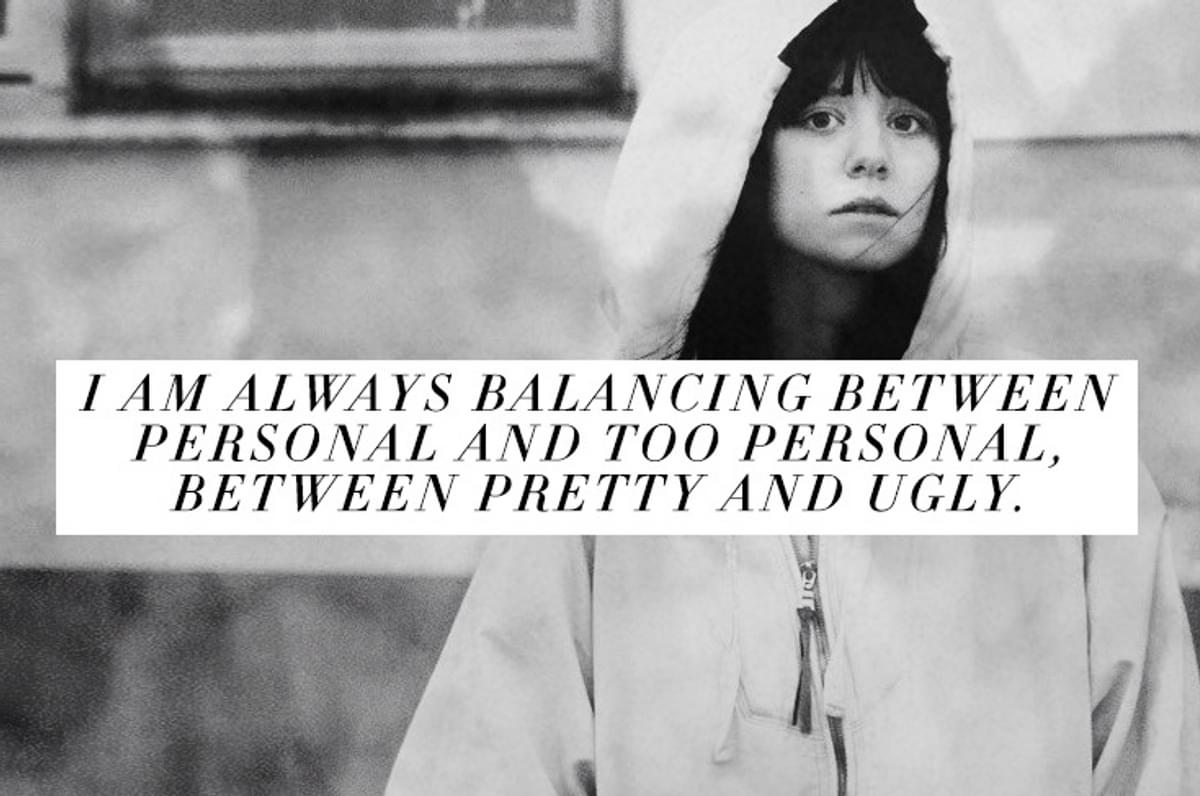 Broken Svenglish: In conversation with 1987 and Hanna Järver
27 February 2015, 10:07
Words, in whatever language, should be taken for what they are - a way to convey a message, an emotion, a feeling.
Someone singing in another language shouldn't be a barrier to understanding what the song is about, or connecting on any sort of level. Yet look at the list of artists who have achieved some kind of success in English-speaking countries: Lykke Li, Bjork, First Aid Kit, Mew, Peter, Bjorn and John…going even further back to the likes of A-Ha and ABBA, what links them all is singing in English instead of their first language. No-one is going to begrudge them that choice, it's their decision to make and the music is no less impactful as a result. However, slowly but surely, there is a new wave of artists coming out of Scandinavia who are choosing to sing in their own language and proving at the same time that language is no barrier to critical or commercial success.
One such artist is Swede Victor Holmberg, better known as the once-shadowy 1987. Already a success and in-demand thanks to his work with Montauk and brilliant remixing of the likes of Postiljonen and Alice Boman, Holmberg's 1987 makes modern music that takes from R&B, electronica and pop; it's bold and very much of the 21st century but not without a certain nostalgia and wistfulness that comes in part from his striking videos for the likes of "Michelle" and "Bomb" but mostly from his breathy Swedish vocals. Even if you don't speak the language, Holmberg's voice is heavy with emotion and pathos, and leaps over any gaps in understanding purely through feel. He's destined for great things, we don't think there are any barriers here.
Someone no doubt inspired by Holmberg's devotion to his native tongue is fellow young Swede Hanna Järver. Her recent track "Ingenting Skrivet" ("Nothing Written" in English, should you want the translation) is a sultry piece of slo-mo pop music, all percussive clicks, buzzing synths and treated guitar, whose success lies in the fact that Järver's voice is intentionally allowed to be the star of the show. You know there's pain, love, sex, heartbreak, relationships, whatever at the core of the song because of how much of herself she gives in her voice. It's a stunning track, and little wonder that 1987 has added his remix glitter to it. Here are two artists committed to making it without breaking with the traditions of their home or their language.
We got Victor and Hanna together for a chat to find out more about what it means to them to sing in Swedish, and whether or not this makes it harder to "break" internationally. Read their conversation, as it happened, in full below.
1987: Hi Hanna.. Are you there?
Hanna: Hi!
1987: How are you feeling?
Hanna: I'm feeling good! A bit tired though, I didn't sleep much last night.
1987: Yeah.. I'm tired as well.. How come you didn't sleep?
Hanna: I was working on a new song.
1987: Ok, do you usually work late at night?
Hanna: No, not really. I like to work in the mornings.
1987: Where are you now?
Hanna: I'm in my apartment in Stockholm!
1987: What are you up to?
Hanna: I am hanging out with my two cats Juan and Franko, listening to "Swan Lake" by Tchaikovsky.
1987: Do you listen to a lot of classical music?
Hanna: It happens, but not that often.
1987: When do you listen to classical music?
Hanna: I guess when I need a break from pop music.
1987: I do the same but I listen to jazz.
Hanna: That's really nice too.
1987: What music inspires you?
Hanna: I like it when the music feels really personal. I want to feel that the artist has a strong connection to her/his music. And also, inspiring soundscapes and productions.
1987: It feels like you aspire to do the same with your music. Do you think it's important that you're honest and personal when making music?
Hanna: Yes, because it's my way of expressing myself and that's really why I started writing and producing in the first place. It doesn't always have to be about lyrics though, being honest and personal, it´s also about the soundscape and expression.
1987: How do you work with sounds?
Hanna: This whole project started with me sampling clicking my fingers, arms and neck. With that I created drum beats, which I built my songs upon. I wanted them to feel both electronic and somehow organic. Above that a lot of synthesizers and some lightly distorted guitars.
1987: Do you write everyday?
Hanna: I write or produce almost every day.
1987: How come you're writing in Swedish?
Hanna: I was tired of my own way of writing. Before, all my songs were in English. I felt like I wanted to try something new.
1987: Do you find it easier or more difficult?
Hanna: More difficult I would say. I feel like I am always balancing between personal and too personal, between pretty and ugly. I don't have any distance to it. It´s the same language as I use in my diary and when I talk to my friends. When I "converted" to Swedish I wasn't sure In what way I could write. Some words are very charged. It's weird. How do you feel about writing in Swedish?
1987: I feel like I'm judging myself so much more writing in Swedish. It's like I have a gun to my head and I can't lie because everyone would see through it.
Hanna: That's actually a really great way to describe it.
1987: I wish everyone had that gun to their head when writing music.
Hanna: Yes, that would be nice.
1987: How do you feel about Swedish music at the moment?
Hanna: I love that there´s a lot of political artists. That´s very inspiring. Maybe I miss something a bit more experimental. At the moment I feel a bit tired of the simplicity of pop.
1987: Why do you think there are a lot of political artists in Sweden?
Hanna: Because of the political climate in Sweden. There's a growing feminism, people are tired of fitting into narrow roles and stereotypes. It's also a reaction against racism in society and all the nationalistic parties in Europe.
1987: Who is your favourite Swedish artist/writer/producer?
Hanna: Hm… I really like Jonathan Johansson, Beatrice Eli, Amason...
1987: Where did you get your music from growing up?
Hanna: When I was very young, mostly my father. We listened to a lot of west coast music like TOTO, Steely Dan, Pages etc. In primary school he often bought me new CDs when he travelled. My older siblings started to play instruments, so there were a lot of singing and playing at home. They also introduced a lot of nice music to me.
1987: What was your first favourite record?
Hanna: Richard Page - heaven is 10 zillion light years away. It´s a cover of a Stevie Wonder song.
1987: When did you last listen to it?
Hanna: Hm… many years ago now. But I saw a video, not so long ago, from a performance in our apartment at the time in Athens. I'm 5 years old, dancing and singing to the record. And when the chorus comes I get sooo excited and I jump really high with my hands towards the roof. Haha, I really loved it.
1987: Does any of your siblings make music or work in creative fields?
Hanna: Yes, both of them write. My brother writes music and my sister writes music but also poetry.
1987: Who do you admire?
Hanna: I admire everyone who has the courage to challenge the society norms.
1987: Are you a nostalgic person?
Hanna: Yes, very nostalgic. I love reading old diaries and watch family movies from our childhood. I remember wondering when I was four or five years old what I would be like when I'm twenty. Now I'm here!! It's fascinating somehow… that four year old was the same person as me.
1987: What are you listening to at the moment?
Hanna: I'm still enchanted by my favourite album of 2014, Sylvan Esso. It's so fucking genius. I'm gonna watch them live next week in London!
1987: What artist/writer/producer would you want to work with right now?
Hanna: Right now I'm in a period where I most of all would like to shut off everything and everyone and just lock myself in for some weeks and write new music. I feel like I have all these ideas that I want to try.
1987: Are you gonna do that then? Or what's your plan for this year?
Hanna: If I'll have the opportunity I will. I am going to write and release new music and hopefully play live a lot.
1987: Do you have a clear vision of where you want to go with your music?
Hanna: I have promised myself that I'm only gonna do stuff that feels right to me, and that music always have to be in focus. Eventually I would like to produce other artists.
1987: Where did you grow up?
Hanna: My family lived in Greece for some years. Then we moved back to Sweden, to Örebro when I started school.
1987: How much has growing up in Greece influenced your music?
Hanna: Not much I think. I learned some greek church-songs, I think that's about it.
1987: Where will you live in 10 years?
Hanna: I like Stockholm very much, so maybe I'll stay here. But I'm also longing for travelling. I need new things to happen otherwise I get bored very easily.
1987: How important are your cats to you?
Hanna: I love them to death.
1987: I have a dog as you know, Alfie, and he's one of my best friends in the world. Why do you think animals are so important to humans?
Hanna: It's so nice to have someone that never judges you. It's a very easy friendship.
1987: What do you do to decompress?
Hanna: I climb or watch Girls.
1987: Thank you for taking the time to talk to me. What are you gonna do now for the rest of the day?
Hanna: I'll be working on a new track!
Hanna Järver "Ingenting skrivet" is out now on Talent Is Luck.
1987 "Bomb" is out now on Parlophone.
Get the Best Fit take on the week in music direct to your inbox every Friday