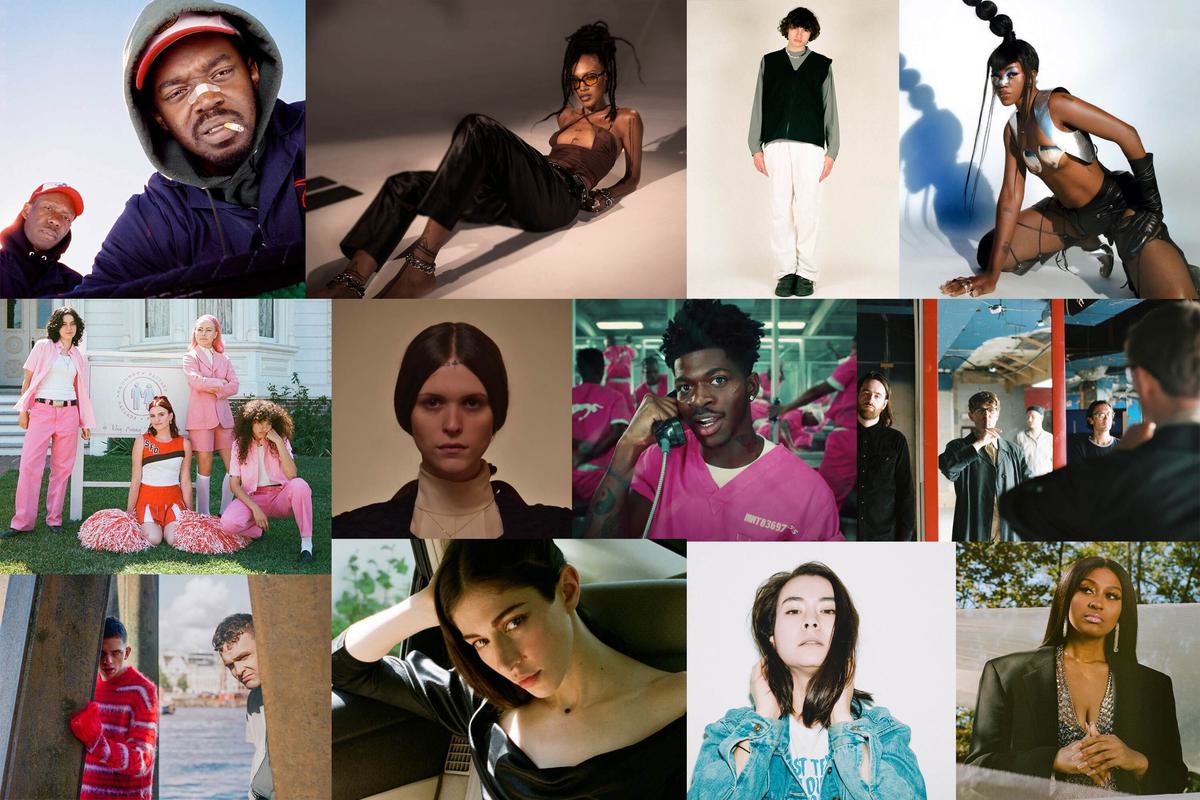 The Best Songs of 2021 Ranked
20 December 2021, 11:30
50
"Best Friend" by Saweetie feat Doja Cat
Back when Doja and Saweetie dropped their big collab in January, your regular outings to the pub/club/bingo hall with your own BFF had been kyboshed. Thankfully, the sniper-quick flows and rolling bass of "Best Friend" brought the vibe regardless: whether you were twerking on an actual dancefloor with your boo, or – more realistically – aggressively lip-syncing at one other over Zoom. Shout out to the video for providing us with the absolute vision of Doja ranting about toxic masculinity in a metallic bikini. KITTY RICHARDSON
49
"Fashion Killer" by Ayra Starr
As Nigeria continues to own the charts, Ayra Starr is on the cusp of gloabl domination. The phrase "model turned musician" doesn't always guarantee greatness – for every Sky Ferreira, there is a corresponding Gisele Bündchen-does-Blondie abomination – but Starr's beginnings with a small model management company in Lagos ultimately brought more eyes to her firey brand of afropop. Produced by London, the Nigerian goldenboy who received a Grammy nod for his work on Wizkid's Made in Lagos, "Bloody Samaritan" is a heady mix of hip-winding beats and positive self-talk that'll make you feel as if you're stepping out on your own catwalk. KITTY RICHARDSON
As nightlife faded, Alewya came to life. Inspired by the dancefloor community that became absent throughout the pandemic, she exports the devotional music of her Egyptian and Ethiopian descent to match the vibrations and urgency of London's underground scene. Having previously collaborated with the likes of Moses Boyd and Little Simz, "Spirit_X" realigned listeners into her tenebrous world. Full of restless rhythms and drum and bass-indebted breakbeats, it isn't a glossy track by any means – deliberately so. Instead, Alewya landed on a work that's charged with human experience, communicating the visceral energy of a missed rave scene like no other. HANNAH BROWNE
47
"Good Ones" by Charli XCX
After her lockdown album how i'm feeling now, Charli XCX's return to pure pop bangers was welcomed with the resounding beat of "Good Ones". Running to just over two minutes, the song is a testament to her top-tier writing talent and her adaptability to current trends. No other artist does pop quite like Charli XCX, and as she becomes the "ultra popstar, all-out, sell your soul, kind of version" of herself, you can't help but get excited for the bops that await us in 2022. DAVID COBBALD
46
"The Walls Are Way Too Thin" by Holly Humberstone
You could have picked any of the tracks from the Grantham-raised singer/songwriter and newly anointed BRITs Rising Star winner Holly Humberstone's latest EP for this list. As she started to drip-feed tracks from her second body of work this year, it was clear she'd taken things up a level: pop anthem "Scarlett", The 1975-assisted "Please Don't Leave Yet" and stark ballad "Haunted House" cemented her as one of the UK's best new artists. But "The Walls Are Way Too Thin" pipped them to the post, with its detailed storytelling analysing how claustrophobic loneliness can feel.. Having recently played her biggest headline shows to date, the energy which she adds to her live performances really elevates her relatable songwriting, especially when her fans form a choir to scream her lyrics back. MATTHEW KENT
45
"I Do This All The Time" by Self Esteem
Like its spiritual predecessor – Baz Lurmann's "Everybody's Free (To Wear Sunscreen)" – Self Esteem's ode to trying (and failing) to get your mid-life shit together is almost too on-the-nose to work. But Rebecca Lucy Taylor's talent for oversharing and genuine air of uncool transform it from kitsch life advice to a rally cry on radical compassion.

Where a lot of the tracks on Prioritise Pleasure push Taylor's voice to a wavering apex, "I do this all the time" is quiet and sad. It's not the hopeful chorus that lingers, but the guilt, the casual reference to suicide, and our heroine's rage at, and desperation to fit in with, societal expectation. If you've caught a millennial woman crying on public transport this year – and let's face it, we all have – chances are she was listening to this. KITTY RICHARDSON
44
"TWINNEM" by Coi Leray
Coi Leray's "TWINNEM" is one of her most infectious tracks yet, and is rightly sprawled across 2.4 million TikToks, in cateorgies including the 'best friend challenge', 'twin challenge', and even a Megan Thee Stallion 'knee challenge'. Two albums deep, and with four EPs (two of which were dropped this year), "TWINNEM" easily takes the lead as one of her biggest releases, teasing a joyous hook with quirky lyrics and stimulating trap beats. The cutest of viral hits. LAVIEA THOMAS
43
"Hard Drive" by Cassandra Jenkins
A narrative on recovery and growth – and the touchpoints we encounter along the way – provided a beautifully jarring mediation half way through Cassandra Jenkins amazing second studio album An Overview on Phenomenal Nature.
Jenkins' neat observations, grounded by the line, "The mind is just a hard drive", and delivered in a vocal rich with ASMR-lilt, will resonate with anyone on a similar path, therapised or not. It's probably the year's most tender song from an incredible artist firing on all cylinders and still yet to hit her creative peak. PAUL BRIDGEWATER
42
"STAY" by The Kid LAROI feat Justin Bieber
Rising Australian star The Kid LAROI's biggest hit to date and Bieber's best since the mega-smashes of his Purpose era, "STAY" is a sugar rush of pop perfection. A pure injection of serotonin, it was co-produced by Charlie Puth, Cashmere Cat, Omer Fedi and Blake Slatkin, the latter pair responsible for other recent huge hits like 24kGolden and Iann Dior's "Mood" to Lil Nas X's "That's What I Want". Boosted by an ass-shaking, drone-shot viral dance trend on TikTok, "STAY" sees LAROI and Bieber both plead to keep someone in their lives over some addictive 80s-inspired synths. Meanwhile, while we're trapped in the track's inescapable hook. MATTHEW KENT
41
"When You Pull Up" by Shakka
Occasionally an artist comes along whose take on pop is too nuanced to chart against their more brash contemporaries. Shakka is one of those artists: his material oozes sexuality, but the heartfeltness of his lyrics, and warm hug of his production, elevate these bedroom jams to something far more discerning.
HIs 2021 album Road Trip to Venus brought us a few strong contenders for this list – not least "Solo", featuring a wallopping bit of afrobeat and a now-rare sighting of GoldLink – but "When You Pull Up" takes the biscuit. The well-deep production provides such a romantic update on 90s garage, you won't even register the track's top-shelf lyrics ("I just wanna hear my favorite lines, babe / Like that's it, right there; Keep, keep going"). When a song samples Craig David and still makes you wanna smash, you know it's a keeper. KITTY RICHARDSON
40
"Parking Lot" by The Weather Station
No one imbues loss and mourning into their lyrics quite like Tamara Lindeman. The lead track from The Weather Station's fifth album Ignorance – described by its creator as a "strange gentle disco song" – is a curious tale of love, heartbreak and exhaustion set against an encounter with a bird in a carpark. "Is it alright if I don't wanna sing tonight?" Lindeman asks the bird. "I know you are tired of seeing tears in my eyes / But are there not good reasons to cry?" The wider world has slept on Lindeman far too long; she remains one of this century's most sublime songwriters. PAUL BRIDGEWATER
39
"Ten Feet Tall' by Charlie Hickey
Much like "Silk Chiffon" by Saddest Factory labelmates MUNA, Charlie Hickey's "Ten Feet Tall" possesses the kind of chorus that once heard, lives rent free in your head for eternity. An earworm of the highest order, the track is Hickey's most accomplished work to date. Co-written and produced by Phoebe Bridgers' collaborator Marshall Vore and featuring instantly recognisable harmonies from Bridgers herself, 'Ten Feet Tall' is a call to arms for anyone feeling a little alienated and lost. RICHARD THANE
38
"The Other Black Dog" by Genesis Owusu
Hitting the tarmac running, this Australian artist bounded his way into our hearts with his debut album The Other Black Dog. Its title track is a bouncing unpacking of mental health by way of metaphors and a cheeky line lifted from Kanye 'Ye' West's "I Thought About Killing You". Wrestling with your darkest inner self hasn't sounded this enticing and strengthening in a hot minute: the track feels like a surge of adrenaline, and the unconquerable become conquerable as Owusu slams into his raised-arms chorus. Get up, physically shake it off, and if you feel that nasty black dog nipping at your heels, then just know Genesis Owusu has your back. STEVEN LOFTIN
37
"To Be Loved" by Adele
The release of Adele's album 30 was one of the biggest events of the year. It saw Adele return after four years away from the industry, and propelled her even further into international stardom. And one of its standout tracks was "To Be Loved" – an almost tribute to "Out Here On My Own" from Fame, and arguably Adele's best vocal performance to date.
As she swoons and sways from melodic peak to peak, Adele's lyrics cut through the intensity and get you right in the heart. "Let it be known that I tried," she sings, perfectly rounding off her career as the queen of heartbroken millennials. DAVID COBBALD
36
"The General" by Dawuna
Few artists have flown as low under the radar as Dawuna. The New York-dwelling, Nairobi-raised artist has crafted his own brand of woozy gospel-tronica, and one can imagine Glass Lit Dream – his debut released on London's O___o? – will garner cult status in good time. Single "The General" walks a curious line between political commentary and homoerotic come-on, envoking the names of Barack Obama and (relevantly anti-LGBT) Ugandan president Yoweri Museveni alongside erotically-charged lyrics ("Don't make me get my weapon boy / You won't want me play with this toy"). It's haunting, unexpectedly sexy and hopefully a promise of what's to come from this relative unknown. KITTY RICHARDSON
35
"Narrator" by Squid feat Martha Skye Murphy
Released alongside the announcement for Squid's debut album Bright Green Field back in January, "Narrator" is a collaboration that highlights the best attributes of two artists who shook things up in 2021. It makes sense that a band who are as skilled and open to experimentation as Squid – an ex-jazz outfit – would naturally gravitate towards an artist as multifaceted as Martha Skye Murphy, theatre company co-founder, actor, Nick Cave collaborator and film score composer. The discordant rhythms and post-punk leanings of the WARP!-signed five-piece are set against London-based Murphy's captivating guest vocals.
Produced by Speedy Wunderground co-founder Dan Carey (black midi, Fontaines D.C.), "Narrator" is a tense, frenetic descent into derangement inspired by the 2019 film A Long Day's Journey Into Night. As Squid describes, "the song follows a man who is losing the distinction between memory, dream and reality and how you can often mould your memories of people to fit a narrative that benefits your ego." OLIVIA SWASH
Laura Les and Dylan Brady had a jam-packed 2020, but 2021 threatened to go by without so much as a glitched-out whisper for 100 Gecs (save a Linkin Park remix at the start of January). Upcoming record 10000 gecs was unceremoniously teased in September, and then: "mememe". It's like they were never gone.
Last year's hottest band bounded back with a track that whips by in under three minutes and leaves sweaty and ricocheting off literal and metaphorical walls. "mememe" is a hysteric, bittersweet salvo, brimming with ska-punk, hyperpop, nu-metal, and techno hallmarks. It serves as an aperitif for their forthcoming LP, and sets the twosome up as a dominating force in 2022's musical landscape. LARRY DAY
33
"Fellowship" by serpentwithfeet
Back in January, Secretly Canadian signee Josiah Wise, aka serpentwithfeet, announced his second album DEACON with this elegant paean to his chosen family. It's long been evident that community is important to the LA-based artist: Serpentwithfeet co-wrote and co-produced "Fellowship" with Lil Silva and Sampha, and it arrived between collaborations with Virgil Abloh, Ty Dolla $ign, Ellie Goulding, Mick Jenkins and Nao.
The track is a love song to platonic intimacy that reminisces on the relatable, everyday charms of friendship ("Our fascination with Prosecco / The silly face you make when I say hello"), backed by the warm embrace of joyous droplets of percussion. As he summarised to Best Fit, "I'm a big fan of bromance". "Fellowship" serves as a poignant reminder to count our blessings and "spend less time worrying, and more time recounting the love." OLIVIA SWASH
Dacus' third album Home Video was released when the pause button had been firmly pressed on most of our lives, affording us all some extra time to be reflective. Inspired by her own return to her hometown in Virginia after relentless touring, Dacus pored over her adolescent diaries and the result was yet another evocative body of poetry-like odes, rich in both her warm honeyed alto and her acute recollections of personal nostalgia.
"VBS", the third track to be taken from the album, provides the centrepiece – documenting Dacus, who came out as bisexual in early adulthood, wrestling with her queerness and faith whilst at Vacation Bible School. With subtle humour, "VBS" lurches and twangs its way through the turmoil of teens who couldn't determine whether they were taking religion too seriously or not seriously enough. Agonising lyrics such as "You said that I showed you the light / But all it did in the end / Was make the dark feel darker than before" are juxtaposed with references to Slayer and snorting nutmeg, recognising both the eminence of such events and their puerile inclinations. It leaves us pondering the notion of how much we are shaped by our childhood experiences. MICHELLE LLOYD
Griff has broken through In one of the busiest years for pop in recent memory. A new name to many, "Black Hole" may have marked her arrival in the mainstream upon its performance at the BRIT Awards (where Griff took home the Rising Star Award) but it was "One Night" that cemented her place. Arriving after her debut EP, One Foot In Front Of The Other, the track is wrought with emotional musings, synth-pop hooks, and contemporary production quirks. While she battles with overthinking in the "midnight hours", the late-night anthem is a masterclass in storytelling, bolstered by the soul-searching depths of Griff's vocal. HANNAH BROWNE
Noted for her effortless vocal delivery, Tirzah's journey within the industry has been one of slow ascent. From the release of her storming debut studio album Devotion, the artist has proven her genre-bending artistry time and time again through introspective releases and captivating visuals. "Send Me" marked a thrilling return, and sees the Domino-signee effortlessly embrace sultry whispers with utopian percussion. Released ahead of her highly complimented sophomore album Colourgrade, "Send Me" translucent energy and discordant electronica will have you embrace Tirzah at her strongest yet. LAVIEA THOMAS
29
"Simple Times" by Kacey Musgraves
Kacey Musgraves continuation into country-pop crossover foundations with Star-Crossed came from the same source as her critically acclaimed Golden Hour. However, while the former came etched from the shining rays of newborn love - and her first marriage - "Simple Times", and its encapsulating album instead came from the ensuing divorce.
While there are moments that find the darkening bronze in those golden hours, it's the haloed remembrance of when things were good that sparkle most. This is where the beauty of "Simple Times" lies.
Amongst its beautifully crafted minutiae of the teen years - the ones we've all yearned for - comes a lonesome longing. It's that pining that appears particularly after a demanding breakup that sucks up so much energy with its complexities. Musgraves makes you yearn for the days you didn't even realise were salad: hanging around shops, no concern with life, just walking streets figuring out what to do with your friends because that's all that matters. STEVEN LOFTIN
28
Don't Judge Me" by FKA twigs, Headie One and Fred again
It's hard to believe that Magdalene dropped over two years ago, but FKA Twigs fans are used to being kept waiting; after all, there were a whole four years between the second album and 2015's M3LL155A. Despite the sonic gap, 2021 has been a poignant year for FKA Twigs, who began it by addressing her lawsuit against Shia LaBeouf – and the abuse she experienced whilst in the relationship – in an interview with Louis Theroux on his Grounded podcast.
Dropping at a time where the memory of George Floyd and the Black Lives Matter protests of 2020 still felt fresh, "Don't Judge Me" is a striking commentary on what it means to be Black and British in 2021. Released the same day as the aforementioned interview, the track sees FKA Twigs push back against the figures that seek to hold power over her – both personally and symbolically.
Originally appearing as an interlude on Headie One and Fred Again..'s joint mixtape GANG, "Don't Judge Me" has been given an extended makeover as a powerful and thoughtful proclamation of defiance. Referencing personal experience over soundbites, Headie One reflects on the turn of chance in experiencing racism and discrimination, political paranoia, and the denail of one's history. KAYLEIGH WATSON
27
"Control" by Mannequin Pussy
"'I am in control' / That's what I tell myself": so opens Mannequin Pussy's vocalist Missy Dabice on the lead single from this year's EP, Perfect. Repetition, it transpires, is key, as she reflects upon her coping mechanisms for when times get tough. This subjection feels important at a time where the concept of control feels withered, and an untethered, anxiety-inducing sense of agency prevails. As islands braced in a larger storm as well as their own, it begs the question of where we go from here. Perhaps the answer is to relinquish control in its entirety.
Following on from their acclaimed third album Patience, "Control" shows a side of Mannequin Pussy that is gentler and more introspective than what we've become accustomed to over the years of their punk-influenced barrage. Ebbing and flowing between big, punchy drums and light, dreamy guitar work, the track helps capture Dabice's internal conflict and exposed vulnerability as her resolve ricochets back and forth. Wails and spiky interjections are echoed in the accompanying video for "Control", as Dabice – who also directed the piece – stabs and slices her way out of bedroom-isolated frustration before setting her mattress ablaze: it's a bit more on-the-nose than symbolic, but Mannequin Pussy have never been ones to beat around the bush. KAYLEIGH WATSON
26
"Fixer Upper" by Yard Act
It's 2021; I need a good reason to listen to four white men playing music. I hear "Fixer Upper", I'm in. It happens quick. Quick as Leeds quartet Yard Act's overnight success during two years of pandemic; quick as the snarkiness of their lyrics, delivery, guitar riffs, kick drums… quick as fun is.
Graeme, the protagonist of "Fixer Upper", is a casually racist property developer who makes passing mentions of his rights and wrongs - however 'wrong' is not a word he would ever use to describe himself. Graeme has bought a new house, "it's a fixer upper though, it's a fixer upper so!" We sing his words, and we almost like him; frontman James Smith tells his story and like any good writer, his parody almost redeems his characters. Each scene is delivered with precision and sardonic faith, born out of social analysis and political awareness.
Musically speaking, the track's formula is not that complicated. Four people, four instruments: drums, bass, voice and guitar. The riffs are piercing and sneer like Graeme; the drums and bass are tight and grounded. Nothing is missing, nothing superfluous – Yard Act's greatness sits comfortably in minimalism. CHRISTINA ALMEIDA
25
"Heavy Metal" by Paris Texas
In February, Compton duo Paris Texas arrived with the insatiable hunger of soon-to-be legends. The only thing they lacked was a backstory, having placed "Heavy Metal" in the hands of press teams worldwide with minimal pleasantries. For fans, it felt like a fact-finding exercise: who are Louie Pastel and Felix? Where did they come from? And how can I hear more? At the time, it was difficult to answer any of the above. With blank social media accounts and bios that said only "33.6609° N 95.5555° W", they could only be traced as far as their namesake, the actual city of Paris, Texas.
Redefining hip-hop with trashing riffs and a punk-like attitude, it's hard to recall a debut single that had a similar impact to "Heavy Metal" this year. Performed with the conviction and flow of seasoned artists, the track – along with its visually arresting promo – felt like a slap in the face. Paris Texas' thrill came with a set of intentions, and such did they deliver. HANNAH BROWNE
24
"Demon" by Moonchild Sanelly and Sad Night Dynamite
Consider this a collaborative match made in heaven, despite its infernal themes. One of South Africa's most exciting talents, Moonchild Sanelly has been stacking up tracks all the way back to her 2015 debut album Rabulpha!, but a string of six singles in 2021 have made her nigh on impossible to ignore. The same can be said for Sad Night Dynamite, surly effort "Smoke Hole" put them on the map. Together the starkissed affinity of both Moonchild and Sad Night Dynamite makes for a treat that is as sweet as it is licorice sour.
Unreservedly eerie, the twisted instrumental of "Demon" coils with a reptilian ease yet never relinquishes its grip. The union is a tale of two halves, with Sanelly needing to write about "a very real and dark experience [she] was going through" before proffering the track for Sad Night Dynamite's interpretation: a nightmare of being trialled for witchcraft that haunted Josh Greacen of the Somerset duo. Chilling yet poised; if only all bad dreams were this entertaining. KAYLEIGH WATSON
23
"On The Ground" by ROSÉ
Post-pandemic, music built walls around itself, and 2020's untimely disco revival jarred with the state of real-world dancefloors. Still, the highly anticipated solo single from BLACKPINK's Rosé was (unsurprisingly) nothing short of luxury. Effervescent, hot-pink electropop, it was a welcome interruption to the claustrophobic sounds of post-quarantine pop.
Underneath its glamour, "On The Ground" is a self-reflective, bittersweet story, that tells of Rosé's endless, soul-searching climb to K-pop superstardom and subsequent realisation that, unfortunately, success is not a tangible destination nor an answer to any problem. "What matters most […] is already within us," she says.
"I worked my whole life / Just to get high / Just to realise / Everything I need is on the ground," she sings on the precipice of the chorus, perhaps harkening to an epiphany many of us had during lockdown. The track is patterned by a preppy guitar and cut explosively with writhing synths, as Rosé sheds the superficiality of stardom and expresses gratitude for the little things in life. Ultimately, it's escapism – a sing-into-the-hairbrush, clutch-the-heart anthem that ironically but deservedly earned Rosé a Guinness World Record for most viewed YouTube music video in 24 hours, jettisoning the BLACKPINK singer into new career highs. OTIS ROBINSON
22
"I Am Not A Woman I'm A God" by Halsey
Halsey has long been one of the biggest pop stars on the planet, but they're also one of our greatest, richest storytellers, weaving stunning worlds out of their musical creations. This year's release, If I Can't Have Love, I Want Power marks their most powerful step yet. Released alongside a feature-length film, Halsey bared teheir soul on this album without expecting anything back, "I am not a woman, I'm a god" proving its fiercest statement.
Written in partnership with Nine Inch Nails' Trent Reznor and Atticus Ross, "I am not a woman, I'm a god" represents the record at its best: sizzling electronic beats mixing with snaking vocals, Halsey's trademark confessional lyrics, and divine femininity reborn. Halsey's negotiations of their own femininity were as reflective, disruptive, and ultimately empowering as the song itself, imbuing it with new essentialism. IMS TAYLOR
21
"Transparent Soul" by Willow feat Travis Barker
In the year that pop-punk returned to the mainstream over two decades after it last reigned supreme, it was Willow's reemergence which helped the angsty snot-nosed punks get back on top. An enthralling romp powered by the now-apparent genre kingpin Blink 182 drummer Travis Barker, Willow's caustic, carefree, and antagonistically truth-daring howls of "Transparency / I can see right through / just so you know" also birthed a new era for the former hair-whipper.
A through and through pop-punk jam, the melodies hit hard. However, Willow isn't going for a groundbreaking reimagining of the genre but a brick-by-brick rebuilding, keeping the template secure. Perhaps the most important facet of Willow's foray into pop-punk is that it brought a whitewashed genre speeding into 2021, helping the world to finally pay attention to other POC punk acts (Meet Me @ The Altar, Proper. et al) and bring them to a new genre-unbound generation. STEVEN LOFTIN
20
"Good 4 U" by Olivia Rodrigo
There are not many seventeen-year-old Disney stars that make a serious ripple in the music industry, but Olivia Rodrigo caused a tidal wave. Her rise to pop stardom was instantaneous: an actress in High School Musical: The Musical: The Series, she skipped the grassroots build and broke records from the get-go – being the youngest solo artist to debut at number one on the Billboard Hot 100 and having Spotify's most popular release by a female artist in its first week.
Quickly considered the voice of a generation with the piano ballad "driver's license", Rodrigo's odes to heartbreak turned sour in "good 4 u" – a pop-punk indebted anthem that universally charmed pre-teen fans and critics alike. An outlet for eye-rolls and sarcastic coping mechanisms in the wake of an ex-partner moving on, it's a greatest-hit moment, albeit within a debut year. Synonymous with teen angst and 21st-century pop culture, Olivia Rodrigo thrived on serving up sad girl anthems with visceral energy. HANNAH BROWNE
19
"Be Sweet" by Japanese Breakfast
Michelle Zauner did something miraculous in 2021. As well as releasing the incredible Jubilee and her heart-breaking memoir Crying in H Mart, she also managed to reignite the idea of the perfect pop single with the sugar-coated, bittersweet pill "Be Sweet". On the surface it's a giddy paean to love with a nod to Madonna's mid-'80s output – where on singles like "Holiday" and "Into the Groove", Ms. Ciccone hit pop perfection, a period of peak performance that Pet Shop Boys' Neil Tennant described his own '80s output as 'the imperial phase'.
But "Be Sweet" is a jewel amongst the endless highlights of Jubilee, and imperial in its understanding of pop music. As with all the best pop songs, there's a darker element at play beneath the giddy rush of the bass and the chorus - "Take the time to undo your lies / Make it up once more with feeling."
We all needed introspective songs this year, that reflected the back-and-forth nature of being at home whilst wanting to taste the outside world. But "Be Sweet" was the one we were crying out for, where Zauner blended the hedonistic joy of the dancefloor, the uncertainty of love and a desire to be treated, well, sweetly. ED NASH
18
"The Only Heartbreaker" by Mitski
They say you should never date someone if they don't have books in their house but the real adage is something about only having friends who listen to Mitski. You don't instantly weep when the guitars crash on "Your Best American Girl" or race down every beach you find yourself on with "Geyser" driving every manic leap? You can't sit here, you don't even go here, don't talk to me, etc.
"The Only Heartbreaker" is Mitski defiantly doing what Mitski does best: herself. Mitski doing Mistki is still better than most artists doing themselves. And it's beautiful, tender, wrenching and evocative of every single trauma in your life, just how it should be with Mitski. There's a pandemic on guys, thank your gods we have something nice to cry to. PAUL BRIDGEWATER
17
"Fuck This Town" by Glaive and Ericdoa
Within the community of fast-paced, electronic-leaning pop artists, the word "hyperpop" is a contested term with a meaning that has been stretched to cover anything that has any kind of experimental influence. There are some artists for whom the word just makes sense though, like glaive and ericdoa, two artists with origins in that scene set to breakout as their energetic, action-packed bops infiltrate the mainstream.
Exciting alone, but even more compelling together, the pair's collective output is extensive and prolific. Taken from their collaborative EP then i'll be happy, "Fuck This Town" – much like the project's first single "cloak n dagger" – is an addictive angsty anthem which draws on emo and alternative influences, but is ultimately a manic manifestation of the future of pop. MATTHEW KENT
16
""Just for me" by PinkPantheress
This summer was always going to be one of uncertainty, wonder, and maybe even new adventures – and "Just for me" wraps up all of that into 1 minute and 56 seconds of pure, sweet (borderline stalkerish) adoration.
Helped in large part by the twinkling loop of arpeggiated guitar, the clear nods to early 2000s garage and the softly-spoken shine of her vocals, there is no doubting PinkPantheress' ability to produce a hit that spans generational and temporal divides.A genuine breakout star of 2021 thanks to her intentional obscurity and addictive TikTok snippets, this infectious cut personifies scribbled diary entries to an almost Stan-esque intensity ("Your hair's under my pillow so I sleep"), exploring an unhealthy obsession with a first crush.
As the world gradually reopened, it felt like the timing of "Just for me" could not have been better. And even before Central Cee picked it up and propelled it to Number 4 in the UK charts, it was already definitive in its own right - with PinkPantheress embodying a spirit of delicate, warm hope whilst pushing the boundaries of what it means to be a DIY bedroom popstar. DINESH MATTU
15
"Valentine" by Snail Mail
Crunching back into life, Lindsey Jordan's reentry to the world as Snail Mail certainly made us stand up and pay attention. The slow build verses; the rapturous chorus; the howling yearning permeating throughout; sophomore album Valentine was the sound of Jordan shaking off the shackles of overexposure in a spotlight just that bit too bright, and in the wake of a brief stint in rehab.
Having started when in high school and fielding offers from majors for her debut Lush, Jordan's next step as Snail Mail was a tentative one. But donning her pink prom suit, and finding the raspy depths of her voice, "Valentine" and its accompanying album shattered expectations and drew the world back into her vulnerable charm. "Valentine" was also refreshing in how it offereed up something so utterly and disarmingly frank, a trend that the rest of its namesake album would follow. The impact of "Valentine" was just the cherry on the many cakes ludicrously engrained in the faces of the party-goers on its accompanying video. STEVEN LOFTIN
You can't say his name, but still Aminé is stuck in your head. It's been a slow come-up for the Arizona emcee, whose ability to rap on basically anything has been both an undeniable strength and an unfortunate flaw. 2017's Good for you took its cues from Kaytranada's brand of funk-hop. Anime's sophomore album "Limbo" experimented with boom-bap. But on his fourth LP, TWOPOINTFIVE, it appears the rapper has finally found his niche: twitchy bangers for the hyperpop generation.
"Charmander" is the album's purest hit, and its popcorn 8-bit loop and cutesie vocal hook will be dancing around your brain long after Aminé's tight two-minutes are up. The track is an uncomplicated statement of superiority, complete with a good few quips at his contemporaries' expense ("Look, these n*ggas be my sons; without me, they'd be done / Where thе fuck would you get all your mood-board pictures from?"). Introvert was great and all, but sometimes we just need rap that makes us wanna pogo. KITTY RICHARDSON
Florida-raised alternative artist Ethel Cain – aka Hayden Anhedönia – has the potential to be absolutely huge and "Crush" is the standout from her eclectic debut EP proper Inbred.
Across the collection we see her marry the trailer park glamour of early Lana Del Rey with sprinkles of warped country and anthemic alt-rock, as she channels both trauma and nostalgia through a cinematic lens. Inspired by small-town living after leaving Christianity and the Southern Baptist community at 16, it makes sense that Anhedönia found a home in rural Indiana, renting a converted 19th-century church with friends. The video for "Crush" features footage from that time in her life; shot on a handheld camera it mirrors the grit and raw lyrics which underlie all of Anhedönia's work.
A true artist, the Ethel Cain project extends far beyond its music, with Anhedönia at its helm as the vocalist, songwriter, producer – and cult leader in the making. Even its "Stripped" version is a masterpiece in and of itself as Cain's evocative and beautiful vocal is exposed with just a reverb-laced guitar backing her pained coos. MATTHEW KENT
12
"Syrup" by Tkay Maidza
Titling your album Last Year Was Weird in 2018 felt a tad preemptive, but perhaps Tkay Maidza's collections are more telling of how the world has been pummelling through various interpretations of "weird" for quite a while now. This year saw the Australian artist drop her third and final installment of Last Year Was Weird, a body of work which has seen her freely experiment with many a genre without ever pigeonholing herself.
Whilst tracks like "Cashmere" show a more affable and vulnerable side to Maidza, the bold and brazen "Syrup" is a stand-out, with her at her braggadocious best. Packed full of attitude, and underpinned by throbbing, reverberating bass and a skittish stomp, the track gurns and winds about Maidza's stoic, matter-of-fact vocal; on lyrics such as "I want it all, can't apologize / I'll take the cake and the kitchen knife," she brazenly states her intent: "I just wanna be rich". Hot, sticky, and with icily slick production plucked straight out of the early noughties, its a skittish stomp is a dead ringer for Timbaland. KAYLEIGH WATSON
11
"All Too Well (10 Minute Version)" by Taylor Swift
It's easy to forget that "All Too Well" wasn't even a single, despite being an obvious highlight from Taylor Swift's original Red release. It's also doubtful any of her team knew if the song's extended version – based on an early studio demo – would reach beyond standard Swiftian virility to become one of 2021's musical touchpoints.
The clues were all there, of course – the age-old story of a vampiric age gap that Swift has written about with such well-honed lyricism numerous times. Thematically a burning-hot potato, it resonated far beyond her fanbase, introducing Swift to a wider audience and tapping into conversations that were already happening about relationship power dynamics.
It helped, of course, that the pantomime villain of the piece was a target many felt comfortable kicking: Daddy-charming, patriarchy-fucking, fluffy-penised puppy-dog actor Jake Gyllenhaal – with his cool indie records, organic shoes and million dollar couch - who the 20-year-old Swift dated for a few months back in 2010 when he was 29. It's impossible to know where fact ended and fiction began, such is Swift's knack for carving relatable pop from formative life experiences. Does it matter? Not really; the song's 10-minute version amped up the dramatics, with some utterly devastating put downs about secrets, oaths, shame and scarves.
The song's narrative was punched home hard by a landmark SNL performance alongside a somewhat clumsy – and overtly literal – visual. The song's message, nevertheless, transported it instantly into the canon of great pop, somewhere between "You're Too Vain" and "Idiot Wind" PAUL BRIDGEWATER
10
"Like I Used To" by Sharon Van Etten and Angel Olsen
If this was a list of the best music videos of 2021, "Like I Used To" would win by a country mile and still have time for a victory lap before the rest of the pack finished the race. Directed by Kimberly Stuckwisch, who helmed Olivia Rodrigo's Sour Prom, it tells a visual story that plucks out the themes of "Like I Used To" and also of the last two years - of being stuck at home, yearning to revisit the outside world and the delight at eventually meeting old friends.
The scene sets with Olsen and Van Etten both seemingly in solitary confinement, playing acoustic guitars, walking around their houses, singing the same song and making their way through the day, as their body language and gestures mirror the other in simpatico for a desire for what we used to take for granted. At the denouement, they're outside, in the desert, as if making each other's acquaintance for the first time, interspersed by an ingenious ABBA reference, before the camera pans from both sides and they finally meet and find themselves dancing and singing together onstage.
It's a wonderfully uplifting visual, but it wouldn't be half as brilliant if the song itself wasn't so special, timely and inspiring. The drums and the guitar riff build up the euphoria, but it's Van Etten and Olsen's interlocking voices that are the stars of the show here; equal parts exultant, nostalgic and hopeful, as their harmonies egolessly dovetail around the other.
If you mixed the rebellious, musical rush of Bruce Springsteen's "Born to Run" with the reflective, lyrical nostalgia of Joni Mitchell's "Both Sides Now", added two of the finest American singers and songwriters of this century, the result would be pretty special right?. That's exactly what "Like I Used To" is. Everything about it is perfect, and we all needed a glimpse of perfection in 2021. ED NASH
There are surely two common responses to break-ups –aggressive self-improvement, and total collapse. SZA, who has spent her career mining the painful spoils of past relationships, seem to oscillate between the two – sometimes, as in "Good Days", in the same song.
The single – taken, supposedly, from her rabidly-awaited third album – dropped unexpectedly on Christmas Day last year, but it's too shiny a gem to be left out on a technicality. The sheer simplicity of the track is a testament to the power of SZA's vocal performance: over a lone guitar loop, and a relatively unremarkable drum beat, the soulstress flies up octaves and twists each melody in her signature improvisational style, reflecting her inner emotional tumult. In an uncharacteristically low-key contribution, Jacob Collier adds his own densely-layered backing vocals to the mix, bringing a welcome touch of old soul.
Every time SZA opens her diary like this, she re-establishes herself as a chaotic good fairy; the kind of fairy who'll have your back whether you require some sagely self-love advice or an accomplice to help set fire to your ex's belongings. Here's hoping that in 2022, she'll finally leave that third album under our pillow. KITTY RICHARDSON
8
"Pick Up Your Feelings" by Jazmine Sullivan
34-year-old Jazmine Sullivan is undoubtably an R&B veteran at this point but Heaux Tales - her career-high long-player from this year - was shopfronted by one of the most iconic kiss-off tracks ever made.
Her first number-one single on R&B radio, "Pick Up Your Feelings" delivered a vocal unparalleled in 2021. "Contact, don't exist/Need a ride? / Call that bitch / Gas way too expensive," Sullivan rasps and snaps against a 6/8 beat. Never has ferocious confidence, vitriolic cool, and a fuck-you dismissiveness par-excellence come together so beautifully. Musically, Sullivan and producer DZL created something instantly canonical that never felt backward-looking despite being closer to the traditions of R&B than most of her contemporaries. PAUL BRIDGEWATER
7
"Montero (Call Me By Your Name)" by Lil Nas X
It's been nine months since Lil Nas X took a shirtless plunge into the depths of hell. The discourse had only just silenced around Megan Thee Stallion and Cardi B's sex-positive anthem, but it's as if "WAP" walked so "Montero (Call Me By Your Name)" could run.
A reference to Nas X's birth name as well as the Oscar-winning, Timothée Chalamet-led film, the track itself – backed with quasi-Latina flamenco claps and an earworm of a chorus – was his most overtly queer release to date. In an embrace of identity, the accompanying music video immediately raised traditionalist eyebrows tenfold; with Nas X performing a sensual lap dance for Satan beneath the religiously significant settings of Eden. The censure, laden with homophobia and rightist values, was a pattern that has played out before – gay people (particularly black gay people) being met with a holier-than-thou scorn when putting sexuality on display.
What the political detractors of "Montero" seemed to miss was that, for all its vivid imagery, the reaction was perpetuating virality. Nas X trolled every slither of controversy that came his way (from Nike to South Dakota Governor Kristi Noem, to Fox News reporters,) reminding fans and critics alike that he thrives in the digital mainstream. All the while proving himself as one of the most unpredictable, unapologetic, and unwavering generational talents, it's an audacious middle finger number that will be cited for years to come. "Montero" was equipped for controversy, and at its best, used Lil Nas X's artistic merit as a vehicle to liberate. HANNAH BROWNE
6
"Thot Shit" by Megan Thee Stallion
It's crazy to think of how big Megan Thee Stallion has become over the past couple of years. Her debut album, Good News, followed the titanic Cardi B collaboration "WAP'"which, in turn, was succeeded by her singular anthem "Body". But how do you solve a problem like "Body-ody-ody", when a track becomes so synonymous with your name that it threatens to eclipse everything else you do? The answer: just write another one.
Coming back with a bang is no problem when you drop a number like "Thot Shit". Her first new music of 2021, Megan was wholly reinvigorated and impossible to ignore - and deservedly so, following the infamous Tory Lanez incident that still looms like a spectre in the periphery and which saw the 26-year-old rapper subject to internet ridicule after being shot in the foot.
With attention back where it should be, "Thot Shit" is an unforgettable clarion call for female empowerment in a world that still scrutinises women, and especially those in pop culture, for openly exploring their sexual identity. Fittingly (slut)dropping during Hot Girl Summer, "Thot Shit" sees Megan unapologetically flex before her detractors, quipping how "hoes used to clap for me happily / Now I'm bossed up and them same hoes mad at me" - for stacking green, and graduating college.
Plus the video is something else. Tapping into her love of horror and mixed with a hefty dollop of her quick wit, the visuals are an, er, experience all of their own. Inspired by the conservative backlash to "WAP" and classics including A Nightmare on Elm Street, and The Shining, Megan mobilises fellow thotty girls to inconvenience politicians by throwing shapes at every opportunity: think torture, twerking, and tongue in cheek - with a whole lotta cheek. Stick it out to the end. KAYLEIGH WATSON
5
"Bunny Is A Rider" by Caroline Polachek
After Pang's success in 2019 (and an unexpected cover of The Corrs' "Breathless" in 2020) Caroline Polachek returned this July with the bass-laden bop "Bunny Is A Rider". Co-produced by Danny L Harle, the track is nothing short of a smash from Polachek, and even features Harle's baby daughter's first vocal cameo.
Written about being unavailable and impossible to get hold of, the song sees Polachek delve into the more pop and accessible ends of her writing. Its driving percussion keep you moving as the mood sways from high to low, and that unmissable whistle rings through the tight production throughout.
It's a standout song for Polachek – it marks the start of a new era, as well as cementing the fact that Pang wasn't just a one off. In fact, if this is the standard for what's coming, it's arguable that Polachek has never been better and this is only the beginning. "Bunny Is A Rider" is an earworm if you've ever heard one, and there's no denying that it's impeccably written from start to finish.
Making you want to strut to the beat and turn up the heat, the message of "Bunny Is A Rider" is that of anonymity and refusing to stick around and get your heart broken. It's a feeling we've all felt at one point or another, making it all the more fun to listen to.
"Anyone can be Bunny," says Polachek, "at least for three minutes and seventeen seconds." DAVID COBBALD
4
"Drivers License" by Olivia Rodrigo
Honestly, where do you start when talking about one of the years biggest tracks - in both musicality and statistics? "Drivers License" swept through the world with its delicate reimagining of that cruellest fate: teen heartbreak.
The fact this was the grenade pin that saw Olivia Rodrigo go overnight - almost quite literally - from relative Disney star to household name worldwide makes it all the more of a fantastic journey. The aching in her voice as she confronts "because you didn't mean what you wrote in that song about me" radiates across its run time. An impressive act in itself, there was of course also the IRL surrounding drama with the purported antagonist, and High School Musical: The Musical: The Series co-star Joshua Bassett fuelling the public interest in this exploding new star - also giving that ache a new facet.
Much like this change of course in her career, the tracks handbrake turn from piano lamentation into its misdirecting rapturous Lorde-ish choral cloak (and the closest we'd get to such sounds this year *ahem*) is spectacular. While it's the radio that propelled Rodrigo forward, the uncensored version where she pleads "I still fucking love you" just hits a bit different. It finds that raw, sore spot that we're all nurturing from love lost, throwing a pebble into that murky emotional puddle ready to resonate a bit too much.
"Drivers License" also anchors in with a reflective maturity. Thanks in part to co-writer indie songwriting wunderkind Dan Nigro, Like an idling engine, life goes on - love comes and goes - but with artists like Rodrigo fronting such inimitable versions of those most difficult to bear moments, we can reside in them. Plus, if anything, it confirmed that we as people need two things to survive: gossip and songs about lost love. STEVEN LOFTIN
3
"Introvert" by Little Simz
The interrogative and artistically-defining lead track from Little Simz' fourth studio album casts self-reflection against a backdrop of real-world crisis and in 2021 it felt full-blooded and vital. Dropping as the UK entered the final month of the last lockdown, the song's call to arms felt familiar to anyone consumed with questions of personal agency.
A creative high for the North London-born rapper, "Introvert" is artistically fearless, finding its strength in vulnerability. Epic in every single aspect - from the strings, brass and military drum intro to the touching and tender spoken word outro from The Crown's Emma Corrin - it also came with a perfectly toned visual, via director Salomon Ligthelm (Young Fathers, The Weeknd, Giveon). PAUL BRIDGEWATER
2
"Infinite Straight" by tendai
If you want an injection of liquid optimism, the "Roars" of this world have got you covered. And if you want to wallow in helplessness, so has all of grunge. But songs about hope don't come much better, or faithful to life, than "Infinite straight" – a track that acknowledges how weary, and dread-laden, the task of rescuing yourself can become.
This nacent release by East London singer-producer tendai journeys from a stark spoken word opening (by relative unknown Dora Jarkowski) to dusty hip hop, conjuring the desolation of the wild wild west. Felix Joseph – the prolific songwriter behind, amongst other gems, Hare Squad's "Herside Story" and Pa Salieu's Send Them to Coventry – co-produced "Infinite straight", and his fingerprints are all over it: the minimalist groove; the earworm guitar hook; the cinematic polish. Tendai sings in a breathy half-rap about being dragged down by the gravity of others, and putting your faith in false prophets. After a wistful all-is-lost breakdown, that steadfast drumbeat returns like a call to arms – to clamber to your feet and carry on walking.
With the sophistication of a sophomore release, this is dangerously promising for a second single – a move you only make if you know you can better it. But, with the prowess and bloody-minded resolve tendai showcases on "Infinite Straight", we think he has it in him. KITTY RICHARDSON
1
"Silk Chiffon" by MUNA feat Phoebe Bridgers
It says a lot that one of Muna's breakout singles was titled "Crying on the bathroom floor".
The LA three-piece have made a career out of lesbian tragedies; tales of profound loneliness , sour break-ups and the irremovable stains of heartbreak. So when fans got halfway through their ultra-sunny love song "Silk Chiffon", they were probably expecting a catch – one of the lyrical gut-punches lead singer Katie Gavin is so skilled at delivering.
But no. "Silk Chiffon" is a wide-eyed, no-nonsense ode to being really, really into someone. The band's first release on Phoebe Bridger's Saddest Factory label, the track leans hard into the glittering motifs that give Muna their power – the sincere 90s rhythm guitar, the main-stage snares, the sublime three-girl harmonies. Bridgers sings "Life's so fun" through an audible grin, and this time, there's no irony; no ominous middle eight on the horizon. Even the video is a Russian doll of Sapphic pop culture references; a parody of But I'm a Cheerleader complete with butch cowgirls and Bridgers as an ex-gay counsellor, directed by Feel Good's Ally Pankiw.
We're not short on blissful declarative love songs. But the unabashed femme4femme energy of "Silk Chiffon" feels like a compassionate retaliation – to every storyline where the lesbian love interest got unceremoniously murdered, ravaged by illness ... or paired off with the straight guy. It retaliates even to Muna's back catalogue of bleak, if beautiful, break-up anthems. It is the happy ending we deserve. KITTY RICHARDSON