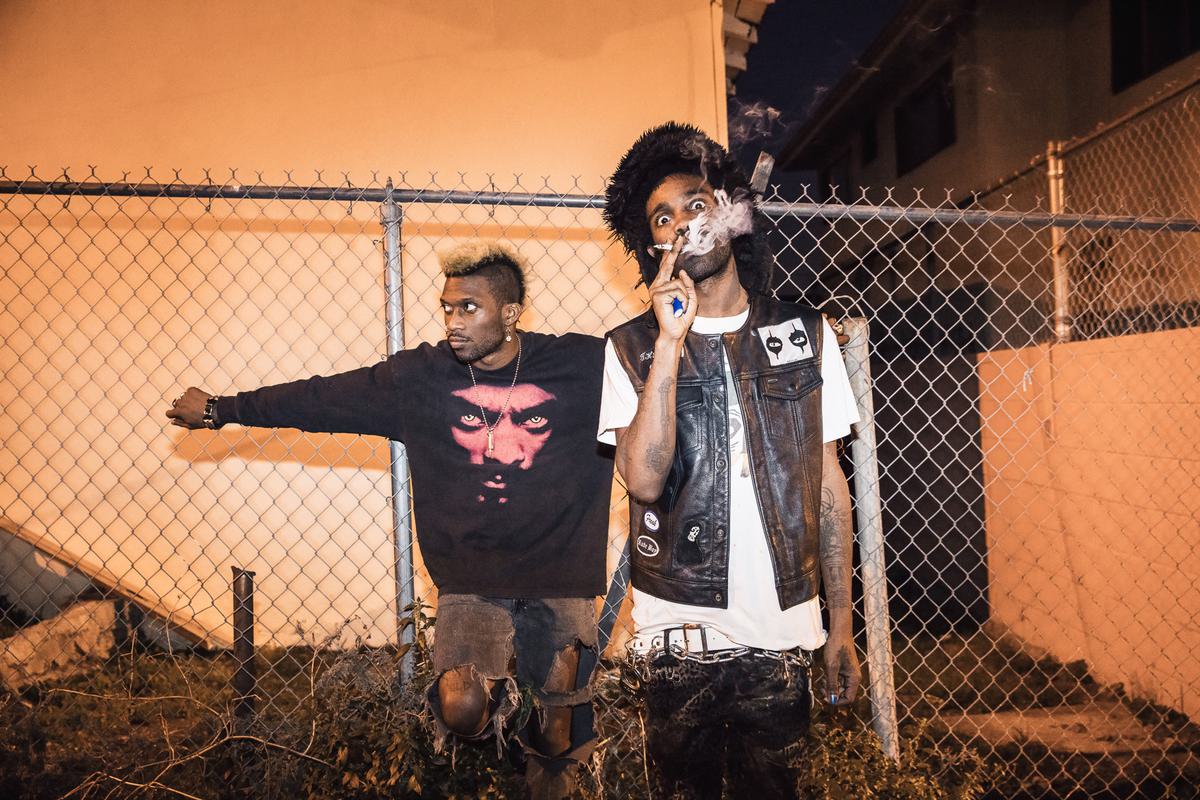 All Apologies: Ho99o9
29 May 2016, 15:22
Who would play you in the movie of your life?

Eaddy: A 1991 Ice Cube. My life would be a sequel to "Boyz N the Hood" but on the East Coast in New Jersey rather then California, very similar up-bringing & lifestyle in that movie to that which I grew up in. Wasn't raised with a gold spoon in my mouth behind a white picket fence but raised in poverty, violence, gangs, drugs & heartbreak.

TheOGM: Tupac Shakur cuz reality is wrong, dreams are for real. He'd be a mixture of the Poetic Justice Pac, Above the Rim, & Juice ...passionate, straight forward, no fear.

What would your superpower be and why?

TheOGM: I don't wanna have super powers, lust and greed already has power over me. If you're really curious I'd wanna be immune to every sickness, STD, etc - meaning I could fucc whoever I want raw and not catch anything. Raw for life.

Eaddy: Read minds, like Professor X in the movie X-men, so I could know if chicks dig me or not. And if I was in school, of course to get all the answers on the exam. But more than likely I won't need it for school because I don't like school, I just like girls.

What's your idea of heaven?

theOGM: My idea of heaven is absolute nothingness. There is no heaven - we're living in both heaven and hell as we speak

Eaddy: I would think Biggie & 2 Pac would be kicking back smoking a blunt while playing PlayStation. And David Bowie & Lemmy would be having a whiskey & coke while sharing some tunes on the guitar or bass. Heaven would be chill, happy place, probably a gnarly view looking down on earth. But I want to see what hell looks like.

What one thing have you learnt from your parents?

theOGM: My parents taught me not to trust strangers and police. Just because they seem friendly at first doesn't mean they really are, I don't share blunts with niggas I don't know nor do I speak with pigs.

Eaddy: Use a condom when you having sex. Your beautiful child/kid/infant/toddler will one day reach a certain age, go through puberty, grow a beard, find out about girls and one day have sex eventually - make sure they wrap that jimmy up for protection. SAFE SEX, GOOD SEX. <3 SEX

What song do you wish you'd written?

theOGM: "I Gave You Power" by Nas. Jazz // Rap , he raps in first person from the perspective of a gun. How it affects the user, the victims, etc. The wordplay is sick.

Eaddy: "Queen's Gambit" by Gza - mellow, slow paced, sensual related, very dull tune. Tells a story about meeting a female then a few of her friends and having sex with all 3 of them at the end but little do you know in his lyrics he names every NFL football team in the rhymes, it's mind blowing when you read the lyric sheet. Hip-hop at its finest.

If you could say something to your 15 year old self, what would it be?

theOGM: I would tell 'em to save money, learn how to make beats, protect your art, mind, eat healthy and never forget to have fun.

Eaddy: Learn how to play an instrument (mainly guitar or bass), study/pay attention more in school, never give up, express yourself through writing and words.

What's your re-occurring nightmare?

theOGM: Dreamt my dread locs were gone, woke up checking my skull.

Eaddy: My old neighbourhood from when I was a child. It was so fucked up with the people in the community other than what was around it. I will never in my life walk, drive or go through that place again. I have dreams of the building I lived in and it scares me to death, I wake up sweating. It made me the man I am today but I would never revisit it.

What song will they play at your funeral?

theOGM: "Never Can Say Goodbye" by Jackson 5

Eaddy: "Black Sabbath" by Black Sabbath

What five people would you invite to your fantasy dinner party?

theOGM: Prince, Kanye West, Scarlett Johansson, MF Doom & Beyoncé

Eaddy: Dennis Rodman, Tommy Lee, Miley Cyrus, Uncle Luke, & P. Diddy

And finally, who would you most like to apologise to and why?

theOGM: My dick, for fucking mediocre women and crazy women. My dick deserves only the best.

Eaddy: I went to a Growlers show about 5 years back in NYC. I ended up digesting some paraphernalia at midnight which sent me into a loop and while standing in the middle of the floor surrounded by people I had to use the bathroom, so I finished my beer and urinated in the cup, walked my way towards outside and placed the cup on the bar table. I'm sorry to whoever found out that was P instead of a Bud Light!

Ho99o9's latest mixtape was released in November 2015, they play Roskilde in Denmark this summer along with the likes of LCD Soundsystem, Wiz Khalifa, Tame Impala and more. Find out more here.