Cat Power's version of a classic 1966 Bob Dylan show excels in painstakingly accurate historical re-enactment
"Cat Power Sings Dylan: The 1966 Royal Albert Hall Concert"
Release date: 10 November 2023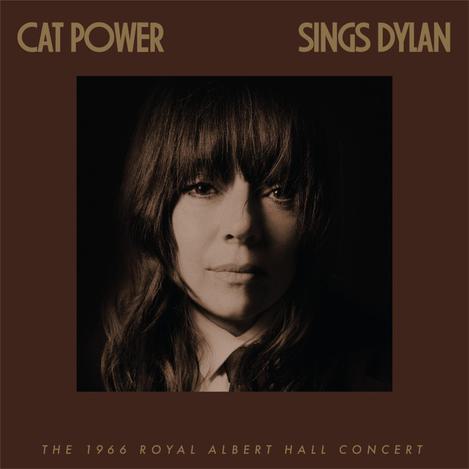 "Judas!", an audience member is caught yelling on Cat Power Sings Dylan.

It's at roughly the same spot in the proceedings where Bob Dylan was faced with an identical biblical heckle during the legendary May 1966 concert in Manchester (wrongly labelled as London on initial bootlegs) that Cat Power's first live record pays reverent tribute to. With one crucial difference.

Back in 1966, the audience member (having somehow failed to note that Dylan's huge 1965 hit "Like a Rolling Stone" featured a full band) was full of righteous indignation at Dylan's transformation from a socially conscious folk singer to an electrified rock 'n' roll poet. In the case of Cat Power Sings Dylan, there are no revisionist re-interpretations to irk even the biggest Dylan purist.

The 'Judas' heckle is keeping with the ethos of respectful historical re-enactment of the November 2022 concert where Cat Power (aka singer–songwriter Chan Marshall) set out to recreate Dylan's 1966 live set as painstakingly accurately as possible. As such, Cat Power Sings Dylan includes multiple facsimiles of Dylan's meandering harmonica excursions, acoustic and electric halves following the original setlist, and a backing band who sound remarkably like the band (or The Band) that accompanied the iconic songwriter on that divisive 1966 tour.
There are times during Cat Power Sings Dylan when you might struggle to identify a solid rationale for such a precise re-enactment, apart from a possible quest to out-obsess even the most devoted Dylan fanatics. When the renditions feel like skilled yet dutiful replicas, it's hard not to long for the bolder interpretative ethos that characterised, say, Lucinda Williams's recent set of Dylan covers – or indeed the crackling abandon that elevated the electric half of Dylan's 1966 shows (captured on Live 1966, a 1998 entry to Dylan's ongoing Bootleg Series). Considering Marshall's track record of dramatically reshaping other people's tunes (see her take on "Satisfaction", cast as a spectral solo blues), and Dylan's own inability to play a song the same way twice, the steadfast adherence to the original 1966 arrangements can also seem like a missed opportunity to dust off the classics.
That said, when the proceedings fully ignite, Marshall proves that her reputation as a masterful interpreter (solidified over a series of covers albums) is fully justified. It's hard to find a new angle on a solid gold standard like "Mr. Tambourine Man", yet Marshall inhabits the song's sense of weary (possibly stoned) disorientation with such zest and spirit that it brings the overfamiliar tune out from underneath weighty layers of historical significance for gulps of reinvigorating fresh air. Only the boldest of singers would approach "Ballad of a Thin Man" (possibly the most withering selection from Dylan's impeccable bank of mid-60s putdown tunes), yet Marshall positively bites down on the acidic lyrics in a valiant effort to out-fury the original. Throughout, there is a compelling sense of commitment and deep love towards the material and the concept from both the stage and the audience – but ultimately the undertaking is perhaps a bit too respectful to make Cat Power Sings Dylan truly come alive.