NO CEREMONY/// – NO CEREMONY///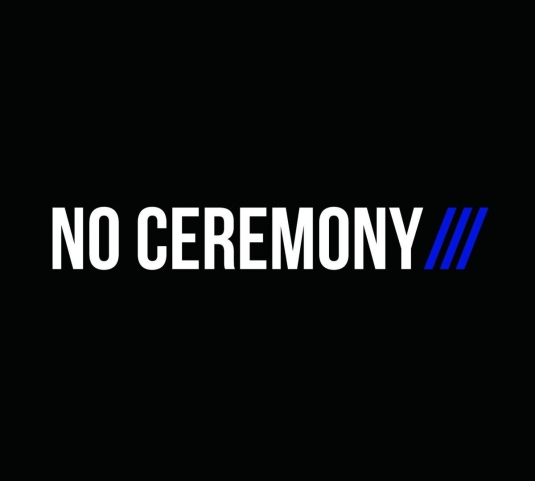 No Ceremony (or, OK, NO CEREMONY///)'s debut LP might be a little behind schedule – they told us last July that it was due out at the front end of 2013 – but finally, this September, we'll receive it via their own label NOC///. The trio have been sculpting droves of fuss since early last year, deliberately remaining shrouded by mystique (á la The Child Of Lov/Burial) so that audiences can simply focus on their music; however, as us fickle public are want to do, we took that as a sign that they should be discussed a great deal.
Suddenly, with only a handful of tracks under their belt, NO CEREMONY/// were thrust into the limelight and front pages everywhere, despite a majority of people knowing sod all about the who, what, where, when and why. Fast forward a year, and there's still little to go on. We're still only dealing with first names, and other than knowing they're from Manchester, facts are few and far between. That's not stopped them doing BBC Radio sessions, festivals and supporting the Pixies on their upcoming iTunes fest date.
Things are going rather splendidly for the threesome, which comprises Kelly and James (on beats/synths/production) and Victoria (on vocal duties), ably swiping aside any issues that may arise due to their stringent desire for anonymity. In fact, they appear to be flourishing in the face of such mystery. But, of course, they'd be nothing without a stockpile of intriguing, brilliant music to back up their media/PR ephemera. Fortunately, the outfit score highly on that front: gorgeous, often ruthless bare-bones emotion is nailed to shivering synths, crisp beats and immaculate vox; there's a pop tincture swirling amidst the electronica/post-dubstep ocean.
'HURTLOVE' is creaking with 4am pianos and empty-cathedral reverb; (presumably) Victoria's words are engulfed in a deluge of effects, and the result is a voice riddled with electric flux. It's a brutal opener, and though we may have heard it already many times, its emotional impact is no less powerful – it remains a knockout blow. The second familiar effort, 'FEELSOLOW', veers into more standard fare. It's a blinding pop cut, with throbbing bass, granite beats and future R&B keys, that, although has potential to devastate your soul, could quite ably clamber through the Top 40. It has pace, sublime harmonies and visceral hooks. It's a masterclass in pop songwriting.
Belching awake, 'HEARTBREAKER' casts gruelling synths into the arena. There's more than a twang of Crystal Castles on offer, with Victoria's softly-softly tortured vocals on the receiving end of sonic pokers and aural firebrands. Joey Santago, of Pixies fame, lends his iconic brain-melting guitar prowess to the fray; it's a laconic timbre shift, but one that blends perfectly with the serrated synth bass. Also featuring on the record is Irish singer-songwriter James Vincent McMorrow. Lending his campfire-crackle pipes to the synthetic concoction of 'AWAYFROMHERE' is yet another fascinating twist amongst the shivering blue-lit album. There are glasslike acoustic chords cavorting with agonised half-time beats and cavernous piano echo; while it doesn't feature the signature tones of Victoria overtly, this is still a grand, lurching NO CEREMONY/// spree.
'PARTOFME' opens with brittle soul-flecked autotune and sticky pop keys, before it descends into a semi-dubstep wobble, with warped elastic bass. Clearly an ode conjured for dancefloors, you'll be unable to deny the post-rave sensibilities – give in and dance. Piano is a focal instrument for the act, with the three performers eschewing de rigueur axes (for the most part) in favour of organic tinkled ivories – however, on the final two tracks, there is a liberal sprinkling of six-stringer strumming. 'DELIVERUS' fuses neo-folk melodies with wide-eyed awe and dark, dramatic production, whereas 'HEAVYHOUR' opts for a lighter tone. Ending the LP, the effort pulses with plastic drums, but, due to the inclusion of both sparse piano and the rustic acoustic guitar solemnity, it sticks out as a vastly organic ditty shining between mammoth electronica and robotic dance.
The production budget for NO CEREMONY/// was no doubt substantial, but rather than that diminishing any oomph that the band convey under a layer of faux noise, it adds to their fluid nature. It's glossy in all the right parts, and roughly hewn in others – there's been a considerable amount of nitpicking and attending to details during the process of crafting this record. The effort that's been expended making it is plain to see; it pays off like a lottery win, and the result is a sensational collection of songs that affect every ounce of your physical body and mental state. It's a full-body sensory overload, capable of tearing your heart and mind asunder.