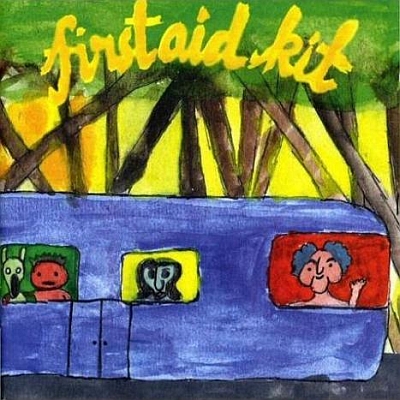 It's just struck me that First Aid Kit will be the first musical act I've reviewed the members of which are all younger than me. From just outside of Stockholm, sisters Johanna and Klara Söderberg (born in 1990 and 1993, respectively) comprise a folk-pop duo of quite significant youth. How often is it that we feel compelled to mention a performer's age, after all?
Originally released in Sweden in early 2008, this debut EP Drunken Trees is one of the band's two main claims to fame, the other being their cover of Fleet Foxes' 'Tiger Mountain Peasant Song' which, personally, I can't help but think has a success far out of scale with its rather meagre quality. As evidenced by this re-release, though, we can happily say that Drunken Trees itself, a fairly-generous-for-an-EP collection of seven songs comprising 25 minutes, is far superior to that ambitious cover.
Whilst it shares Fleet Foxes' warmth and earnestness, First Aid Kit's own material doesn't attempt to emulate the American band's grandiosity or oldy-worldy flavour. This is intimate, subtle folk, as you might expect from a small and inexperienced duo. 'Jagadamba, You Might' is particularly sparse, comprising only acoustic guitar and a haunting, lilting vocal. It still proves to be the exception rather the rule, however, as the remainder of the EP is comparitively bouyant. Opener 'Little Moon' begins with a slightly jarring, cutesy spoken word section but quickly coalesces into something more typical of the rest of the material – simple and a little ramshackle, but enthusiastic and undeniably appealing nonetheless. 'Cross Oceans' is arguably the most interesting thing on here, ending the EP on something with a little more pace and drive, added to by organ and handclaps.
The nagging feeling here though, is simply one of knowing on each listen that there are many superior bands operating in First Aid Kit's niche, whose music is typically more ambitious and more absorbingly realised. It's entirely likely that this EP will be looked back on as the release which turned these able girls from musical nobodies into somebodies, the release which allowed them to embark on a subsequent career which allowed them to grow and develop on to greater things. What Drunken Trees is not, however, is a vector by which a fully-formed folk revelation is delivered to us. Far from relying wholly on youthful exuberance, this EP displays more than enough maturity to convince me that First Aid Kit know this is just an intriguing beginning, and that the best is yet to come.
65%
More from Best Fit