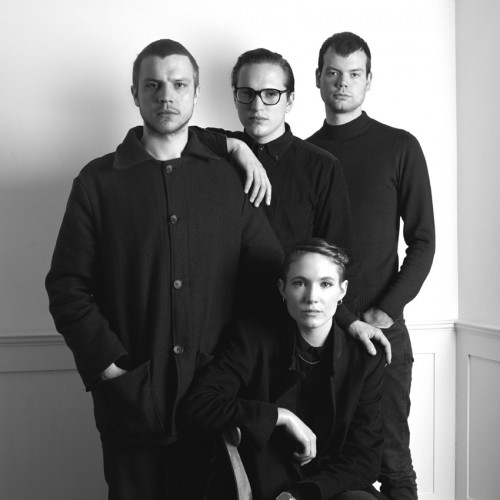 What do you do on your downtime from the band?
Fiona: Read, and try to keep writing.
Your single 'To The End' sounds remarkably sensual (as does a lot of your music). How did you create that effect?
Will: We are fortunate to have a few analogue synthesisers that have extremely warm sounds. That is a big part of it. Fiona's voice is key as well, I think it is very beautiful.
Josh: Whilst recording that track we were quite isolated. Only Fiona had the Internet, Will's laptop with his music on had died, I had moved all my music onto a hard drive and only had three albums to listen too. I think being quite removed from newer music we were able to 'feel' what were doing a bit more.
Silence/sparseness is something that features heavily in your sounds. What do you think this achieves?
Fiona: Minimalism. I can't think straight if it sounds too cluttered. It's important to give space so that the sounds can have a bigger impact, otherwise so much gets lost.
How did you write and record the 'To The End'?
Will: Interestingly when I was back in Kendal some time last year, I recorded the chorus piano line into my mobile phone then sent it around. The whole song just built up from that. To be honest, mobile phones are really helpful for catching moments of inspiration. So many of our songs have started with these recordings.
Did you do anything to celebrate the release?
Fiona: When we were getting the test pressings of the vinyl done at Abbey Road, we were asked what we would like inscribed onto the vinyl runoff. It made sense to pay homage to the original song names – 'The World at One' and 'Book At Bedtime' – so that felt like a nice way to celebrate, to remind ourselves of how it all started.
What was your first gig like?
Fiona: It was at my old flat. We had a house party, and played in front of our mates. I don't remember much of it, just that it was a themed hat party and Nick was wearing a beret.
How have things changed?
Fiona: We don't play at my house parties anymore.
Where's your favourite city/town to tour?
Fiona: We've only really played in London, so London I guess.
You had success in the past with 'Jenni' and 'Human', but have spoken about wanting a clean slate. Why did you want to begin again?
Will: The Internet is a fickle place. We had spent a long time refining our sound and felt that we had made a huge step-up. If people search for us, we want them to be directed to one quality song rather than scatterings of different tracks. It's about taking control.
What did you do in the time away?
Fiona: Said no to things. We stopped gigging and instead spent time focusing on writing and recording new music. We started again in a way. It was so nice not to have anything else to worry about, just going to the studio to record.
Do you feel like things are now going down the right path?
Fiona: We feel a lot happier with where we are sonically, but we've still got a lot to work on and develop. I don't think we'll ever be totally satisfied with what we make, when you become complacent it's time to stop.
What are your longterm plans for the future?
Will: We want to keep on evolving and discovering.
Do you have many plans for the summer? Any festivals or releases coming up?
Will: We have a tour with Still Corners next month and then it's a case of writing more and developing what we already have until there is a body of work that we believe in and can turn into an album.