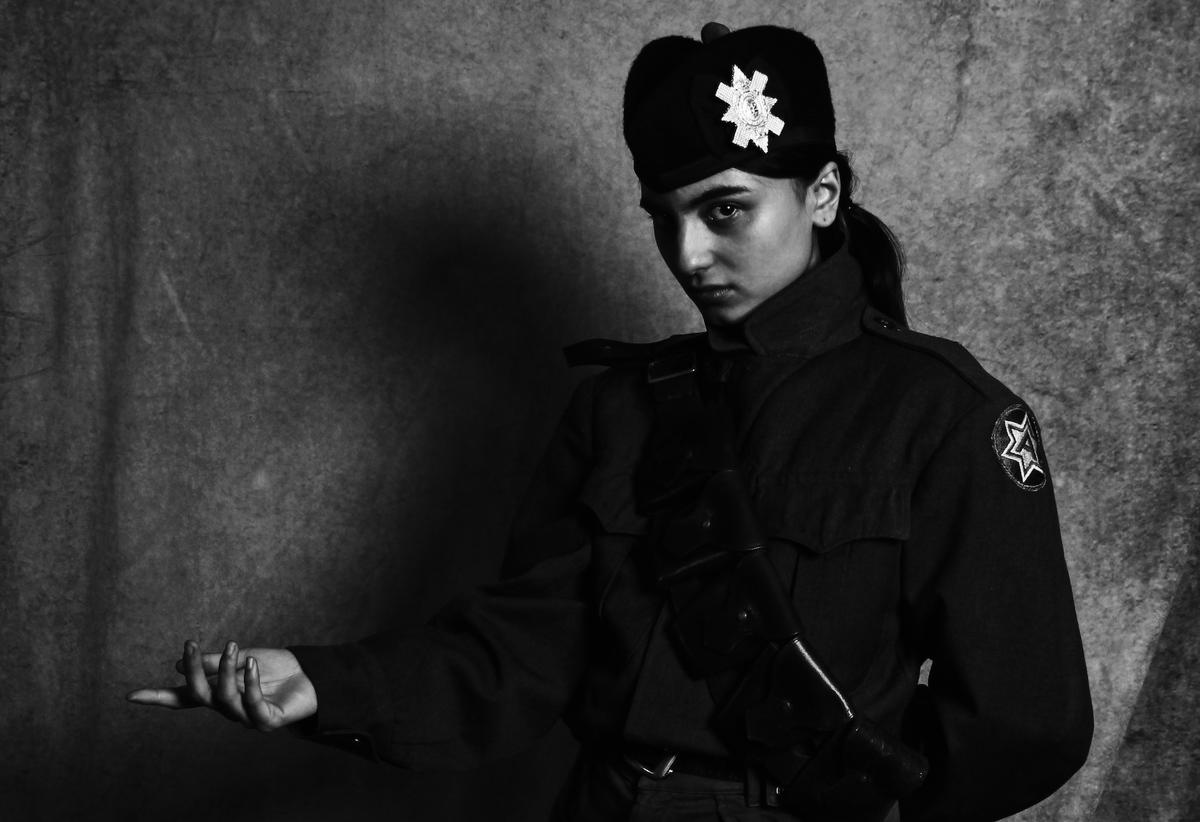 Heartworms details the downfall of man on resonant debut "Consistent Dedication"
Dripping with gothic-esque synth lines and driven by a pounding drum line and echoed guitars, South London's Heartworms introduces herself to the masses with "Consistent Dedication", her first single under Speedy Wundergound.
Inspired by the works of Kraftwerk and Interpol, "Consistent Dedication" finds Heartworms reflecting on the odious nature of mankind, and its failings to both themselves and the world around them. The track builds towards its thunderous conclusion throughout, with Heartworms finishing the track screaming "Ugly is The Man" in full-throated glee, before curtailing off into a soft whisper; which only goes to further accentuate the strength of feeling the track holds.
"I wrote it about a year ago in the room where the music video for "What Can I Do" was filmed," Heartworms recalls of the song's creation. "I listened to the song "The Skins" by Scissor Sisters and fell in love with its funky guitar that comes in and out throughout the whole track. "Consistent Dedication" slowly became something more in my mind, I wanted it to build, be memorable and short. I had this constant thought of a dog barking near the end too so I YouTubed 'Rottweiler bark' and shoved that sound effect in which you can hear start around 2:10," Heartworms adds of the sounds haunting production and efforts to double down on the songs dark textures, "it really gave this dark dimension to the track, ugliness of mankind, ominous barking and me shouting my poor little lungs out at the end."
The track wasn't always Heartworms' first choice for her debut, in fact it wasn't even second choice. Her decision, however, changed when she saw the insight it gave listeners into the world she wished to create with her art and the personality at the root of all her work. "I realised it had strong leadership and representation to my peculiar world, introducing the humour and wittiness yet grotesque imagination of Heartworms," she adds, "it collectively throws everything to the audience to ready them for what's to come."
The track was produced by super-producer Dan Carey, whose previous work includes tracks with Fontaines D.C. and Black Midi. Heartworms first introduced herself to Carey via Instagram, but over time the pair struck up a friendship, which cumulated in Heartworms recording a track as part of Carey's quarantine session series. Before long, Heartworms was asked to join Speedy Wunderground, Carey's label which promotes speed in recording, producing and releasing music. "Recording of all records will be done in one day and finish before midnight," the label's ten-point plan explains. "Mixing will be done the day following the recording, also in one day only. This will prevent over-cooking and 'faff'."
As well as music, Heartworms has also developed a passion for military history, which is highlighted by her military-esque uniform across artwork and performances. In particular, she's drawn to the aircrafts used during the second world war. Her interest in the subject began after she read The Code Book which detailed the history of Alan Turning, the Enigma Machine and the history of code-breaking. "I watched a movie called Spitfire, I have never cried of happiness and passion over a documentary movie before," she recalls of her growing intrigue with the era, "from then on I delve deep into aircraft of WWII, Spitfires are all I wanted to see and know of mainly but more I introduced myself to the ore my interest for aviation came through. I love making model aircraft with Airfix, watching anything aviation on youtube, old books on anything aircraft from bookshops and so forth," she adds, "you know when you finally found something that is all you if it brings you much joy as military history and aviation does to me. I agree it is a niche, but there's always one!"
Despite "Consistent Dedication" being her first release, Heartworms has already developed a buzz and an aura around her local London scene thanks to her remarkable live shows. Accompanied by a full band and dressed in military garb, her performances are a blend of theatre, drama and music; with Heartworms consistently raising the bar as she looks to break beyond the preconceived notion of what it means to be a woman onstage and stretching beyond the limitations of the human voice. "How I am portrayed live is crucial for me, to make the audience feel uncomfortable but they can't take their eyes off it," she explains of her dedication to the craft and the aim of her performances; "Prince is a big influence on how I am presenting myself through dance moves, hard stares and having 'Small King' attitude. Also control in good posture, just from watching lots of military movies and documentaries, my uniform doesn't look its powerful self if I'm slouched on stage."
"Consistent Dedication" is a debut like very few others you'll hear this year. Its emotion and drama are keenly felt thanks to Heartworm's impassioned delivery marking it beyond all but a few. With more music, poetry, and performances expected over the coming months, Heartworms most certainly looks like an artist to keep an eye on over the coming months.