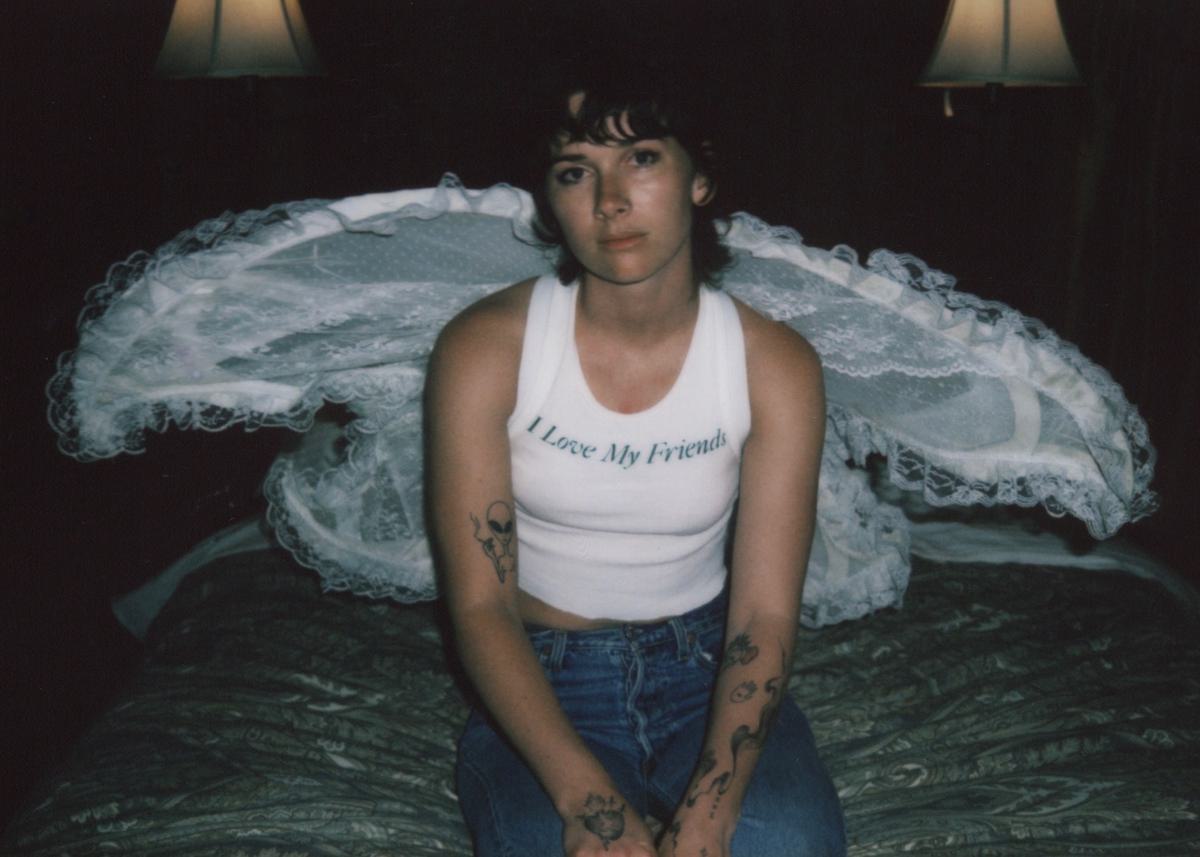 Georgia Gets By dives into the intimate on "Happiness Is An 8 Ball", swirling in her storytelling
Echoey vocals over a strumming bass-line on "Happiness Is An 8 Ball" sees BROODS' Georgia Nott usher in a new, intimate solo project under the moniker Georgia Gets By
Grainy '60s sci-fi movies, sepia tones mixed with laser light, and meditative lyrics that viscerally feel as if the ink has splotched on the page are just some of the textures that have been synonymous with New Zealand sibling duo BROODS for four full-length albums. Venturing from the synth-pop outfit she has created with her brother Caleb, Georgia Nott has been quietly creating her own solo project under the moniker Georgia Gets By.
Now on her second single, "Happiness Is An 8 Ball", her diaristic undertaking is palpably clear, mixing generously candid writing with carefully selected folk-driven guitar scores. "After years working collaboratively as BROODS, I wanted to start a project that could be wholly about my experiences," Georgia explains.
Whilst still maintaining her signature explosions of sound and crackle of electricity in the percussion of the track's choruses, it is a paired back and intimate offering that feels like watching someone's life from the inside of their mirror. The track is a delicate catharsis, swirling in its storytelling, as echoey vocals sit like bathwater above its plucky bass-line.
"This song is about using unhealthy coping mechanisms in a desperate attempt to make things work with someone," Georgia describes; a case in point of her artistic mission to pen past turmoil, and capture the lessons she's learned from her adolescence along the way. "When love doesn't bind you anymore and only the pressure to live up to the expectations of a relationship keep you together. You begin to find yourself turning to other means to find the energy to be with them."

The accompanying music video for "Happiness Is An 8 Ball", directed by Silken Weinberg (Ethel Cain, Skullcrusher) sees Georgia brush her teeth for two minutes, looking away from the camera and in the glow of a red light. Framing the song around such a mundane and universal activity, but one which for most of us acts as two minutes of uninterrupted time to look inward, reflect on the day, or fantasise about life, only enhances the personality of the track.
With a debut EP on the horizon, Fish Bird Baby Boy, we can be sure of more home-truths and sizzling synth-lines to come, as Georgia continues to make music "to combat, you know, life." Having supported stages with Taylor Swift, HAIM, and Sam Smith as BROODS this release captures something truly magical: a colossal artist in her own right stripping back to basics, unlocking their innermost memories, turning them out, and showing the world who they are for the first time all over again.