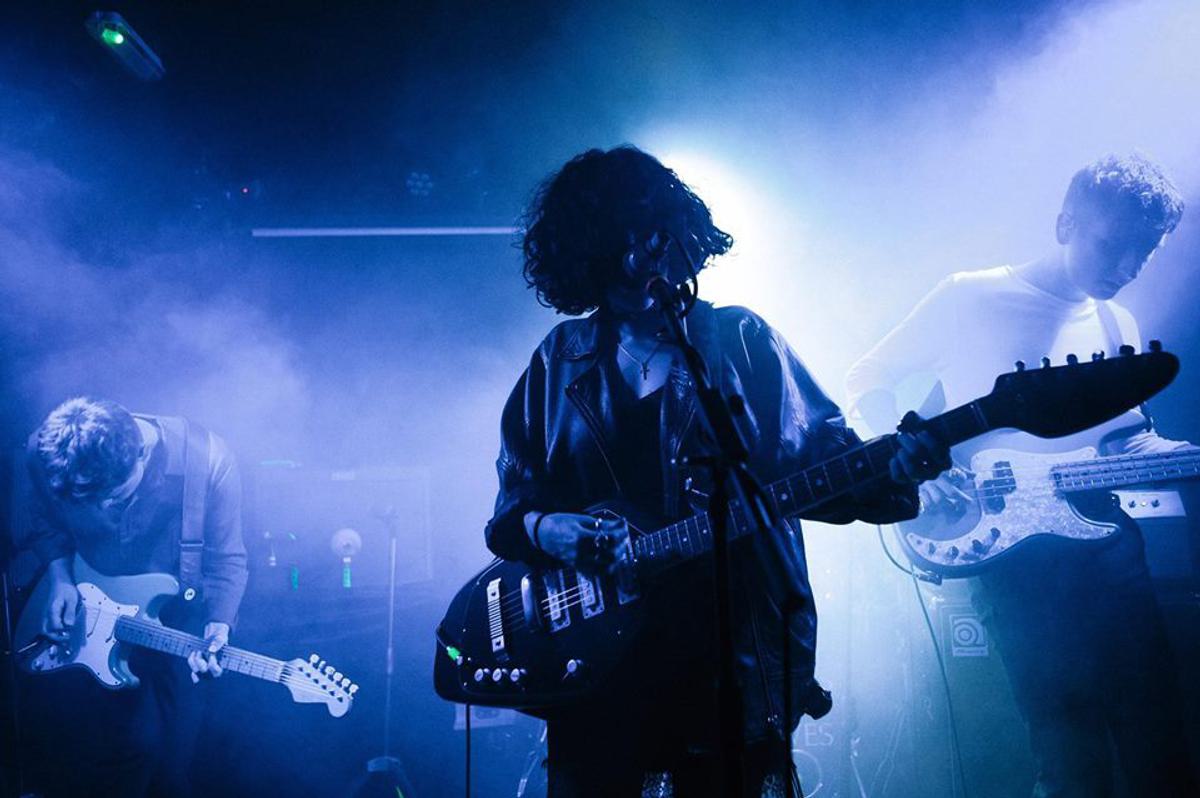 Tight, Meticulous Songcraft: Pale Waves, Live in Glasgow
It's not often that a band play to a sold out crowd at Madison Square Garden before they have headlined their own tour, but Pale Waves occupy that strange position, having cut their teeth supporting mentors The 1975 on a long US and European tour earlier this year. Tonight's show at The Garage's upstairs bar in Glasgow occupies a space likely closer to the size of their dressing rooms on that tour, but it's sold out and packed full of goth-ed up teenagers eager to experience the first headline tour of one of the most promising bands of the moment.
Pale Waves take the stage as though stepping out from the audience – similar age, similar looks: half fishnet-and-velvet goth girl (singer Heather Baron-Gracie and drummer Ciara Doran), half skinny turtlenecked indie boys (bassist Charlie Wood and guitarist Hugo Silvani). Signed to the ever-reliable Dirty Hit record label, home of Wolf Alice, The Japanese House, and The 1975, the last time they were in town was on a label showcase tour in the spring, playing between tonight's support, uppity punk fourpiece King Nun, and the more established Superfood. Tonight's brief setlist is an almost-identical run-through: They only play eight songs, but there's something undeniably exciting about seeing a band who, despite noisy protesting, are unable to play an encore because they've already played all the songs they have.
Opener and latest single "Television Romance" is a burst of pure sunshine in the vein of Haim's "Forever" or The Cure's optimistic '80s singles. Stripped of the decorative fizz and sheen of its production by George Daniel and Matty Healy, the song stands up as a shining example of Pale Waves' tight, meticulous approach to pop songwriting.
Intriguing diversions from their core sound are dotted throughout the set: "You Don't Love Us Anymore" combines characteristic driving guitars with an R&B influence, while "The Tide" incorporates synths and drum machines into their live sound, replicating the cocoon-like sound of their studio recordings. Some songs, however, benefit from their straightforward pop sensibilities: The infectious "Obsession" is an early fan favourite, with some audience members already mouthing along with the words.
The final song, debut single "There's A Honey", is a triumph of effortless pop, welcomed warmly by an audience who know it inside out. A kind of parallel version of "Television Romance", its sparkling melody and guitar lines are a deliciously ironic match for singer Baron-Gracie's laconic teasing of a sort-of lover ("You're not alright 'cause I ruined your night/Well, honey, that's what I'm good at"). Their half-hour onstage goes by in a bittersweet rush, but it's undeniable that Pale Waves will be back in a less low-key setting in 2018.