Far from winding things down our last day in Brighton for The Great Escape Festival is packed with incredible artists, Dan Carson and George O'Brien catch sets from Mausi, Wall, YADi and Lulu James.
Mausi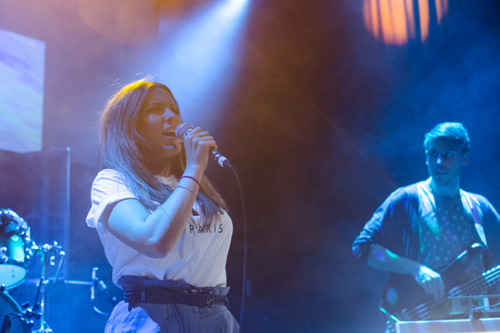 Photograph by Howard Melnyczuk
Mausi have come on leaps and bounds of late. Daisy downing tools – or bass, whatever – and moving front and centre has really beefed up their stage presence. Now she's no longer constrained by keeping time strapped to her instrument; she plays the part of hyperactive cheer girl beautifully, bounding across the stage and encouraging awkward dancemoves. Backed with synths courtesy of her brother Thomas, whose vocal contributions have been pared back a little it seems, plus padding drumbeats and pogoing bass; Mausi have hit their stride as a live band.
Even the visuals have a super-sleek feel now. Shots of gorgeous guys and girls wandering sun-kissed boulevards knit delightfully with the likes of 'sol.' and closing track 'My Friend Has A Swimming Pool'. Their hyperactive Tangfastic pop can come across a little cloying over the radio but in the flesh it's actually pretty hair-raising. The latter song in particular is a bona fide, box-ticking slab of pop bombast with a brilliantly daft vocal hook and sheets of pirouetting synthesizer. It's all come together: tighter, sharper, faster. DC

Dan Croll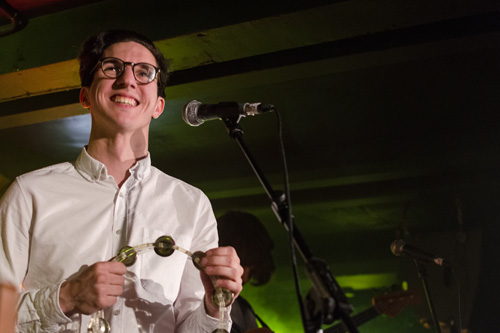 Photograph by Howard Melnyczuk
Soundtracking our late Saturday morning, Dan Croll is his typically fun-filled, energetic self, as a bursting downstairs Komedia is treated to an uplifting set of genuine pop hits. The five Liverpool lads are devilishly tight, considering the relatively new set-up and it is a completely pro-sounding set the highlights of which are made up from the spirit-raising latest single 'Compliment Your Soul' and his first attention-grabbing track 'From Nowhere'. The jangling open chords of 'Home' wrap things up, as our final day in Brighton gets off to the best possible start – real weekend favourite. GB

Wall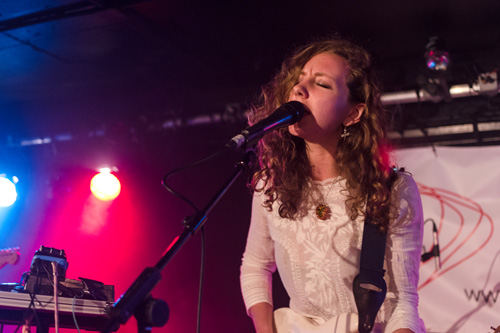 Photograph by Howard Melnyczuk
Another exciting young UK singer-songwrter followed-up at Komedia; the gentle hue of Wall sounds gorgeous in the Brighton basement. Her hushed, delicate vocal is married with ticking manufactured beats and deliberate and careful punctuation from a warm guitar. 'Magazine' remains a real highlight, and feels particularly poignant by the sea, given it's relevant wording, while 'Left To Wonder' is genuinely touching. The London three are magical. GB
Farao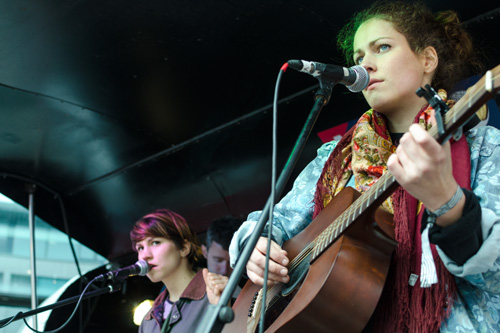 Photograph by Howard Melnyczuk
Norway's Farao makes the best of the cold hard daylight at Festival Hub. Until now it's been easy hiding away in the gloom, nursing our bruised last-day-at-a-festival bodies but we're exposed and out in the open now. Mercifully Kari Johansen's rustic little ditties offer up a pretty lovely remedy. There's a warmth glow at the very heart of these earthy alt-folk Scandi-pop songs. Although it's a measured, careful performance, the sweet little cooing between Kari and her live keyboardist cradles sensitively, it'd be great to see more interplay between the two in the future. DC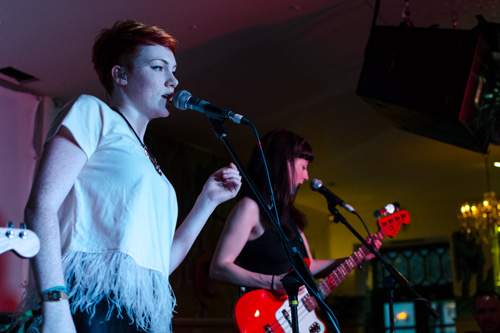 Photograph by Howard Melnyczuk
We caught Chlöe's show up in Newcastle a matter of weeks ago and the thing that really stuck out was her ability to take the shape and sound of the room in her stride and make it work. That hollowed out former warehouse – with its shipping container vibe – became a playground for her edgy, pin-sharp pop stylings and it's a similar situation here at Blind Tiger.
Making these kind of vibrant, precisely executed tracks work – capturing the joy and the vitality – in a live setting doesn't come naturally to all artists; but my word does she make it look like a walk in the park. It engages more than many other emerging, buzzy pop shows; 'No Strings' is typically peppy but she's also keen to drop down and experiment with more mellow sonics. 'I Wish I Could Tell You' serves as a bittersweet aperitif to the sugared vocal hooks and spritely melodies.
You hear it regurgitated over and over, 'she's only 18' but that really doesn't illustrate how impressive this all is. She wrote these songs and she's now translating it with striking finesse on the live circuit. Just go see her. DC
Diana
The Toronto three-piece kicked-off our evening, offering-up their enticing mix of early 80s-sounding pop rock. It's quirky and fun and, thanks to the cute, catching vocal, it is somewhat seductive. Awash with layers of warm synths and glimmers of dancing drums the performance feels exciting and certainly noteworthy, in as much as you're left wanting more, which Diana have promised with a new Jagjaguar record on the horizon.GB
Lulu James
Newcastle's bundle of energy and excitement, Lulu James smashes through her super cool set, stomping around the Digital stage in some typically garish attire. She's the finished article now, thanks to the ease of 'Sweetest Thing', the garage-like 'Closer' and her hugely impressive vocal that sounds as fluid and natural live as it does on record. Endearing humour between songs fills the seafront venue with smiles, and the effortlessly charismatic Geordie really gets the evening off to the perfect start. GB
MØ
A real electro-pop pace-setter, Copenhagen's edgy Karen Marie Ørsted delivers one of the weekend's highlights; with her perfect levels of attitude and angst, MØ sits somewhere between Grimes and Robyn, and powerful tracks like 'Pilgrim' and the new 'Waste Of Time' sound sultry and genuinely enormous. Bone-shuddering bass thunders out underneath her distinctive, languid vocal and glistening guitar riffs. Punching the air and chucking herself about, she is captivating and we really can't take your eyes of this one. GB
CHVRCHES
Wrapping-up the pretty special Digital line-up, Glasgow synth-poppers CHVRCHES entertained a packed crowd, utilising their booming electronic lines underneath a chillingly striking vocal. 'Lies' and 'Mother We Share' are two of the most memorable numbers from the set, and indeed the weekend; futuristic, thunderous, with hints of retro, they sound immaculate and help to prove why so many turn out for the show. They make a big, big sound and it really was everything we hoped for. GB
YADi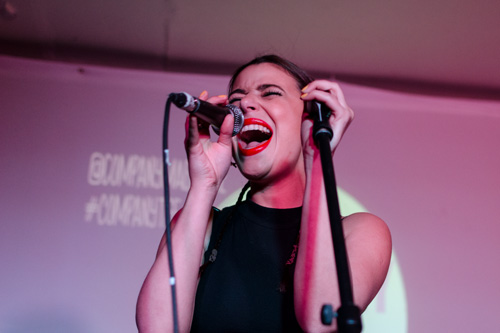 Photograph by Howard Melnyczuk
Emerging London vocalist YADi warns her live drummer, Chris,that "he's got his work cut out tonight" shortly after she emerges on stage at The Blind Tiger. She's not wrong either; his springy backbeats – urgent but wholly controlled – provide the ideal cushion for her sultry, expressive tones. 'Guillotine' chops rippling piano chords together with snappy, pitter-patter percussion; her cool collected voice swelling into the refrain 'like a queen, I can make you love me', repeated over and over. There's sass and bite to the starlet's sound which keeps things from slipping into the realms of electro-pop tweeness; even a mistakenly repeated intro doesn't phase her one bit, shrugging 'this is just the remix version!' YADi is quickly becoming our new go-to girl for smart, sexy future-pop. DC
Lead photograph by Howard Melnyczuk