A decent gathering had assembled for Shearwater's free day-after-the-night-before show at Bush Hall, and as the band retreated from their own CD browsing to compose themselves before the big entrance onto the little stage, Thor Harris asked "Are we doing casual?" For him this meant t-shirt rather than the previous night's polka dot shirt and furry jerkin, and he thus lost some of his berserker aura – though anyone who has ever spoken to him will know what a calm and friendly sort of berserker he is (until those moments when the drums need a good seeing to that is). The rest of the group were similarly relaxed. Jonathan Meiburg however decided to grace us with his best, i.e. only, stage outfit, which he claims was still splattered with Dorset mud from their End Of The Road festival appearance. I wonder what Thomas Hardy would have made of current album Rooks's pastoral take on prog rock. Insert pun based on famous novel title here: I've got nothing.
We were treated to a rare full and album order run through of Rook, except for the mood piece 'South Col' – though the mystery instrument that provides the metallic squeaking was fully used elsewhere for atmospheric effect. And if you want to know what it is you'll just have to go and see Shearwater in action for yourself. Suffice to say, there was an initial hold up to the whole set when Thor realised it had not been primed with water. Mysterious eh?
Everyone was careful with elbows and guitar necks, and the between song instrument changes had to be well choreographed in the tiny space available. The temparary perfoming set-up and low roof meant that the sound was not quite up to the standard of Bush Hall, but Shearwater themselves were as vibrant and emotive as ever and the obvious intimacy of the event made it a memorable fifty minutes.
'Century Eyes' was again the track that got even the first timers nodding and shuffling about. It had to be restarted after Thor managed to dislodge the kick drum during the intro. I thought about asking for it again, but "done properly", as an encore, but wondered if the intended jokey irony would be misinterpreted. Luckily there were more than enough rousing demands for a return anyway, and despite Meiburg's hesitant "Are you sure?" they came back out to deliver a lone song from previous release Palo Santo: 'White Waves'. The scything guitar riff and thundering percussion made for a great climax. All over too quickly, they were soon packing up for a long drive to Ireland. However, Shearwater are back around these parts in November and my diary is already on standby.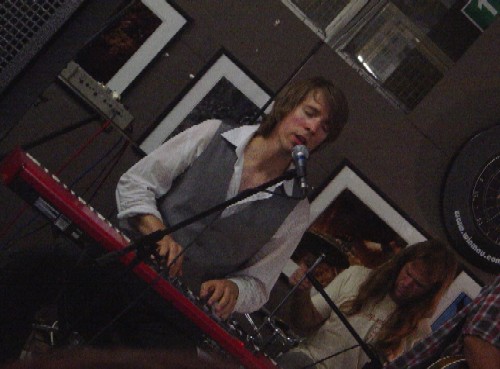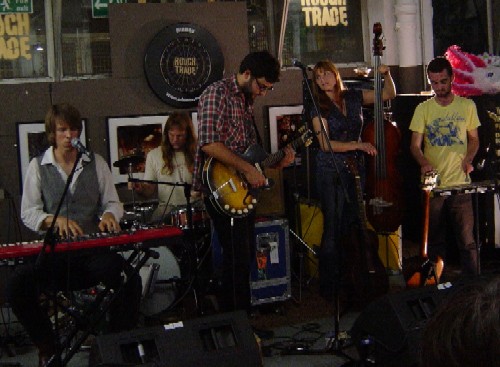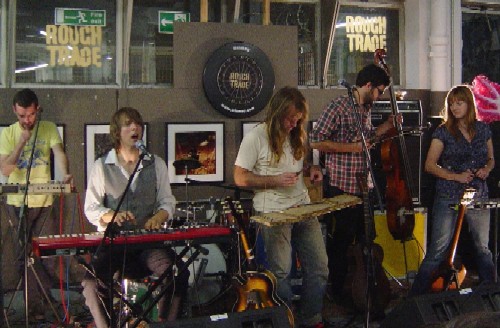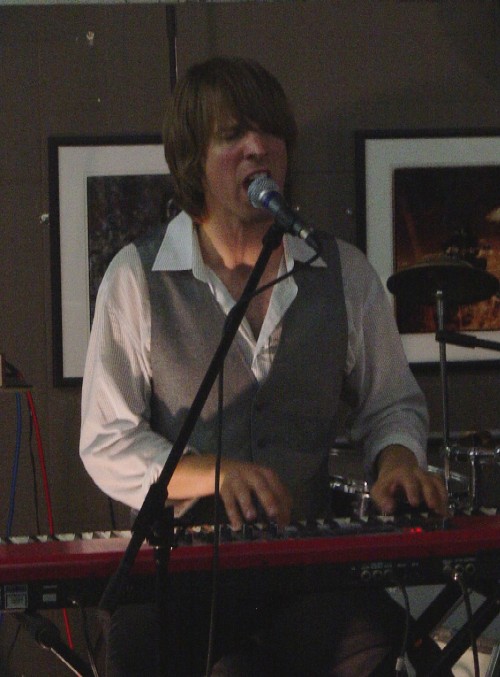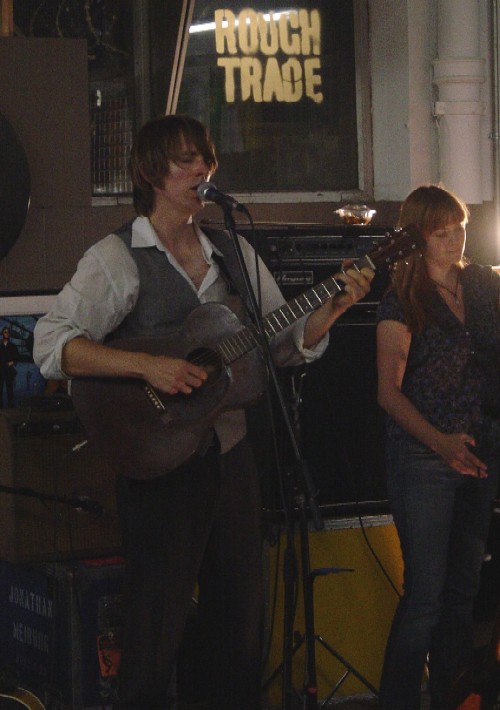 Shearwater on MySpace
Shearwater Official Site