-
Photograph by Ro Cemm
Driving around the bricked-wall edges of the mammoth private estate that is Welbeck, we find ourselves praying for a dry spell to afford us the luxury of erecting our tents without the hinderance of precipitation. Upon finding the haphazardly sign posted entrance though, we couldn't spare a second thought for the weather as the utterly magical meandering lane takes us straight through the breathtakingly beautiful surroundings of Sherwood Forest to arrive at the heart of No Direction Home Festival. It feels like stumbling into the mythical town of Spectre in the movie Big Fish.
The sister festival to End of The Road – where low hanging trees are adorned with twinkling lights, dance floors are hidden in the middle of the woods and secret stages are arranged to look like living rooms – No Direction Home, although embarking on its inaugural journey, feels as if it has already captured some of the wonders of its elder sibling. A huge lake accompanies views of the main stage, while a more blustery Boathouse stage offers the chance to get up close and personal to its waters and an unassuming woodshack offers the same secret performances as EOTR's piano stage. After a little wander around the site, finding craft workshops, quaint literature yurts and the best cinema tent of any festival ever (complete with popcorn sellers, arm chairs and an endless sea of pillows) Francine Gorman and Lauren Down take the first musical plunge of the weekend.
Django Django
Having to swap their trademark matching t-shirts for something a bit warmer in the demonstrably cool weather, Django Django are on fine form this evening. As the drizzle finally ceases and the grateful crowd can truly get their weekend started, the foursome's set displays a crescendo of tropical rhythms, building tempos and understated, hypnotic repetitive sequences that draw each listener at the festival's Lake Stage into a head bobbing trance. Singles 'Default', 'Waveforms' and 'Love's Dart' prove to be particularly infectious, rousing the crowd into an excitable state that for many, will endure for the rest of the weekend. FG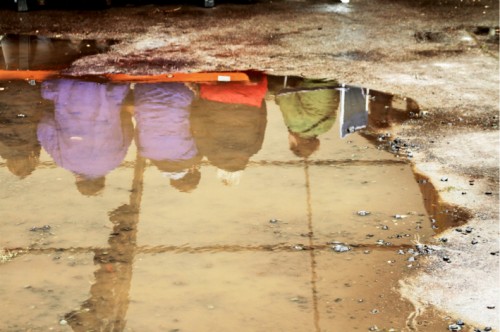 Eyes & No Eyes
Marking the move from solo project to fully fledged band Tristram, architects of the 2010 psych-folk stand out 'Dust Disturbed', changed their name to Eyes & No Eyes last summer. The Willkommen Collective associated four-piece draw an over capacity crowd to the Boathouse so much so that a large number of people are left standing in the over hanging field, listening from affar to the densely and yet delicately layered textures from the young Londoners. Gently experimental notes hang themselves on fluttering strings and haunting guitars while sighing vocals and the cinematic backdrop add a wistful romanticism to proceedings. LD
Veronica Falls
Adding a much needed oomph to the day's line-up, the Bella Union signed brooding London via Brighton four-piece storm through a as brilliant a set as we've come to expect. 'Wedding Day' and 'Beachy Head' bear witness to some incredibly frenetic guitars, driven ever-forward by momentous percussion which in turn props up James Hoare's distinctive droning vocals and Roxanne Clifford's bittersweet, plaintive moans. A steady stream of people begin to thrash around at the front, singing along to songs about suicide, love and loss. Having created one of the best straight up indie rock records of last year in their eponymous debut, their scuzzy set inside The Electric Dust Bowl has us almost physically craving more. LD
Dirty Three
Warren Ellis is a legend. There are no two ways about it. From his time spent with Nick Cave and The Bad Seeds and Grinderman to his position this evening, as frontman, violinist and magnificent raconteur of the Dirty Three. Appearing in a typically, magnificently dishevelled manner Ellis, Jim White and and Mick Turner deliver a set as rich with Toward The Low Sun material as it is with classics from their 20-year cannon. Yelping and kicking his legs across the front of the stage Ellis provides the enticing focal point for the whole audience as Turner's virtuoso guitar carries their prog-infused jams into the ether before White's percussive constructions drag everything back to the ground with their taught rasps. With a barbed tongue and an equally barbed violin the most forlorn material comes to life with a raw energy often lacking in the younger generation of musicians. An enigmatic magnetism attaches itself to everything the trio do, inhabiting their songs with a razor sharp wit and a vitality, one that will hang over the rest of the festival with the oppressive weight of expectation. LD
Austra
If Katie Stelmanis and co had existed in the 80s we could guarantee they would be an unrivalled chart success. As it stands, with us firmly stuck in the present, the Toronto natives still did pretty well with their debut album Feel It Break whose sultry vocals, industrial beats and infectious hooks are joined in a near perfect melting pot. They have been touring pretty much non-stop for over a year now, and with only one (that we can discern) new track on offer tonight they still shine like the irresistible beacons of electro pop they are but I can't help but feel it might be time for another trip to the studio. LD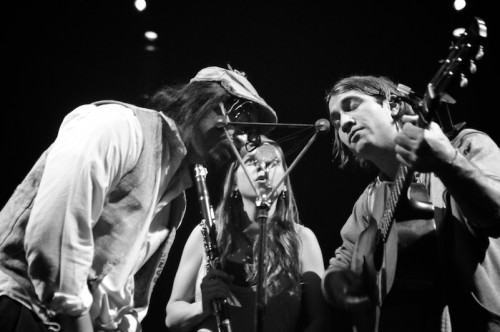 The Low Anthem
Closing the main stage is Rhode Island's The Low Anthem, brandishing tracks from 2011's Smart Flesh as well as resurrected classics from their acclaimed 2008 album Oh My God, Charlie Darwin. Their lilting melodies, played in a state somewhere between heart wrenching softness and overwhelming sadness sit beautifully within the sumptuous surroundings of a moonlit Welbeck Estate, as the crowd warms up with some apple brandy cider from the infamous Somerset Cider Bus. A gentle end to a busy day, and it's off to explore the night time entertainment (consisting of a top rate indie classics DJ set) before catching a bit of shut eye and preparing for day two of the inaugural No Direction Home festival. FG