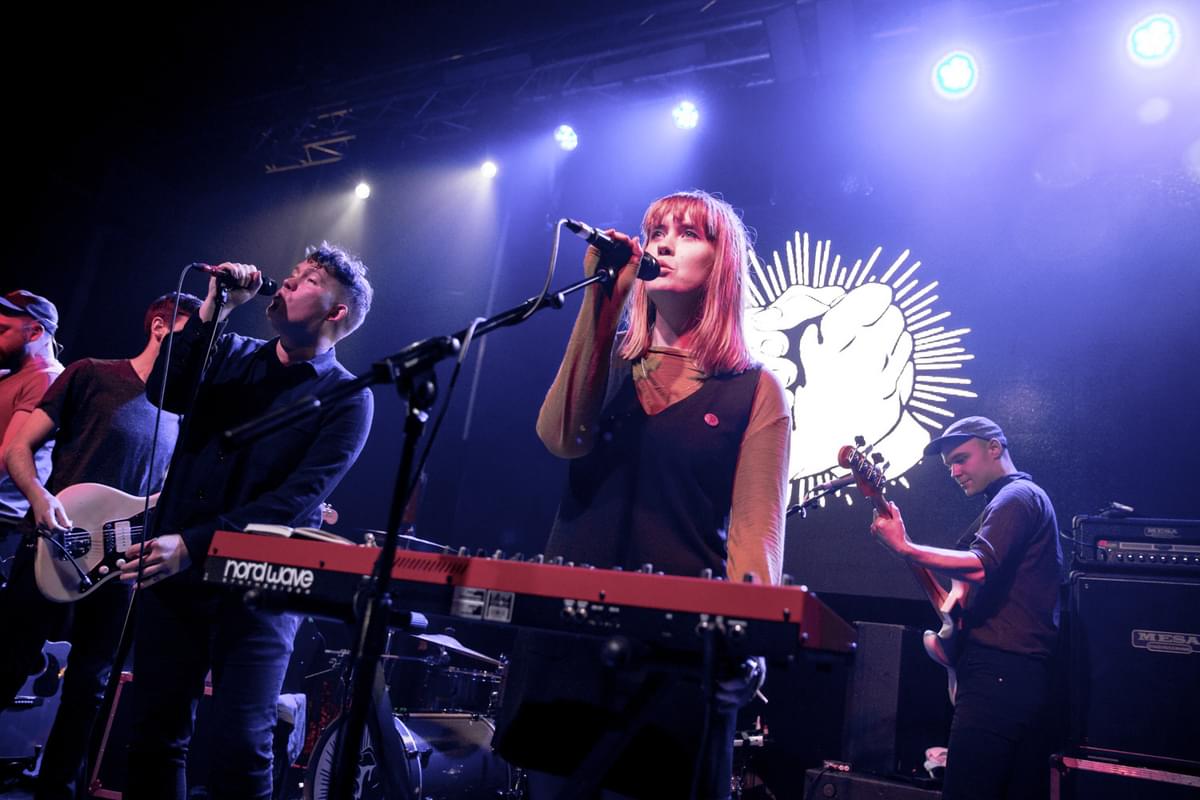 Total football, total wordplay: Los Campesinos! live in Brighton
The Hungarian football team of 1954, the "total football" Dutch side of the 1970s, Leeds United under David O'Leary and Liverpool in the 2013-2014 Premier League season.
These are football teams with which Los Campesinos! are spiritually aligned to. All of the above are remembered fondly as great entertainers, with wonderful talent and technical ability, but bafflingly, not one of them won a major trophy. Los Campesinos!, similarly, may not have reached chart-topping or arena-filling heights, but at Brighton's The Haunt tonight (5 May), they demonstrated why, like those teams, they are held in such high-esteem with a career-spanning set that brimmed with passion and talent.
Like Ultras lining the terraces, there was a fervent and rabid response to songs old and new over the course of their twenty-one song set. Whilst, the older "Knee Deep at ATP" and the subsequent breathless segue into "My Year in Lists" had the floors at The Haunt shaking, a feral rendition of Sick Scenes' "I Broke Up in Amarante" was afforded a similar reaction. Likewise, the refrain of an electrifying "Avocado, Baby" was screamed with the same vigour as "5 Flucloxacillin"'s comical, "A peloton of OAPs cycling up behind me" and "Straight in At 101"'s unforgettable, "I think we need more post-coital and less post-rock" lyric.
The kinetic energy exuded by the crowd was equally matched by the seven-piece as songs were given extra-muscle in the live setting. Set opener, "Renato Dall'Ara (2008)" was drenched in distortion, "Hello Sadness" built to an arousing, driving climax, whilst "For Flotsam" featured cavernous drums, before lead-singer Gareth David closed with a series of invigorating vocal refrains.
David's pure wordplay is a joy to experience. His ability with words possesses (in footballing terms) the poise and skill of Johan Cruyff, as David navigated through themes as disparate as football, death, heartbreak, depression and nationalism. Bewitching to listen to, his earnest and humorous words were rightfully held with great reverence at The Haunt, with many showing their adoration by impressively matching him word-for-word during the mazy and tongue-twisting, "We Are Beautiful, We Are Doomed".
The aforementioned bulking-up of songs, at times, worked against Los Campesinos! with elements being lost in an overall bass-heavy mix. The synthetic melodies of "Cemetery Gaits" and the subtle harmonies of "By Your Hand", for example, fell foul of the band's beefed-up live sound. Unfortunately, much of Kim David's vocals were also inaudible on the likes of "Miserabilia" and "Avocado, Baby".
Arguably, not many remember the functional, championship winning teams that fail to capture the imagination. The teams introduced above, whilst unable to lift a trophy, are still remembered with great fondness because of the joy they brought to the football field. Likewise, since 2006 there have been a plethora of functional indie bands, who saw dizzying heights, but are now remembered with a hasty shrug and crushing apathy. Los Campesinos! on the other hand, as proved by their set at The Haunt, remain adored because of the enduring joy, ability and energy they bring to the field. They may not top the charts, but Los Campesinos! capture the heart and imagination of the spectator.
Get the Best Fit take on the week in music direct to your inbox every Friday