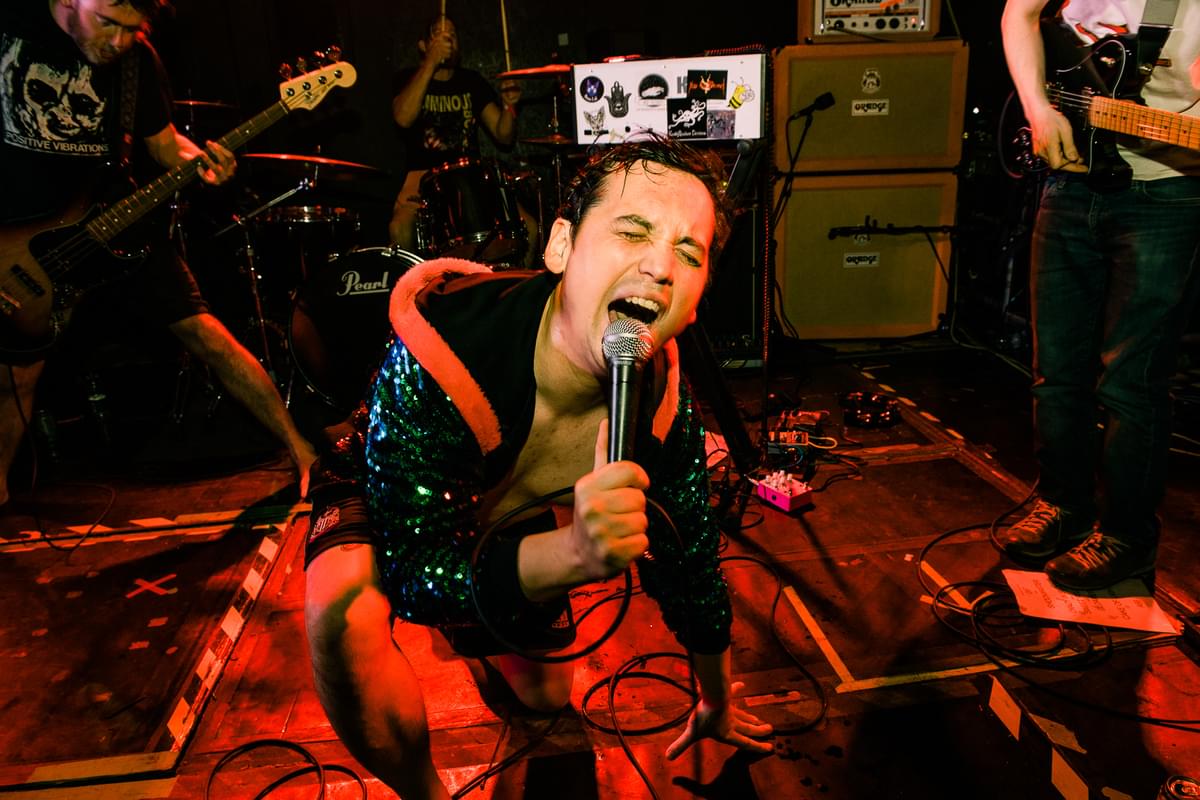 Looking back on Visions 2019
Now in its 7th year, Visions has managed to mark itself out as a reputable festival while remaining firmly below the radar. Every August it brings a whole host of the freshest new artists to some of Hackney's coolest venues for a typically raucous all-dayer. With past performances from the likes of Young Fathers, Loyle Carner and SOPHIE, it's the perfect "I saw them before they were big" festival, offering up the chance to see both rising stars and established artists in an ever-changing collection of venues.
This year, Pregoblin opened proceedings at the Oval Space with a bizarre broad-daylight karaoke-style performance that felt like it should have taken place in the early hours of the morning rather than the afternoon, while at the Pickle Factory things kicked off with Heavenly Recordings signee Katy J Pearson, who squeezed her four-piece backing band onto the tiny stage and knocked out a set of her upbeat 70s inspired folk-rock to a packed out room.
Elsewhere around the Oval in the early afternoon, fans were treated to the summery indie-pop of Westerman and (following some technical delays) the ethereal, glitchy bass-heavy IDM of Beshken. Down the road, Great Dad christened the stage at the legendary Sebright Arms with an intense and experimental set that combined elements of post-rock and hard punk - perfect for a sweaty, dingy basement on a Saturday afternoon.
Algerian rockers Imarhan came through with an early highlight at the Oval Space, drawing a huge crowd with their immersive fusion sound. Utilising incredible Algerian percussion instruments and melodic guitar solos, Imarhan craftily combine Western rock with elements of traditional Berber music, with joyously danceable results.
As the evening approached, Orville Peck delivered a standout performance at The Hangar that looked something like a scene cut from Mulholland Drive for taking things too far, never feeling than a few seconds away from turning into a striptease show. Peck, dressed in his trademark mask and flamboyant cowboy attire, sings in a slick baritone croon with an almost melancholic Elvis quality. Accompanied by Spaghetti Western guitar tones and dramatic tom-heavy drum beats, Peck drew from his canon of truly unique, cinematic country ballads in a spectacular show that featured songs about failed affairs, riding horses through the desert, drag queens and "loving someone so much you want to kill them."
Shortly after, Squid picked up the tough challenge of following Pack's set, but did so in fine style. The young band form an impossibly tight live unit and came through with a blistering set, driven by a powerhouse performance from drummer and frontman Ollie Judge. Cuts like 'Houseplants' and new single 'The Cleaner' inspired mass subterranean moshing among the capacity crowd during what felt like a triumphant headline set - promoters take note. Around the corner, Russian techno genius Kedr Livanskiy (one of the gems of this year's lineup) effortlessly transformed LFB Arches from a near empty room into a bouncing early-evening rave with a flawless set that incorporated material from across her career, touching on a diverse range of electronic genres including house, techno and drum and bass.
As we approach the end of the day, trailblazing Danish outfit Iceage brought their trademark brand of ferocious post-punk to Visions, playing to a slightly thin, but immensely invested crowd. Pounding drums, messy guitars and violent vocals from dynamic frontman Elias Bender Rønnenfelt formed an almost terrifying wall of noise and electrified the audience, who lapped up cuts from their acclaimed fourth album, Beyondless.
There would be few acts better suited to close out a day as enthralling as Visions than Newcastle's finest - Pigs Pigs Pigs Pigs Pigs Pigs Pigs. Chants of "PIGS" echoed around the densely populated Hangar as anticipation (caused by a backstage toilet-related hold up) intensified. The somewhat intoxicated and semi-dressed stoner rockers took to the stage with a droning, discordant jam, before launching into 'GNT' - a raucous number that unsurprisingly saw The Hangar descend into pure carnage. Tracks from their gnarly 2018 debut King Of Cowards like 'Shockmaster' and 'A66' combine full-throttle stoner rock with ominous doom breakdowns, and provided perfect fuel for debaucherous, sweaty, hairy and beer-soaked mosh pits. While Pigs x7 seem like a force of nature, they are clearly humans, and are visibly physically ravaged by the end of their momentous set that sent punters off into the night with ringing ears, on their way to a whole host of late night events scattered across Hackney.
Visions remains the go-to festival for those in the know, and it's all the better for it, continually bringing great acts to intimate and independent Hackney venues. It's a hidden treasure within London's ever growing festival scene, yet it has a firmly established reputation for boasting one of the most diverse and expertly-curated lineups around. Roll on Visions number 8.
Get the Best Fit take on the week in music direct to your inbox every Friday