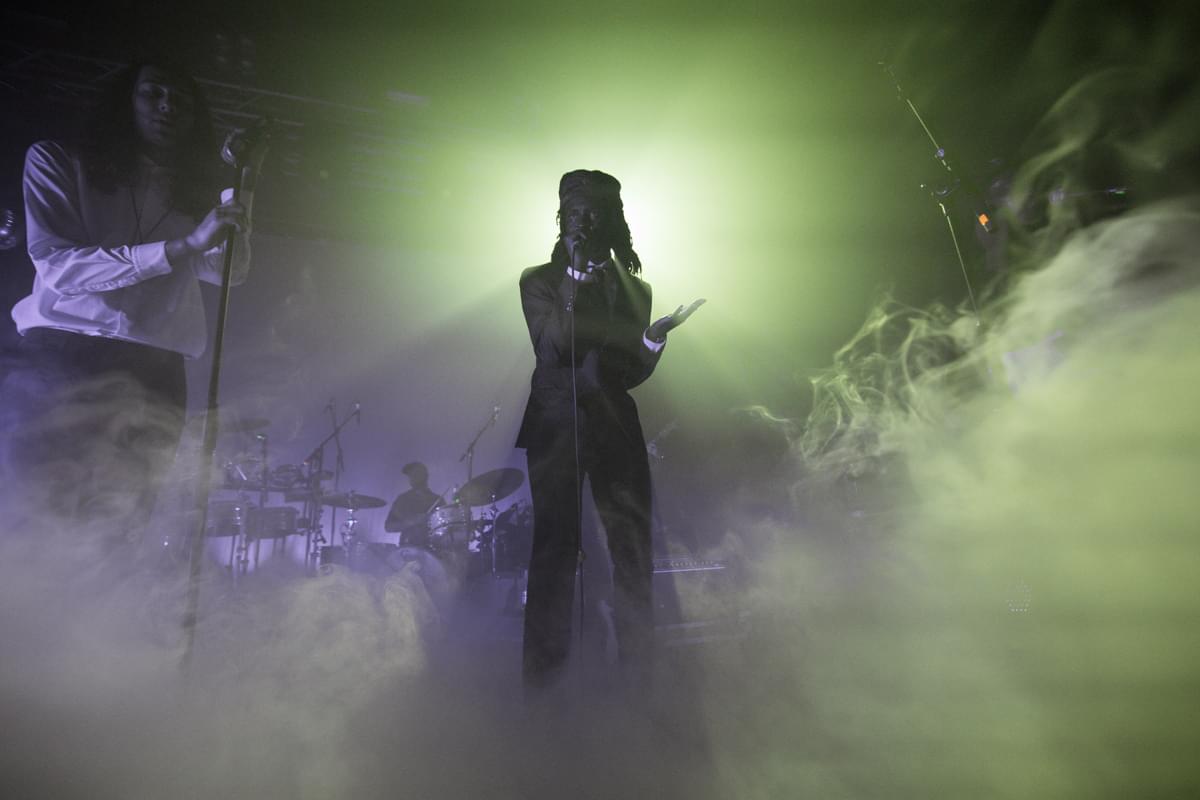 Kindness – Electric Brixton, London 16/01/15
Adam Bainbridge isn't really much of a songwriter. His breakout one-and-a-half minute single "Gee Up" isn't so much a song as a fun blend of throwback sounds and contemporary trends. Funk guitars, and slap bass runs across a few harmonies and one chanting refrain – it's absolutely irresistible, but it's hardly a song. Bainbridge's talents lie in arrangements and production – and in these respects he's incredibly gifted. But sadly, these aren't the aspects of Bainbridge's music which are given the best chances to shine tonight.
As a live unit, Kindness are a generous interpretation of a solo project – performing as a full band complete with multiple percussionists, soulful backing vocalists, and a live horn section. Their aplomb is infectious – delivering everything with zeal, while allowing each of the players to take centre stage in turn, balancing their brash showmanship with an endearing humility.
And at their best, their ability to blissfully evoke a range of retro genres is incredible – from soft 90s house, to blistering 70s funk. These moments are wonderful – transforming the room in a way which doesn't feel like chic-ironic throwback, but genuinely loving homage. But too often, tonight's set throws Bainbridge's weaknesses into sharp relief, rather than his strengths.
It's not damning with faint praise to say that most of Bainbridge's best pieces have been covers. They simply allow him to do what he does best. With the solid framework of the song in place, Bainbridge is free to tinker his way through a range of surprising twists on his source material. A cover of "Anyone Can Fall In Love" (better known around the house as the theme tune to EastEnders) slowed to half speed with a smoky beat sounds like the seventh circle of hipster hell. But it was – astonishingly – a standout highlight of an already strong debut LP for Kindness.
Similarly, tonight's highlights usually arrive when Kindness wander from their own discography; with "Gee Up" transforming into a delightful mini-cover of "Footsteps" by Womack and Womack, and the melancholic harmonies of The Replacements' "Swingin' Party" still hitting the spot six years after its release.
Still, this approach has its own limitations. A late-set rendition of "Why Don't You Love Me?" (boasting a refrain as annoying as its title sounds; and a prime example of Bainbridge's weakness as a songwriter) morphs into a try-hard cover of Whitney Houston's "I Want To Dance With Somebody", which tips the set into the realm of kitsch jukebox musical. At this point, this feels more like playing to the gallery, than playing to their strengths.
Stronger moments like the chaotic acid jazz bombast of "World Restart" and the raging climax of "Doigsong" are thrilling, but infrequent. Other glimmers of rapture do emerge during tonight's set and they span an impressive range of genres and decades. But ultimately tonight's set underlines the fact that Bainbridge is far stronger as a producer than a vocalist and songwriter. And unhappily, live shows tend to rely far more strongly on the former qualities rather than the latter, leaving tonight's set as a mixed and ultimately unfulfilling performance.
Subscribe for news and competitions