In arena idol tradition, Hurts singer Theo Hutchcraft stands rooted, centre stage in Berlin's Postbahnhof venue, flings his arms skywards and prompts – maybe even dares – the crowd of adoring Germans to fling his words back at him.
Those lyrics are "Suddenly my eyes are open", during already-classic 2010 track 'Illuminated', and while the moment of realisation is supposed to be the audience's, it serves Hurts themselves (represented by singer Hutchcraft, guitarist Adam Anderson and a crew of largely anonymous cohorts) every bit as well. Tonight's relatively intimate showcase, placing us safely out of the snow but bang in the middle of the maelstrom, is a revealing lesson in the risky mechanics of making pop – however duskily hued – in 2013.
Hurts' second album Exile sees the Manchester band building on the success of 2010's Happiness. Just as many were surprised that a band who looked like Bros relocated to World War I could so firmly grasp the hearts of so many, so more will now watch as Hurts' grip on the European melancholy psyche tightens. Tonight is an evening of paradox, as Exile's downbeat but unstoppable paeans to loss, anger, frustration and fear are lapped up like so much treacle. But as the night progresses, their more thuddingly obvious influences fade away with the realisation that if you think you're not hearing this for the first time, it's now more likely that you've heard Hurts before than it reminds you of a well-worn '80s touchstone.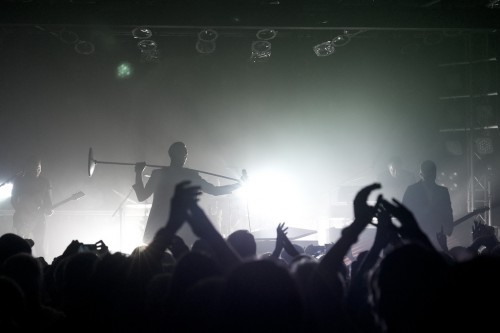 "If you look into my heart you will find/No love, no light, no end in sight"
Yes, they kick off with The Depeche Mode One – the new album's title track – and before we're forced to experience Berlin's biting wind again we'll hear The Nine Inch Nails One, The George Michael One, The Muse One, The Katy Perry One, The Take That One. But take a look at that list. With the possible exception of La Perry, all these acts know the power of DRAMA, that conflict is 10 times more potent than joy. Hurts also betray a boldness lacking in their pop peers: it's not at all weird for them to try tackling all these styles within one gig, within one album – sometimes within one song. That's Lesson 1 in Pop 2013: adapt or die, and Hurts have completely nailed the essential, ineffable second-album trick of sounding exactly the same but completely different. This is every ounce as true onstage as on iPod: in a set evenly split between old and new, the atmosphere doesn't threaten to dissolve.
Berlin, it seems, is along for the ride. Fans have been (pointlessly but sweetly) queuing outside Postbahnhof since just after lunch, and the buzz created by picking the ticket allocation out of a hat has heightened the anticipation to pant-wetting levels. Hurts find themselves in an unusual position: seen as a pop band in the UK but deprived of the blanket radio play that gives sense to such a definition, they're compelled to rely on mainland Europe for the manic fan hysteria their music commands. Here in Germany – as in Italy, as in France, as in Poland – they're Just A Band but simultaneously much more: the miserable depths of Hutchcraft's lyrical preoccupations (still more powerful as his clearly weakened voice strains for the high notes of 'Blind') lose their nuance in translation, but the enduringly catchy tunes are duly further elevated.
It's this key point that Hurts have realised: crowds who don't dig deep into lyrics – possibly because they're In Foreign – just want a planet-sized chorus to wail along to, even if it's little more than a disingenuous "la-la-la". And by a curious coincidence, some radio programmers love that too. In practice, this means a certain loss of subtlety. But when you're doing your damndest to give Muse a straight-faced run for their stadium takings – and your arsenal contains an Ultravox box set, a job lot of red lights and a monkish oversized hoodie – nuance isn't your friend. And that's Lesson 2 in Pop 2013: compromise is not a dirty word, and Hurts are treading the tightrope between dark art and sharp commerce with a rose between their teeth.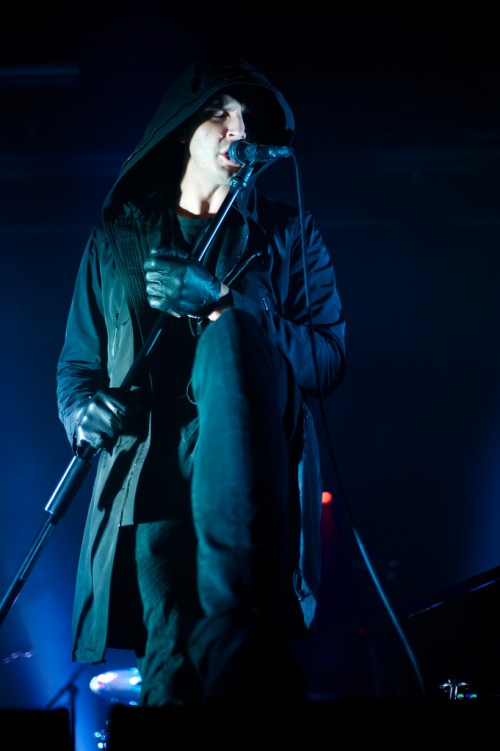 "Cut out my eyes/And leave me blind"
Hurts are also blessed with a naturally dark palate that suits the assembled Germans perfectly. It's hard to imagine them (say) hooking up with Rita Ora, or introducing a glottal-stopping guest rapper to the stage, but it's exactly their air of class and exclusivity that sets Hurts apart. They're unafraid to pull out a violin or turn on the U2 histrionics – and 'Cupid' shows Anderson has taken the time between albums to graduate from the Edge School of Guitar Heroism – but I can't think of another singer in recent times who's pulled off wearing Serbian-hitman-chic leather driving gloves with Hutchcraft's aplomb. When he lobs them into the crowd during 'Miracle' there's a mad scramble for a piece of Hurts magic, and Hurts' increasingly deep relationship with their fans becomes more evident.
And that's Lesson 3 in Pop 2013: have no fear. There's been compromise, and there's been a studied stab at diversification that might from a certain angle look like box-ticking target marketing, but it's Hurts' fearlessness that sets them apart. Exile teaser track 'The Road', with its arresting accompanying video and aforementioned industrial Reznor chugging, is as unorthodox a comeback as Robbie Williams' Rudebox, and while that album might have been regarded by his accountants as something of a disaster, it also marked the moment Williams realised chutzpah could be displayed in music as well as off-stage activity. When Hutchcraft theatrically breaks his mic stand over his knee and tosses it aside like Bruce Willis dispenses with a spent shotgun, it's like he's watched The Crow for the 37th time and decided to have a proper tilt at mythmaking. And then Hurts disappear.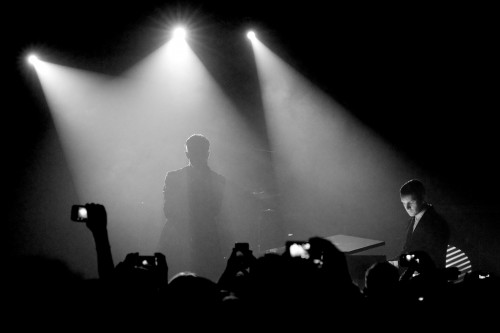 "I swear I'll make you bleed/If you break my heart when I hold you close to me"
Synths buzz angrily, the tick-tick-tick of the click track evolves into the doof-doof-doof of Teuton disco, and a visibly refreshed Hutchcraft returns to the stage as Hurts' breakthrough 'Better Than Love' threatens to end the night on an uncharacteristically upbeat note of triumph. For all their nimble genre-hopping and lurching, compelling moodswings, the numerous new tracks on offer this evening don't quite match this song's dark, thespy pop ambition, like Les Rythmes Digitales piping Guru Josh into a roomful of RSC wannabes trying to perfect their Hamlet. (Hurts actually end on the doomy, usually wonderful 'Stay', but without the booming male opera singer they had on the last tour it fails to hit home.)
A vein of indecent self-pleasure runs through Hurts' being, as it should through anyone wanting to push through the masses and stand alone. Aside from a brief mis-step when Hutchcraft desperately implores the Berlin crowd to "hold your phones up" during (geddit?) 'Illuminated' – a naff, slightly demeaning move which only the band can enjoy – this is a professionally impressive consolidation of Hurts' unique landgrab in the terrain of pop. The duo are smuggling adult, unashamedly goth-tinged subject matter into a milieu more used to teen-placating platitudes, in a manner not seen since Frankie Goes To Hollywood subverted a nation 30 years ago. We can only encourage Hutchcraft & Anderson, electro-pop titans-in-waiting disguised as buttoned-up Slavic accountants, to press on: this is a lesson everyone should heed, in 2013 or any other year.
Setlist
'Exile'
'Miracle'
'Wonderful Life'
'Silver Lining'
'Blind'
'Evelyn'
'Cupid'
'Sunday'
'Blood, Tears and Gold'
'Unspoken'
'Illuminated'
'The Road'
'Better Than Love'
'Stay'
All image by Rob Sinclair, via Flickr. Used under Creative Commons license.