-
Photograph by Jason Williamson
Entering its fifth year, Field Day 2012 certainly offered up one of the best in the festival's history. With the site's size and layout no longer feeling claustrophobic, with sound issues at an all time low and a line up that was impressive right from the off we can't quite believe how many bands we wanted to see and how many our intrepid reviewers Josh Hall and Luke Morgan Britton succeeded in catching. So with that in mind we've decided to round up the afternoon's best, before the rain and the day's alcohol began to take their toll. Check back tomorrow for the second half of our day at Victoria Park.
Julia Holter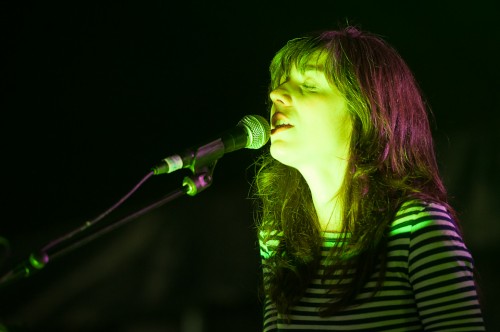 Photograph by Sebastien Dehesdin
Arriving bright and early, you could expect the positioning of Holter's set to not exactly be what the visibly weary-looking audience members need to perk themselves up as the festival opens. Not a beer is in sight but Holter actually works as a perfect tonic to ease the early arrivals in. Soothing all into a mesmerising stupor, the LA singer is faultless in her pitch-perfect delivery and brings on a pleasant lull before awakening all with a rather uplifting close. LMB
Here We Go Magic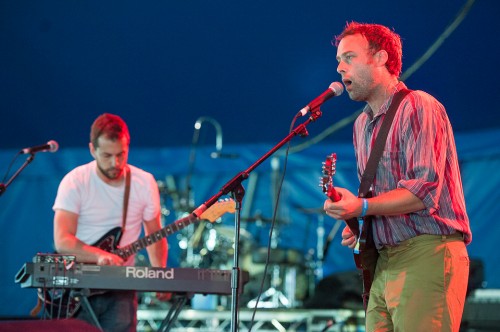 Photograph by Sebastien Dehesdin
Dodgy sound was a predictable and recurring theme throughout this year's Field Day. Here We Go Magic suffered particularly badly from a painfully treble-heavy mix, but the Brooklyn band's shapeshifting performance was sufficiently well constructed that the engineers' failings were almost forgiven. Sashaying from dour atmospherics to sparkling motoric momentum, and from Thames-side jangle-pop to Springsteen-esque open chord histrionics, theirs was a set full of dynamism and imperceptible change. Deserving of a better soundsystem next year. JH
Blood Orange
Dev Hynes really has come far from pre-Klaxons proto-nu ravers Test Icicles, hasn't he? Heck, his newest incarnation Blood Orange is so different to former solo project Lightspeed Champion that one person in the crowd fails to believe her friend when told it's the same person. From raucous dance-punk to folk via a trip to Omaha and now the 80's-themed mixed bag that is his current venture, Hynes seems to re-spawn every couple of years. But however good the Blood Orange debut was when it dropped last year, it never seemed like Hynes had fully settled on something he could truly call "his sound". Coastal Grooves, an album written about the New York transvestite scene (not that many would tell that from all the fans singing along), is a record that steers the listener from New Romantic-sounding electronica to almost Genesis-like prog. His set triumphs when it comes to the album's "hits", such as 'Forget It' and 'Sutphin Boulevard', but falters somewhat near the end as Hynes tries out some new material. This present guise seems destined to be just a one-album thing, and this seems the most logical choice to make, but many of the crowd here will be ready and listening to see what he comes up with next. LMB
Savages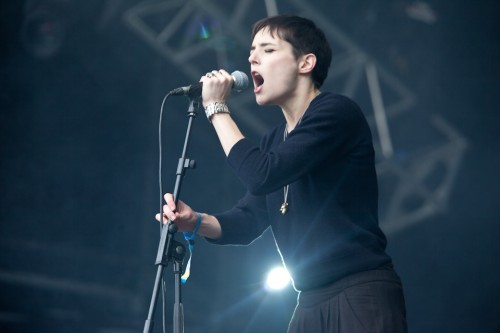 Photograph by Jason Williamson
"You're going to see Savages, yes?" It was a conversation I had at least half a dozen times during the course of the morning and, sure enough, appearing on the main stage clad in black against a black backdrop, the austere quartet drew one of the biggest crowds of the afternoon. Jehnny Beth's twitching performance provides the focal point, full of spring-loaded aggression and carefully controlled melodrama. But it is guitarist Gemma Thompson who really impresses, her hand fluttering around the bridge of an instrument from which she wrenches godless squalls.
Savages have the potential to become the guitar band that we have lacked for so long: the guitar band that make kids pick up guitars. If they can continue to scale up their performances from the basements in which they are most comfortable to the main stages on which they now find themselves, that potential might be quickly fulfilled. JH
Sunless '97
You'd expect more people to be gathered in the modest-sized Red Bull Music Academy tent, by far the smallest stage of the festival, while Sunless '97 get underway. Even for those not yet acquainted with the band's music, the Larrikin Love link (Ed now forms one-third of this new group) should win many over from the grass nearby. But perhaps it's for the best that many decided to stay put and lounge from afar, the band can take a very marginal consolation in this being damage limitation. While on record their blend of very on-trend blissed-out sonic haze and bursts of free-jazz saxophone solos flow effortlessly, half way through this performance it seems like an effort in vain for the band just to claw anything back from this outing. Their timing is off, the saxophone screeches whenever it interjects and there's an air of panic and disconnectedness surrounding the band, who apologise early on for it "sounding a bit weird". It's the kind of set that you have to convince the friend you've dragged along that the band nonetheless do have heaps of promise. It's true, definitely, just not on this showing alone. LMB
Outfit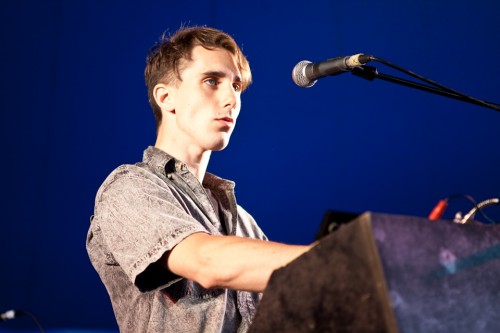 Photograph by Jason Williamson
Outfit are one of the capital's most exciting bands, and this weekend they turned in one of the festival's most exciting performances. Unlike virtually every other act on the bill the five-piece enjoyed near-perfect sound, the electronic swells and crystalline percussion providing delicate adornments to their greyscale pop. Tracks from their debut EP Another Night's Dreams Reach Earth Again were rendered panoramic, their dourness tempered by the band's charm. As they swung dexterously from calypso guitars to the fringes of dance music, it was clear that Outfit are a band with unusually broad horizons – and with the potential to produce one of next year's finest albums. JH
Liars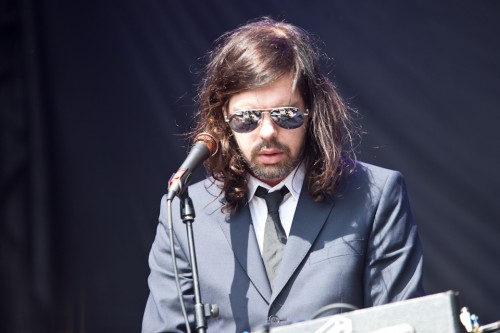 Photograph by Jason Williamson
As the sun came out, and as half the crowd came up, Liars came on to temper the good mood with kick drum and screams. The trio operate on the very fringes of rock, maintaining a familiar form (guitar, drums, basic electronics) but adopting a stance that sees them gaze firmly in the direction of European art music. Their great talent is for economy; for projecting a torrid rage or a black depression with little startlingly few musical elements. As a friend said to me halfway through the set, "They're amazing, but they don't play any notes." Live, Liars seem almost to bypass the formalities of melody or structure, instead transmitting pure, joyful, danceable anger. Startlingly good. JH
Summer Camp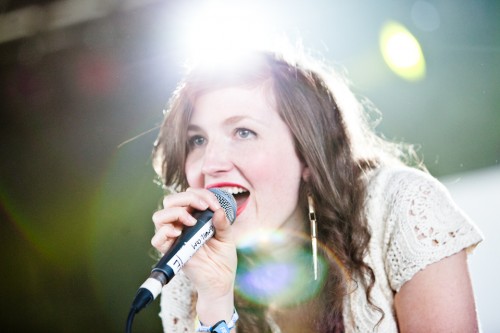 Photograph by Jason Williamson
The addition of ex-I Was A Cub Scout and sometime-Brontide member William Bowerman on drums really have taken Summer Camp's live shows to a whole new level. And despite her ill health, Elizabeth seems in a party mood too; donning a full-length white number that could very well have been her wedding dress and engaging in some Lemsip-themed banter with the crowd. At one point she even starts to play with Jeremy's glasses as he tries to sing through. Maybe a slight exaggeration but it feels like the Best Fit editorial team has caught Summer Camp live about a billion times, but these little impromptu tid-bits are the things that always keep it as fresh as the first. But what a treat for anybody who just stumbled in on this one, a definite "new favourite band" kind of performance by the group. LMB
Kindness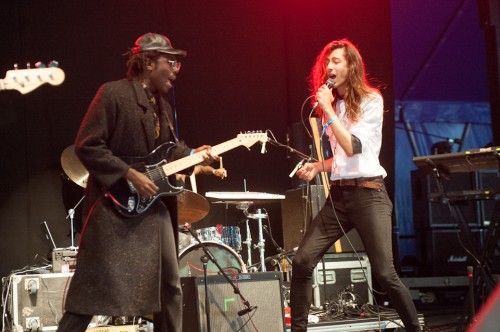 Photograph by Sebastien Dehesdin
When Kindness' Adam Bainbridge emerges at the Laneway stage; several women dwarfed by their accompanying boyfriends ask to be lifted so they can catch a glimpse of his flowing, chest-length locks. Many a cynic could well be put off by this, even the recent album campaign has been centred around what an effortlessly cool guy Bainbridge seems, with his face plastered across half of East London with no mention of album details or release dates attached. But this view would do the album, and his Field Day appearance an injustice. Bainbridge puts on a mighty good show, a frontman positioning himself in a gap in today's modern musical climate that Jarvis Cocker once occupied. There are operatic backing singers and even Dev Hynes makes a brief appearance on guitar (nearly stealing the show with his rather impressive guitar-shredding). But while the album, despite the obvious reference points, remains largely unique and idiosyncratic, during the more low-key funk and soul ballad-like numbers, it all gets a bit too aping towards the end. Not that anyone else seems to notice, there seems to even be a few Kopparbergs raised at one point, as if what they're hearing is 'This Is A Low' for them right now. LMB