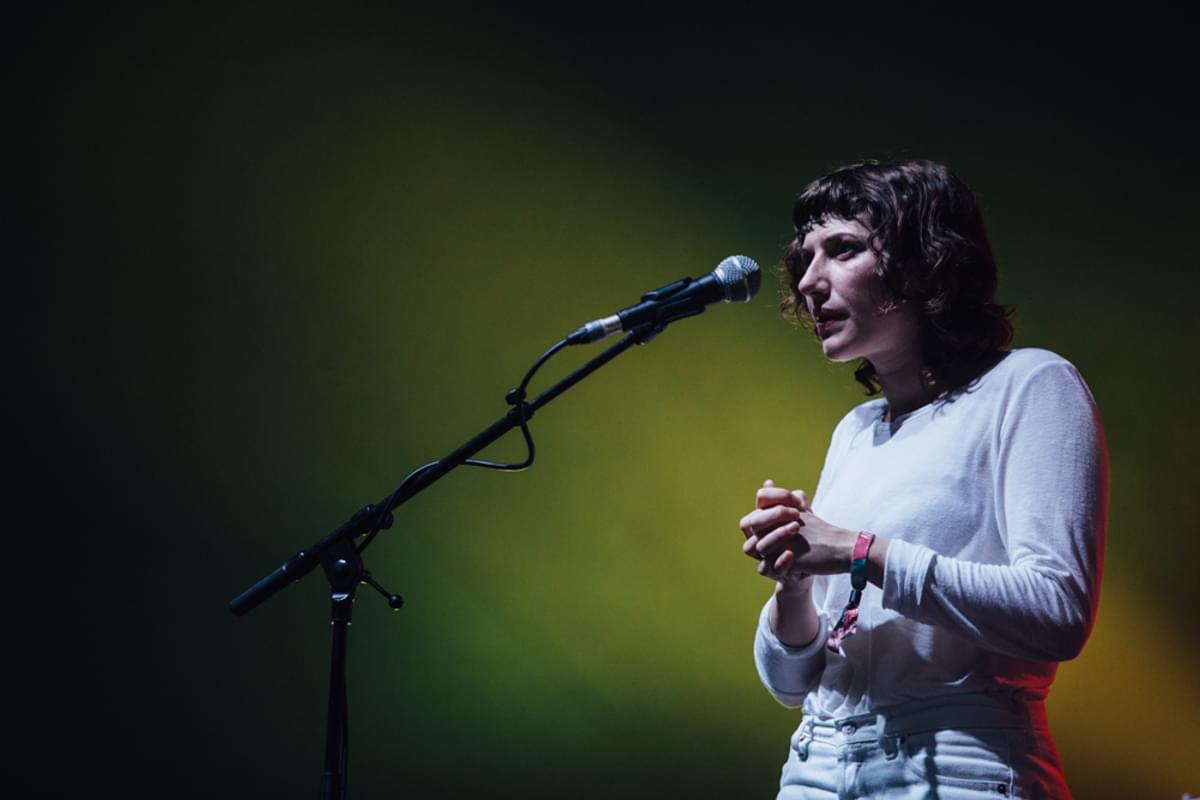 Desperation & Love: Aldous Harding, Live in London
There is an overwhelming moment of drama as Aldous Harding takes the stage of Islington Assembly Hall. She is half smiling in the spotlight as the crowd falls utterly silent for the first pluck of the guitar and Harding's haunting vocal. As we are slowly drawn into Harding's gothic-tinged acoustic world, I am reminded of the tones of Chelsea Wolfe and Joanna Newsom. What sets Harding apart is how she frames her incredibly distinctive voice; it is focused and disarming but ultimately unsettling in the best of ways. As the song draws to a close the room is mesmerised and in Harding's palm, ready for the night to unfold.
Harding's recent signing with 4AD is certainly fitting for this kind of performance, it's theatrical and weirdly hypnotic; apt for what we might expect from a roster that includes the likes of Scott Walker and Future Islands. Her sound meanders through a dark folk soundscape tonight, with the occasionally dusting of pop melodies which are subtly present on "Horizon", my favourite track of the evening. I can see those around me mouthing the words ever so slightly, sensitive of Harding's delivery in this remarkably quiet room. The backing harmonies and airy drone carry us through as Harding explains with hand gestures left and right "Here is your princess / And here is your horizon". I feel myself staring into the empty space she holds in her hands, under her spell.

It is worth mentioning that there is little "break of character" from Harding's narrative other than the occasional expression of gratitude for those in attendance. I get the sense that her delivery is so intrinsic and natural for her in the context of a performance, even if it feels so uncanny to those present. This is particularly evident within the stirring hook of "What If Birds Aren't Singing They're Screaming". In her own words to The Guardian "There's no other way that I want to sing that song"; it is firmly apparent that each of these different voices serves an expressive purpose, all of which are variously captivating.

Centrally placed "Blend" serves as a perfect example of what her latest effort Party (2017) offers. The opening line "Hey, man / I really need you back again /" receives an appropriate cheer from the audience and expands into an exhilarating build of lo-fi drum beats and ringing feedback. I should note how well placed the electronic elements of the songs actually are. They are perfect additions to this ostensibly acoustic folk set, guiding us though Harding's dark and twisting narrative of "the desperation to be loved".

The realisation of Party itself is very much what I expected and more. Harding walks us through stories of death, doom and what comes across as a need for patience. I detect no hint of irony or sarcasm, only a quiet confidence and the strong intention behind what Harding is trying to do and who she is as an artist. The chorus is long and delicate and the instrumental backing is carefully considered not to overshadow Harding's entrancing vocal refrain "If there is a party, will you wait for me?". The titular track establishes itself as a natural highlight along with crowd favourite "Imagining My Man", a song that offers lighter folk-pop hooks amongst Harding's deep melancholy, which she acknowledges with a knowing smile as people join in the "HEY!" refrain.

After a sustained final applause her spell is finally broken. Harding has executed her latest material brilliantly, expressing the emotions and desires behind her songwriting with the kind of focus and power I have seen in only the most accomplished musicians. Harding is an artist carving her own future without apology; I cannot wait to see what she comes up with next.
Get the Best Fit take on the week in music direct to your inbox every Friday