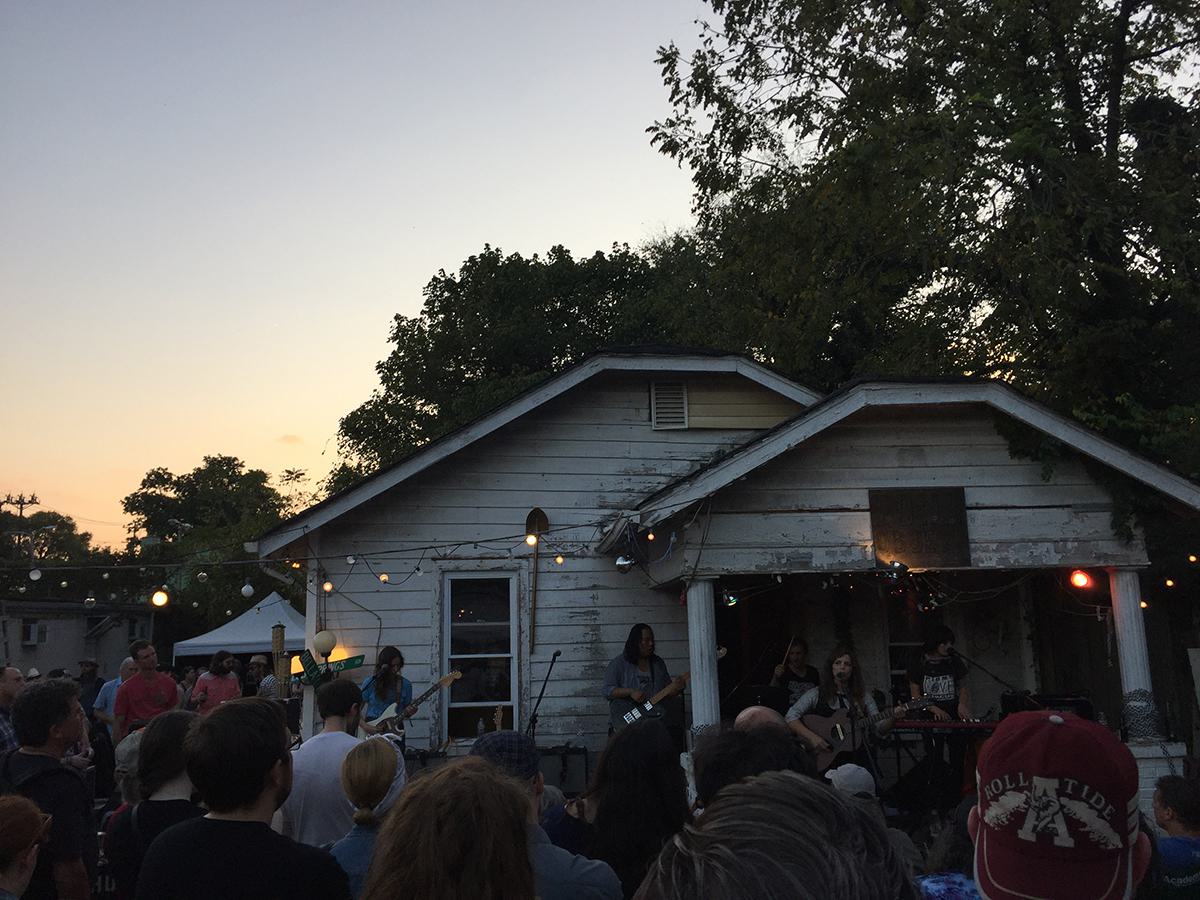 Welcome to Nashville, where the only thing keeping you cool is the frisson
In the blazing mid-day sun, Tennessee casts a long shadow. The weight of the musical legends that have called this Southern state home looms heavy on a new generation.
In Memphis, Sun Records gave us Elvis Presley, Roy Orbison, Jerry Lee Lewis, Carl Perkins and Johnny Cash. Bristol (often referred to as "The Birthplace of Country Music") played host to The Bristol Sessions, giving commercial debuts to The Carter Family and Jimmie Rodgers. And well, Nashville, this hallowed "Music City" that I'm to call home for a week has much longer been home to The Ryman, The Grand Ole Opry and the Country Music Hall of Fame.
History's presence is felt not just over the expanding highways and byways of this Country Music mecca, but over the world at large … just one reason why so many British bands are turning their hands to what we can loosely call "Americana" and why so many of them make the pilgrimage here, not just for AmericanaFEST, but all year round.
Taking place from 12 -17 September, AmericanaFEST sees hundreds of bands from all over the world play multiple showcases in over 60 venues stretching from the legendary Bluebird Café in the South to Fond Object Records in the East.
Looking at the sprawling schedule, it's easy to see why it's built a reputation over 18 years as the roots alternative to South by South West. And with more and more people looking to avoid the sponsored horror show that has become Austin in March, it's no wonder why SXSW party staples like the Bootleg BBQ decided to hop states and set up shop in Country Music's backyard … or, more accurately The Groove's backyard.
But, before we get to The Bootleg BBQ (organised by The British Underground, both the US and UK arm of the Americana Music Association and yours truly, and supported by Arts Council England, The International Showcase Fund and Lagunitas), we spend the week soaking up the best AmericanaFEST has to offer and nowhere offers a better spot to start than, well, The 5 Spot. Everyone is going to be there, we are reliably informed. When we see the flyer for $2 Tuesdays, we understand why: Los Colognes performs Neil Young's Tonight's The Night with special guests Caitlin Rose, Bobby Bare Jr, Margo Price, Lilly Hiatt and more.
As the room fills out and our space at the bar becomes hot property, the atmosphere turns from gently buzzing to positively electrified, and that's before rumours of Lukas Nelson's appearance turn into reality. It feels like more than a show, it feels like a real moment. It will be the first of many this week. It's also the perfect introduction to what it means to be a musician or a music fan in Nashville.
And what is that? Well, from what we can tell, it means collaboration devoid of ego. No one is above being second fiddle, quite literally at times. Throughout the week and weekend, we see this happening again and again.
On Friday night, Best Fit favourite and Americana Music Award Breakthrough Act of the year nominee Aaron Lee Tasjan gave possibly the best god damn performance of the week (and yes we were at the Ryman on Wednesday for AMA Music Awards ceremony featuring John Prine, Graham Nash, Van Morrison, Sam Outlaw, Brent Cobb, Jason Isbell, The Lumineers, Iris Dermont and Amanda Shires) headlining, and blowing the roof off, Basement East.
An icon in the making, a man screaming "the future is female" and the author of one of the best god damn Rock 'n' Roll breakdowns we ever did see; this is Aaron Lee's moment. On Sunday at the Sundown Social, he's standing unassumingly in the sweltering heat at the side of the stage doing "percussion and other weird noises" for Brian Wright and looks just as god damn happy about it!
It's not just the newcomers too, it's the more established performers. Hiss Golden Messenger headline Thursday's Third Man Record's Blue Room line-up, another moment more than a show, and bring William Tyler onstage with them for the finale "Brother, I Know The Road".
Taking a side step from the collaboration point for a moment, we need to talk about how incredible Lillie Mae is. Forming part of the talent-studded night at Jack White's hideout, she unassumingly owns the stage with melodies that have a way of drawing you in, sinking into your skin and then, before you notice, you're hooked.
Adding to the Blue Room "moment" feeling is Lilly Hiatt, who explores the rockier side of Americana with tracks from her latest album Trinity Lane. With a tremendous amount of swagger, she wields her guitar like a weapon while that distinctly southern accent of hers delivers vocal melodies that are in turns deep, bluesy, fearless and sweet.
From Third Man we hop to the High Watt to see much whispered about artist The Kernal. Another one of those gigs. You know … the ones where in years' time everyone will claim to have been there even though there was only like 20 people in the room, one of those shows that reminds you that the hunt for new music can be oh so sweet. But damn the numbers, The Kernal was absolutely hands down one of the best things we saw.
It's not just the collaboration we witness though, it's the support and genuine sense of community, of a musical family, that is so strong. Every artist seems only too happy to drop everything to be at someone else's show. We see Erin Rae and Courtney Marie Andrews a number of times over the week, and they are present at each other's shows throughout, and it's about more than the fact they're just on many of the same bills.
Erin Rae, responsible for the stunning "Wild Blue Wind", is every bit good on stage as she is on record - that otherworldly laurel canyon country voice enrapturing everyone who bears witness. We soon also recognise the drummer (Dom Billett) and guitarist (Jerry Bernhardt) from Erin's band as two members of The Kernal's band from Thursday, (Erin, Dom and Jerry have all also worked closely with Andrew Coombs).
Courtney Marie Andrews is mesmerising and that voice, so crisp and poised on record, is really let loose – giving old songs a new lease of life and giving new songs - we are treated to two on Saturday at the BBQ - an unrivalled vitality.
Speaking of which, they both appear at Saturday's Bootleg BBQ, where acts from all over the world contribute to a formidable day of music at The Groove - proving Americana doesn't have to be American. In between performances from Aaron Lee Tasjan, Lindi Ortega, Angaleena Presley, Erin Rae and Courtney Marie Andrews we have Danni Nicholls, The Honey Ants, Ben Smith and Jimmy Brewer, Wildwood Kin and Yola Carter representing England whilst Joana Serrat flies the Spanish flag.
It's 31 degrees out, and wind is as scarce as shade. Luckily the record shop itself, a real treasure trove, is air-conditioned It's here Aaron Lee Tasjan plays "Memphis Rain" with nothing but himself and a guitar, but if you close your eyes the clattering of the fan underneath his vocals almost sounds like the pattering of rain – such is the power of his storytelling.
It's here The Honey Ants vocal harmonies give the AC a run for its money, John Grímsey's Harry Nilsson-esque croon mixing so perfectly with Rebecca Hamer's sweeter touch as to induce goose bumps and foot stomping from the audience where percussion would be.
Outside Danni Nicholls' deeply personal songs – as collected on UK Americana Association's nominated album Mockingbird Lane - come into a life of their own, her soft melodies carried on the warm haze of the midday sun while Wildwood Kin - a family affair featuring two sisters and their cousin - pick up the pace with their Haim-esque percussion heavy Americana.
Back indoors, Ben Smith and Jimmy Brewer two-part harmonies, romantic lyrics and warm guitar interplay are laid bare while Joana Serrat adds a little bit of edge to proceedings with her distinct husky voice and more expansive sound.
The jewel in the British Americana crown has to be Yola Carter though. Damn what a pair of lungs, and what a range. Songs like "It Ain't Easier" are amongst the best we hear this weekend. She is a true, old-school soul talent and watching her on this intimate backyard stage feels like a privilege, given the other stages she's taken to over the course of the festival … including the cosy but enviable spot she took at the legendary Roberts for the post-AMA Awards gathering. What more can I say? My hope for frisson chills to keep the heat stroke at bay is made a reality.
Much is made this week of what is or isn't Americana – is it folk, is it soul, is it country, is it roots music, does it have to be American? The truth is it's none of those things, all of those things and more. And yes, homegrown American highlights from the week are almost too many to mention (though we'll hat tip Michaela Anne, The Texas Gentleman, Sarah Shook & The Disarmers, Steelism, Zephaniah O'Hora, Vikesh Kapoor, Caroline Spence, Liz Cooper & The Stampede, The Wild Reeds and Band of Heathens) but the point is - to paraphrase our Bootleg BBQ host Baylen Leonard - Americana is more than just a sound, it's an attitude.