-
Photograph by Craig Richmond. From Monday. Courtesy of The Village Underground.
Amanda 'Fucking' Palmer holds court in the middle of the venue, singing while methodically slicing what looks likely to be beetroot on a chopping board. Behind her, the newly assembled Grand Theft Orchestra pick variously at a banjo and a violin bass, and bash upturned pots as percussion. The bagpipe has come and gone; a string quartet adds layers of atmosphere, but let's face it we've got plenty of that already. It feels simultaneously thrown together and meticulously planned, because That's The Kind Of Thing She Does.
This is Monday, the "pop-up art happening" section of what turns out to be a three-day residency at the repurposed warehouse space that is Village Underground. Sure enough, the walls are covered in paintings of and inspired by Palmer, the singer who's currently being hoisted high as jubilant proof that crowd-funding can really work. And how: having raised an unprecedented $1.2m through the Kickstarter website in May to finance this tour, an album release and heaven knows what else, the pressure's on to justify the outlay.
But the (OK, only briefly) vegetable-based performance is just a preamble. Monday's event is mainly for the 88 Kickstarter supporters who paid $300 for a premium AFP package, and accordingly has an informal house party feel: no stage, lots of cover versions, a fair few giggling cock-ups and a wealth of goodwill. The following night, AFPGTO stage a free "ninja gig" in the same venue – because TTKOTSD – and Wednesday sees the art removed and the venue turned into something resembling a standard concert hall for ordinary paying punters.
Amanda Palmer's performances have always placed theatre right up there with the music: at a 2009 AFP show we witnessed a wake, and Monday's art launch marks the only time I've been compelled to write "A Streetcar Named Desire" in my notebook during a gig. But for all the fuss and kerfuffle in the run-up to Wednesday's headline slot, the new set-up is surprisingly conventional.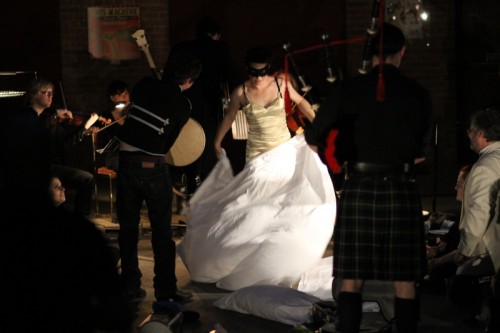 Photograph by Craig Richmond. From Monday. Courtesy of The Village Underground.
In contrast to previous tours, which were generally trumpeted with words like "vaudeville" and "spectacular", this is billed simply as "ROCK SHOW", leaving little room for misunderstanding. And sure enough, the Grand Theft Orchestra rock the fuckery out of the Village Underground – albeit with the inevitable addition of much instrument-swapping japery (reaching something of a frenzy during 'The Killing Type'), dramatic mid-song pauses, numerous special guests and a keytar that plays Wham!'s 'Last Christmas' whether Palmer wants it to or not. But, y'know, TTKOTSD, and audience members shouting out for the latter tune are briefly obliged.
"I've never played this much new music for such a giant crowd," Palmer admits, and indeed the set is comprised almost entirely of material from Palmer's forthcoming Theatre Is Evil album, but peppered with a couple of Dresden Dolls favourites. It takes all of two minutes for the bra to be out, as is now customary, but far from being provocative or even titillating, this seems more an attempt by Palmer to normalise the body and all its natural imperfections (see also the ReBellyon, an explosion of fan ire when Palmer's former record label told her she looked fat).
Throughout the show we're treated to more examples of why Palmer's work should be seen as cabaret/performance art rather than just plain old music. The Weimar flourishes of old may have been supplanted somewhat by a more overtly synth-rock edge on new tracks like 'Lost', which shares strands of Gary Numan's DNA; but the battened-down drama of 'Trout Heart Replica' is as unforced and soul-baring as you could reasonably ask an artist to be, and even if Sally Bowles might not approve, I suspect Christopher Isherwood (no apologies).
Long-time live favourite 'Bed Song' gets sparely reworked by the London-based string section GTO which bassist Jherek Bischoff has pulled together for these shows, and reveals in Palmer a level of candour that maybe even John Grant might find a bit over-sharey: naïve but knowing, coy but calculated. Guests come and go: Adrian from The Tiger Lilies takes part in a (musical) saw duel with Michael from GTO, described by cult graphic novelist (and Palmer's husband) Neil Gaiman as "like eels flirting". Gaiman receives the night's biggest cheers for taking to the stage to sing Leon Payne murder ballad 'Psycho', inexpertly but with elan.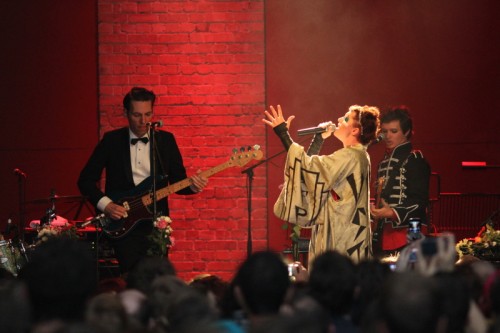 Photograph by Craig Richmond. From the Rock show, Wednesday. Courtesy of The Village Underground.
And that's perhaps the lesson here. The relationship Palmer has with her music, her collaborators and her fans is almost indistinguishable and has little to do with ability – although she has definitely surrounded herself with gifted multi-instrumentalists, and judging by the artwork on display there's talent to spare in her fanbase too. She seems near-obsessed with holding the reins, even if only to have the power to loosen them, so her cover of The Motels' Total Control' fits the bill almost too perfectly. There's a permanent nod and a wink on display that makes it impossible to take the whole enterprise in earnest, which is surely not the idea.
After dispensing with DD screamalong 'Girl Anachronism' in a flash, a horn section appears for 'Massachussets Avenue'. Assembled the day of the gig, she met most of them at the soundcheck – because TTKOTSD. "All the songs on the record are sad songs disguised as happy songs. We created a new genre called 'crancing' – crying while dancing," she says, although Robyn and numerous disco queens might beg to differ. Palmer's lyrics, usually such a vital part of the package, are largely drowned out by the horns and band, and the resulting graceless yelling is closer to Toyah than (say) Kat Bjelland.
A grin-inducing, truly riotous encore gallop through bouncy batshit bonkers anthem 'Leeds United' –featuring absolutely everyone who's performed tonight plus a dozen dancing, hat-throwing audience members – gives the horns an opportunity to really let rip. It's perhaps disappointing that Palmer didn't explore this energising Dixieland-via-Disneyland direction more in her new material, instead retreating to relatively safe rock territory. She doesn't seem 100% sure what to do with the artist she's become, the result being a musically muddled set with bluster frequently replacing nuance. But it's a hell of a show: matchless in intention and persuasive in execution.
Three years ago I wanted Amanda Palmer to quit preaching to the converted and start really putting herself out there, but now it seems her impressive reach is starting to render such protestations redundant. She's proving crossover success isn't necessarily the only way to maintain an artistically fulfilling career, and while Lady Gaga's appropriated a fair whack of her schtick, it's Palmer who's breaking the real new ground.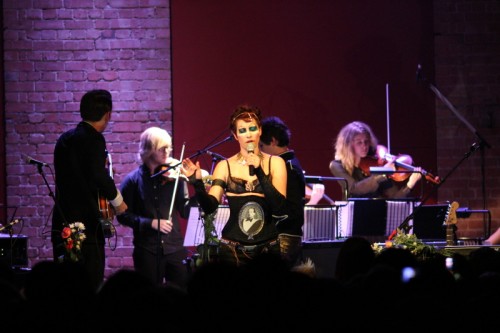 Photograph by Craig Richmond. From the Rock show, Wednesday. Courtesy of The Village Underground.