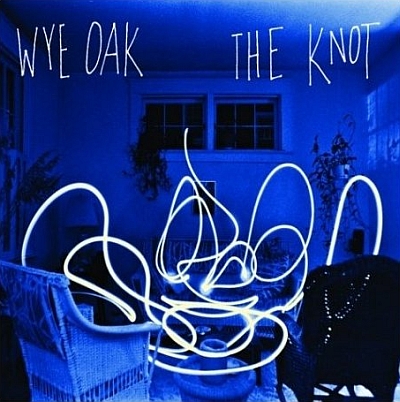 Apart from the fact they're the only band I know named after a tree, there's nothing particularly unique about Baltimore's
Wye Oak
. Their debut was picked up by Merge and re-released last year; Jenn Wasner and Andy Stack are in their early twenties, and for young musicians it was a promising start. Still, while a number of evocative terms could have been used to describe If Children - including slowcore/sadcore, shoegaze and my favourite, "droning Americana" (which sounds rather like what people would have to listen to in hell) - it was really just decent indie music. Brittle melodies were combined with bursts of pleasant noise and distortion, shot through with a familiar country rock vibe. It didn't all work but much of it did, especially when you turned the volume up.Their second album
The Knot
is dense and thoughtful, and deals with relationships. Given that Wasner and Stack are in one together, this record might leave fans feeling concerned. They hardly sound like the sunshine of each other's lives. In fact, with songs such as 'Talking About Money' and lyrics like "Do you never ask/because I'll never tell?/We are both the same/unwell" I found it quite tempting to turn glassy eyed, nod sympathetically, and wait for them to change the subject to something less dreary.Having said that, there are some good things about
The Knot
. One of these is Wasner's voice which is bluesy and vulnerable, and one of the few elements of the band's sound that marks a particularly successful step forward from
If Children
. On that the vocals were shared but let loose through this whole album, her voice soars. There are also some lovely melodies and the music is pretty, though it does tend to bring to mind other things. If you play Panda's Bear 'Person Pitch' and Animal Collective's 'Feels' at the same time, you'd probably end up with 'Tattoo', and I've even read an interview where Wasner describes a standout track, 'For Prayer', as the "Neil Young feeling one".Although their first album saw
Wye Oak
rightly compared to Yo La Tengo, the group they remind me of most is Beach House (also a boy-girl band, young, from Baltimore, playing down-tempo indie rock, albeit gentler and more wistful). Now, whereas Beach House's excellent second effort,
Devotion
was cleaner, more consistent and improved on their debut, the same can't be said for
The Knot
. It's focused and effectively sustains a mood, but I can't help feeling that Wye Oak are hampered by their quiet loud quiet loud structure, serious, reflective songs and ponderous speeds. Still, they're young and there may well be better things to come. Perhaps they just need to get themselves a cat.
62%
Wye Oak on Myspace