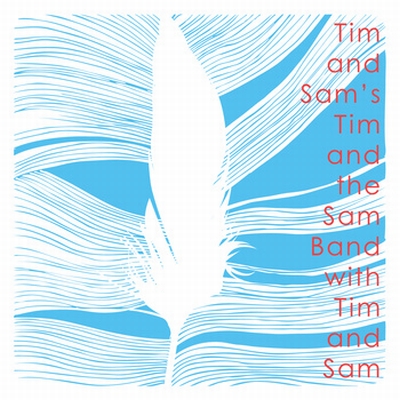 Having kept my eye on
Tim and Sam's Tim and the Sam Band with Tim and Sam
for quite some time now I received my copy of
Life Stream
with great anticipation. Although I definitely felt envious upon seeing the deluxe version, which included amongst other things a vinyl, a tea shirt and, yes, a tea bag. The genuine love and care that went into these personally hand painted box sets reflects the heart and soul that has gone into crafting Tim and Sam's beautifully layered orchestral folk.Upon hearing the opening footsteps and glockenspiel chimes of the first track, 'Sparks', you could be forgiven for expecting yet another collection of mediocre pop/indie/folk songs that operate on the premise of "ukulele's mean we're alternative right?" All the trademarks are there: the soaring violin strings, the softly strummed guitars and the achingly affected melodies but as the quivering electric guitar hits you might realise that your ears are in for a little surprise.
Life Stream
is neither mediocre nor pretentious, but rather a collection of uplifting, honest harmonies, comprised of a delicate play between a cacophony of instruments from the clarinet, banjo and flute to the tambourine and xylophone.Album highlight 'Summer Solstice' is a breathtaking concoction that gently sways back and forth between the nervous hope of the teetering piano keys and the cautious melancholy of the minor chords. The sincerity and vulnerability of Tim and Sam's instrumentals is echoed in the surprising introduction of Tim and Rebecca's vocals into the mix. Those of us who are familiar with Tim and Sam know that songs such as 'Coming Home' and 'Choices' are somewhat of a departure from the purely instrumental out pouring of past endeavours. Apparently having planned a series of guest vocal appearances the band's own raw, honest voices compliment the blissful simplicity of their musical experimentations.
Life Stream
is an album that seems to gently dip its toes into musical waters: a stunning, inspiring collection of songs that whilst not straying far from the beaten track of folk music does gently explore different directions and shows great promise for future explorations.