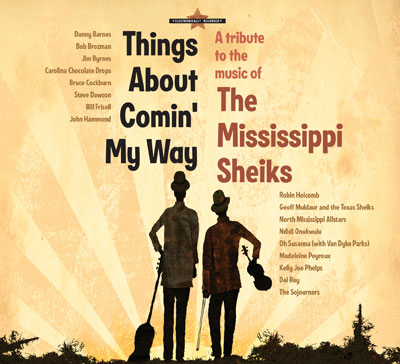 Never heard of
The Mississippi Sheiks
? Me neither. Turns out they influenced plenty of people you do know though, like Muddy Waters for instance, who would walk ten miles to hear them play. With a love for this sort of thing but no expert knowledge, this release only caught my eye when I noticed that they were the writers of the standard 'Sitting On Top Of The World' way back in 1930, and that song had come to my attention when hearing the magnificent Doc Watson and Earl Scruggs play it twice (separately) in the same afternoon at a festival a few years back. Everyone including Dylan, Frank Sinatra, and Jack White has had a go at it since. Over the following five years of the early thirties, the Sheiks (named after the Rudolph Valentino film) cut nearly 100 singles and notably found crossover success with black and white audiences with their country blues string band (guitar and fiddle) sound.Those were the days of moonshine, good religion, illicit jelly roll, and less flippantly of course, strange fruit, as the three Chatman brothers, who formed the core of the group along with Walter Vinson, were only one generation away from slave workers. Their lyrics are witty, slick, and full of observations of colourful larger than life characters and their ups and downs, whether it's when dealing with a womanising preacher in 'He Calls That Religion', prohibition smuggling in 'Bootlegger's Blues', or dishing double-entendres in 'It's Backfiring Now' - where car trouble is used as a euphemism for erectile dysfunction and/or premature ejaculation as far as I can tell. Or maybe I've just been watching too many Carry On re-runs. Good stuff all the same. To get you up to speed with a further factette, Armenter Chatmon also had a notable solo career under the name of Bo Carter.It was Black Hen Music boss Steve Dawson and his wife who had the idea for a tribute album and found support from a variety of artists who all had enjoyed the work of the Sheiks - including Bruce Cockburn,
Bill Frisell
, Madeleine Peyroux, even Van Dyke Parks, and The Carolina Chocolate Drops (who are to portray the Sheiks in a forthcoming Denzel Washington film). This album is advertised as being full of interpretations rather than reproductions, but songs are not dragged across genres for the sake of variety. Heartfelt blues (there should be no other kind of course) and country picking are still squarely in focus. Only Peyroux, as you might expect, really makes a stretch to a woozy jazzy rendition that drags slightly, but then she has never done anything for me. A house band supporting the various solo artists yields a consistent feel, and at least two thirds of this release is an absolute joy to anyone who might have savoured 70's Ry Cooder ('Things About Comin' My Way' for example has the exact tasty up-beat slide guitar feel of his cover of 'Bourgeois Blues'), Michelle Shocked's
Arkansas Traveller
, or the Blind Boys Of Alabama. Gravel throated bluesman Bob Brozman deserves a special mention for his exhilarating earthy contribution. This is music often at its most elemental and immediate, frequently with a real sense of connection filtering through from the past. You can't keep good songs down. Amen brother.
The Mississippi Sheiks Tribute Project on MySpace