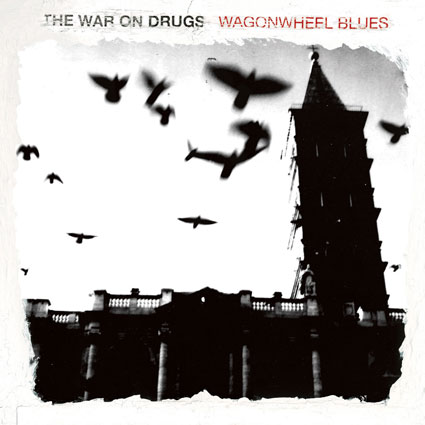 As a child, I had Wagonwheel Blues
.
As all the other kids on my lunch table chowed down on their disgusting, plasticy, not-fit-for-human consumption 'treats', I was exiled for turning my nose up at said chocolate-covered biscuit, and not joining their 'Wagonwheel Club'. Well, sod you, mean seven year-olds, cos I have my own Wagonwhell club now, with some handy advice on lifestyle choices to boot. And it's a damn fine club too.
Wagonwheel Blues
is the debut release from
The War On Drugs
, and certainly sets the bar at almost sky-scraper level for their future releases. They don't have a cute female singer, they don't sing about dancing or re-hash failed relationships, and I'm pretty sure they don't wear skinny jeans or T-shirts that are splattered in fluro-vomit. They are, however, very proficient at their instruments, write cracking songs, and are some of the very few musicians who can be compared to Bob Dylan in a good way.You've got classic rock, you've got blues, you've got garage rock, you've got folk...and you've got it all tied up neatly together in nine tracks.So yes, the Dylan comparisons
are
blindingly obvious, particularly on album opener 'Arms Like Boulders', where the lines are delivered in Bob's story-telling, unhurried, and irreverent style, complete with harmonica. 'Taking The Farm', also has that rapid shuffling sound of many Dylan's songs, albeit with slightly more distortion.These songs have a very rustic, old-school charm to them, and after a couple of plays the album feels as though you've been listening to it for years. The songs, whilst not simple per se, are easy to listen to - there's not major change of directions in songs, no bizarre segues or any anomalies. Having said that though, the songs aren't simply cobbled together- they're flawless, and whilst the band's hard work isn't displayed in a show off way, it's undoubtedly still there.'Coast Reprise' is an instrumental that's hard not to float away in. From it's gentle beginning with trembling strings and acoustic guitars, it meanders rather than builds up into a huge crescendo, giving a constant sound that simply fades away leaving a lasting impression.
Wagonwheel Blues
turns subtle sounds into epic sounds, and back to subtle again.'There Is No Urgency' is peppered with dissonant notes, has a constant background sound, a simple riff, powerful lyrics, and manages to sound huge but in no way over-powering. It's almost like the song's being played in another room, and odd parts are drifting in.The War On Drugs seemed to have slunk in the backdoor with this incredible debut. It's accomplished, mature, and yet almost under-stated. Ladies and gentleman, join the Wagonwheel club, because
The War On Drugs
has begun...
85%
mp3:>
The War On Drugs: Taking The Farm
Links
The War On Drugs [
myspace
] [
label
]