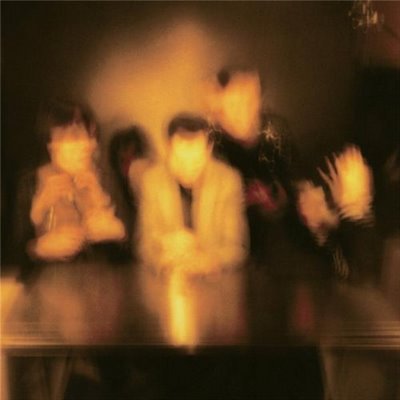 It starts with a drone. Waves and waves of undulating synths, and what sounds like synthesised church bells crawl through the mix. A pulse starts to emerge, dragging you a little bit closer to earth. Just as you start to wonder if there's been an error at the pressing plant, drums rampage through ambience, and the track kicks into overdrive with coils of guitar noise slinking out of the speakers. Everything almost begins making sense, until you remember who it is you're listening to. Welcome to
Primary
Colours. Welcome to
The Horrors
2.0.Much has been made of
The Horrors
' sudden resurrection, brought about with "Sea Within a Sea", an eight-minute single which confounded explanation by eschewing the uncontrollable garage rock of old for elements of krautrock, Duane Eddy twang, raved up synths and, of course, Faris Badwan's darkly commanding vocals. Part of the change in sound can be attributed to organist Spider Webb and bassist Tomethy Furse swapping places; gone are the band's trademark spastic stabs of psych-organ, replaced by Furse's layers of ethereal synth. Likewise, Webb's simple yet melodic bass style carries the majority of the songs in much the same way as Debbie Googe did for My Bloody Valentine.In spite of all this,
Primary Colours
really sounds like an ensemble piece, where no instrument can work without the other; in the melancholy "Scarlet Fields", for example, Webb's hypnotic four-note bass carries the track forward, leaving the droning guitar and fairground keyboards to swoop and dive across the mix. The album's clear highlight, however, is "Who Can Say", a propulsive pop song driven by Webb's bass and layers of ghostly keyboards, which carry the track's heavenly hook; after its chorus grinds to a halt, the track descends into a sixties girl group style spoken word breakdown ("And when I told her I didn't love her anymore,
she cried
"), "Be My Baby" drumbeat and all, before Furse's synths skyrocket the track back into heaven.Yes, it's derivative - MBV comparisons aside, the sludgy twisted triplets of "I Can't Control Myself" rewrite the Stooges' "I Need Somebody" as brazenly as The Smiths did with "Never Had No One Ever" - and occasionally as ridiculous as their debut (witness "New Ice Age"'s enjoyably self-parodic opening cry of "THE AGONY!"), but then, let's not forget that this is band whose first video featured a woman giving birth to a squid. The Horrors have defied all expectation and delivered a second record which doesn't deliver on the promise of their debut, if only because their debut never promised this much. Simply put,
Primary Colours
is the most satisfying surprise that 2009 is likely to deliver.
87%
The Horrors on MySpace