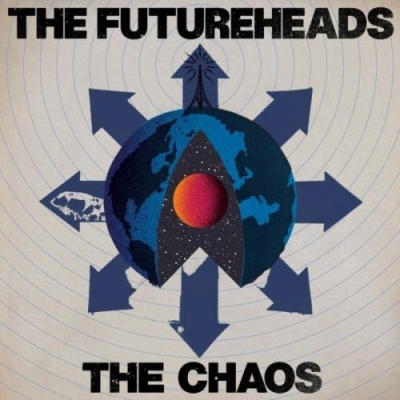 Especially now they're up to their fourth album and second self-release, it's looking ever more possible to divide
The Futureheads
' career into two more distinct halves. They emerged as a ball of Mackem accented stop-start post-punk spikiness, tripping over their own fractured riffs and smart four-part harmonies; one BBC report considered they may have been the most likely band to make a big commercial breakthrough from the NME Awards tour of 2005, where they played alongside the Killers, the Kaiser Chiefs and Bloc Party. Last album
This Is Not The World
was, by contrast, a fairly straight up and down riff-heavy punkier work. The fact that in the interim they'd been dropped by 679 Recordings after the more experimental (by their own terms)
News And Tributes
had charted all of one place lower than its predecessor might have swayed them away from broadening their approach, but it didn't make for that satisfying a listen knowing what they'd been capable of.Unfortunately, the vast majority of
The Chaos
suffers from pretty much the same central problem that held back
This Is Not The World
. As much energy as it expended, the single gear rush proved tiring over the course of an album for its lack of dynamic range of craft.
The Chaos
isn't quite as all out for punkish thrills, but there's still a marked lack of subtlety, odd for an album co-produced by Field Music's David Brewis. It feels more like a less inventive re-run of the first album where the harmonies are call to arms shouted or kept in the background rather than layered, the guitars bludgeoning rather than wiry, as if they were now ashamed of those Gang Of Four comparisons. Single 'Heartbeat Song' is a lesser run back through 'Meantime'. The mid-section in particular is so unrelenting as to be exhausting, which might work really well live but doesn't give an impression of learning to control the fury over time.Attempts are made to diffuse from the central race, but they seem almost conflicted. The opening title track rockets into life with beefy riffs, somehow less obvious than much of what follows, driving a stop-start structure decorated with countdowns and Barry Hyde declaring a wish to
"travel at the speed of light"
away from societal and environmental collapse and human apathy. These themes are returned to throughout the record. For the first half it sounds not unlike recent Mission Of Burma. Then just over two minutes into a thrilling full-throttle ride it launches into a guitar solo, the song's second. That is as grandstanding as it is ultimately unnecessary, before going back into repeats of the chorus. The escalating noise at the end is a fine blowout but about a minute and a half too late. The compressed coiled spring of 'Sun Goes Down' suggests Wire's
Pink Flag
before falling back into an almost, by now familiar, chorus again racing off into the sunset as a hint of what might have been. Closer 'Jupiter' seems to borrow from Queen in its guitar sound and attempt to infiltrate it into the circular jerkiness and close harmonies of yore with mixed results, before a secret acapella track makes a late bid to remind us of the Sunderland male voice choir element that alerted so many at their outset.
The Chaos
isn't a bad album. In fact, for three minute punk-pop nuggets of great execution, there'll be little more accomplished this year, you'd imagine. Still, it never quite escapes the thought that
The Futureheads
are capable of a lot more than just accomplished riffology.