There's something so satisfying about legitimately free music; so unassuming and honest. So when Memoryhouse announced they were releasing their debut EP The Years as a free download, I was sated by the knowledge that I no longer had to hang my head in music-thievery shame and could sleep soundly at night; I would've made anti-download crusader Lily Allen proud. There's nothing better than free music – unless that music happens to be pretty darn stunning. Enter Memoryhouse.
The Canadian duo have a way of making downtrodden nostalgia overwhelmingly appealing. Rather than making you grab your childhood blanky and have a bit of a moment in a corner; the lush – often glacial – instrumentals and tender melodies make you want to embrace all of the emotions life throws at you.
The percussion of 'Sleep Patterns' resembles Death Cab for Cutie's steady omnipresent beats, and follows in that emotional vein. Despite this, their melancholy rhythms never teeter on the wrong side of self-pity, and are thoughtful depictions of love and loss in a way that doesn't have you reaching for the razors. They unify ill-timed, deadpan vocals and a myriad of melodic layers with an integrity seldom seen in the indie world. Their mild electronica is reminiscent of The Orb, layering distorted radio style vocals over a multitude of ambient loops and heady samples.
Both 'Lately' and 'To The Lighthouse' bring to mind a plethora of influences, yet in a typical tip of the tongue phenomena I am unable to match any of the samples and sounds to their owners. I am sure in time I will come to switch my perceptions and begin to believe that the other bands have taken Memoryhouse as their influence; that's the kind of authority this EP commands.
It's hard to pull off lazy as a virtue, but the lackadaisical lyrical beauty that borders on sounding like they don't really give a toss just seems to add to their effortless charm. With a reference to Max Richter in your name… Guys, you had me at Memoryhouse.

Download The Years EP via Arcade Sound Ltd.
On 2 July 2010, Memoryhouse will be joined by Vision Of Trees, How To Dress Well and Treasures for a one-off show at Central London venue The Social which will feature live visuals from video artist Jamie Harley. For more details and to buy tickets, click here.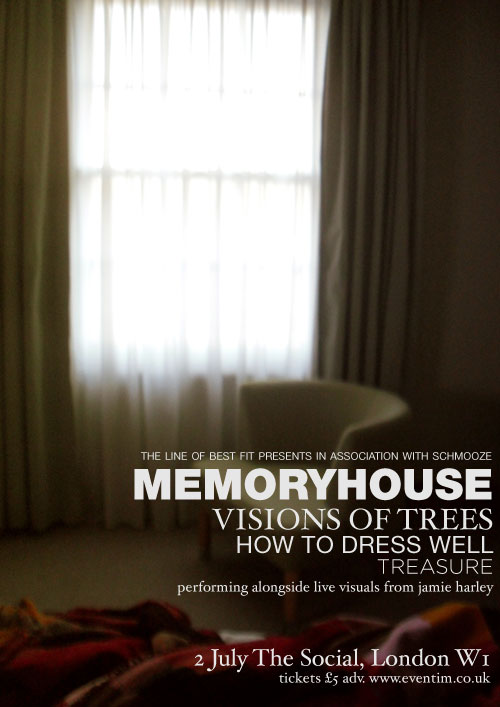 Get the Best Fit take on the week in music direct to your inbox every Friday