After all, this is the group that created a clutch of legendary albums between 1962 and 1965. Namely the out-of-this-world A Love Supreme, as well as Coltrane, Ballads, Duke Ellington & John Coltrane, Crescent and John Coltrane and Johnny Hartman. Not a bad run – and that's ignoring the quartet's explosive live albums from that period, or the numerous other superb sides Coltrane cut with other players, such as famed Detroit guitarist Kenny Burrell.
So, to now discover – just like the family of Coltrane's first wife Juanita Naima recently did – an entirely unheard recording session from the quartet in 1963 is quite a thing. Taped at Rudy Van Gelder's busy New Jersey studio, the master tapes were long ago presumed lost. But as Coltrane was a stickler for listening back to his playing and would rehearse relentlessly, it's unsurprising he kept a reference copy of this March session. It was recorded in a single day before they cut the Johnny Hartman album, with as many as six takes being laid down by the normally efficient quartet. Now, after collecting dust in Naima and John's former Queens home for more than 54 years, the 'lost' album is finally able to be enjoyed.
Sure, it's not the only music that's appeared out of the blue from Coltrane in the past years. The recent (official) bootleg series chronicling the European tour of Miles Davis in 1960 contained plenty of edgy Coltrane playing with his old mentor. And in 2014, a wild 1966 concert recorded at Temple University in Philadelphia was released after the master tapes were unearthed.
But this quartet in the studio was a different proposition than most other groups of their era. They occupied an almost magical sense of purpose when they played together, seamlessly shifting in and out of each other's path to create some truly sensational music. Their early years saw them emerge from a be-bop scene turning itself inside out in search of bigger musical and more political expressions. The later years saw the quartet disintegrate as Coltrane relentlessly pushed towards a new maelstrom of noise that eventually consumed Tyner's piano work and pretty much everything else in its path. Until Coltrane died of liver cancer in 1967, aged 40.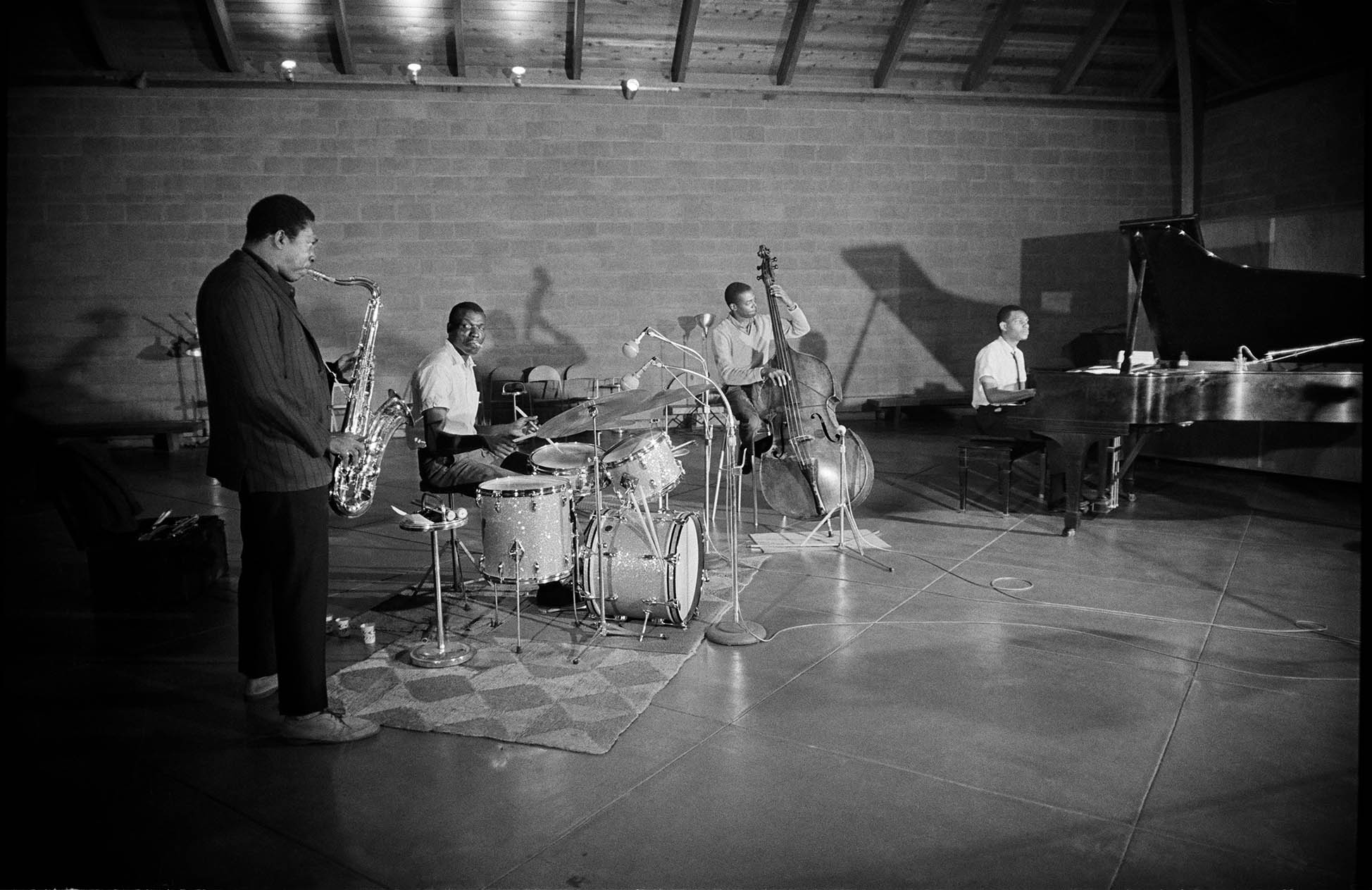 What to make of this 1963 session? It's certainly not the best place to start for beginners. Instead, it offers fascinating insights for fans who want to hear the band within the grips of (yet another) transition. The two best tracks feature Coltrane's reedy soprano playing – the "Untitled Original 11383" and "Untitled Original 11386" – both of which see him open with a modal vamp before launching off into an extended solo. While the hasty studio catalogue song titles demonstrate that music was emerging from the quartet faster than they could name it. These are the crown jewels of this set and have no precedent in the Coltrane catalogue. At almost six and nine minutes, respectively, they offer plenty of intrigue as the quartet dance around a swirling central theme, with 11383 featuring a bewitching arco bass solo from Garrison.
In contrast, another two of the lost album's seven tracks – "Nature Boy" and "Impressions" – are songs that would cement themselves in the quartet's repertoire. Tweaked here, "Impressions" sees Tyner lay out as Jones rollicks along from behind his kit. And the concise three-minute version of "Nature Boy" is a distant cousin to the meandering eight minutes it takes for the quartet to crank out the same tune in a 1965 recording session.
The album is rounded off with lengthy and searching takes on "Slow Blues" and "One Up One Down", and the masterful "Vilia" from composer Franz Lehar's operetta The Merry Widow. If you want more, there are another seven alternate takes on the deluxe edition of the CD to get your teeth into. Regardless, it's a most welcome and inevitably stunning missing chapter from one of jazz's finest quartet. Or as the great tenor saxophone player, Sonny Rollins, said recently: "This is like finding a new room in the Great Pyramid."