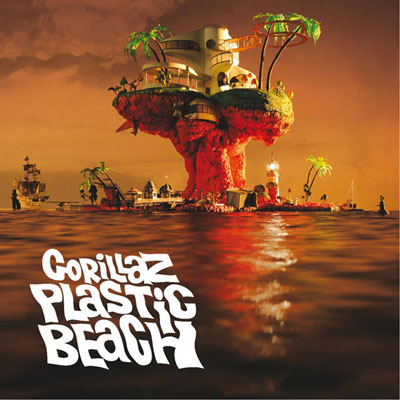 Those music fans that have frequently viewed
Gorillaz
as a novelty act and not technically a real 'band,' perhaps saw the fabricated connotations implied by the name of their new album,
Plastic Beach
, and viewed it as some sort of validation of their parochial judgment, deciding to steer clear of the animated group's latest record entirely. That type of misguided decision would ultimately be a mistake, though, as
Plastic Beach
, despite a somewhat rocky start, blends together quite nicely, presenting the listener with a rich and nuanced musical palette, as well as a lively experimentation with both sound and style. It's a loosely conceptual album, hinting at the harmful and indignant ways of man as well as the artificial nature of modern living-while also coming to us from a fictional island composed entirely out of trash. If that all seems a bit heavy-handed to you, the music itself is all rather lush and lighthearted, with some ominous undertones threaded throughout that never weighs the buoyant songs down.The 'Orchestral Intro' sets a relaxed tone to the album that is ultimately broken by the West Coast flow of Snoop Dogg, whose presence is more curious than effectual, adding some simplistic, recycled rhymes over 'Welcome To The World Of The Plastic Beach.' The beats are fresh, even if the rhymes are not, a trend which carries over to 'White Flag,' with Kano and Bashy infusing the lively song with some rather corny lines. The Lebanese National Orchestra for Oriental Arabic Music provides a lovely arrangement for both the intro and coda of the song, making me wish the track was treated as an instrumental.
Damon Albarn
finally assumes lead vocals on the gorgeously relaxed 'Rhinestone Eyes,' which eventually gives way to the 'Clint Eastwood'-like future-funk of the synth laden chorus. Gorillaz handled the production of this record in-house for the first time (with Albarn overseeing most of it himself), and while it contains elements of the scene-sampling spirit of their first two albums,
Plastic Beach
proves to be surprisingly innovative and wider-ranging in its influences, boldly sampling a vast reservoir of musical styles and continuing the album's theme of turning cast-off leftovers into something entirely new and reusable.The hypnotic first single 'Stylo' features a smooth guest spot by Mos Def over a bouncy disco beat, before Bobby Womack's soulful voice takes over the song entirely. Damon chimes in subtly with his own ethereal lyrics, but the song essentially is owned by Womack. Albarn generally does a superb job playing mad scientist with these often disparate vocal contributions, blending them in seamlessly with his futuristic beats. But the goofy 'Superfast Jellyfish' is essentially a breakfast commercial masquerading as a pop song, and even with the weighty contributions of De La Soul and Gruff Rhys it can't be taken all that seriously. The track signals a noticeable shift in tone to the album, with the songs that follow it growing more brooding and solemn in nature, as well as featuring a more pronounced vocal presence by Albarn.'Empire Ants' has Damon leisurely singing over a lilting, fractured piano line, prior to Little Dragon assuming the controls midway through, turning the rather sedate song into a luxurious Balearic house party. Under less skilled hands the transference would sound jarring, but Albarn blends the contrasting styles fluidly, creating a slow-building dance track that conveys both emotion and depth. His deft touch colors this entire album, and while the record is occasionally inconsistent, it never lacks for inventiveness. Bringing Mark E. Smith and Lou Reed on board on successive tracks is both a knowing nod to Albarn's own influences over the years, as well as an attempt to bring their estimable talents to a younger audience. Reed's contributions to 'Some Kind Of Nature' are stellar and hilariously droll, while Smith's spoken-word offerings to 'Glitter Freeze' are rather negligible, randomly peppering the electro-clash hum with his declarations but ultimately failing to add anything substantial to the track. But if either of these songs cause younger or less-informed listeners to discover these artists vast back catalogs, Albarn's mission is accomplished.'On Melancholy Hill' is one of the best songs Albarn has done in years, with echoes of Belle & Sebastian's 'Electric Renaissance' threaded throughout the synthetic melody. It's a gorgeously revealing track, with Albarn finally pulling the curtain back on the animated facade he's hid behind on Gorillaz and presenting an honest part of himself, not a character he's portraying. The lyrics hint a bit at the Beatles, both in the title and the verses, but at the heart of the song is Damon himself, and that sincerity is what makes the song so genuine and triumphant. 'Broken' continues that candor, with Albarn just turning his stark appraisal towards the fall of man. 'Sweepstakes' has Mos Def returning to the fray for the second time, delivering his acerbic, energetic lines over the choppy beats of the Hypnotic Brass Ensemble. The title track finds Albarn reuniting with his The Good, The Bad & The Queen cohort Paul Simonon, who brings his Clash compatriot Mick Jones along for the ride, and their thoroughly modern, moody contributions prove to be quite revelatory, giving us a glimpse what their former band might have sounded like had they grown more sinister along with the jaded times.Two earlier contributors return at the close of the record, albeit to less successful effect, with both Little Dragon and Bobby Womack failing to recapture the dynamic energy of their earlier songs on 'To Binge' and 'Cloud Of Unknowing,' respectively. The album closes with 'Pirate Jet,' a finger-wagging song that chastises all of us for leaving 'the taps running for a hundred years.' It ties together the loose theme of waste and survival one last time, while also implying that the Gorillaz, as we know them, are off on that same pirate jet to a place that isn't so decimated by the ills of society. Where that place is, one can only guess, and only Albarn truly knows. But on
Plastic Beach
, Gorillaz have given us a glimpse of the beauty one can fashion out of a bleak natural landscape, crafting discarded styles and sounds into something greater than we remember it, but vaguely familiar anyway.