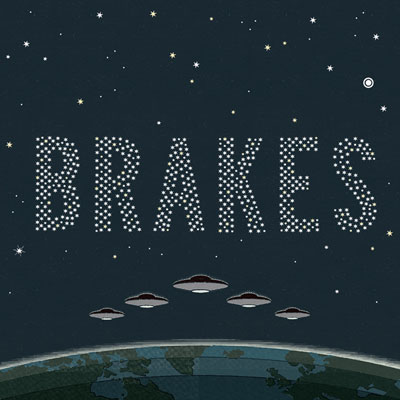 What's the point of
Brakes
?Not a conventional way to start a review, granted, especially one of a band whose previous two albums and a good number of live shows this writer has admired a great deal, but one that comes to mind a couple of times during this album. This is their first since moving from Rough Trade to the ever developing tentacles of FatCat. It's tempting, see, to wonder how they see themselves at this stage. First LP
Give Blood
was very much a gonzoid, recorded as-live sideline for four men taking time away from other bands - Eamon Hamilton still playing keyboards and banging a big bass drum in the crowd for British Sea Power, Tom and Alex White just about hanging onto the Electric Soft Parade's major label status, Marc Beatty's The Tenderfoot at the time on the periphery of joining his bandmates' bands and plenty of their Brighton peers on the fast track to indie world stardom. As such, as properly great as it was, it still came across as a gang show with its short songs and punk/country split personality. A year later Eamon had made
Brakes
his sole outlet and
The Beatific Visions
kept the momentum and gigging velocity curves heading upwards.As such there are times when
Touchdown
feels like an attempt to funnel their country-punk approach into a more approachable, if not entirely commercial, form with the long run in mind. There's no tracks shorter than one and a half minutes, for one thing. For another, some of the most directly affecting tracks come across as not so much business as usual as something we've heard Brakes do before. Single 'Hey Hey' is in the hard riffing compact swaggering charge style of 'Cease And Desist' and 'Hold Me In The River', while opener 'Two Shocks' is not dissimilar musically to a stretched out take on
Give Blood
's 'The Most Fun', albeit darker in intent and with Hamilton claiming he
"covered my body in Vaseline and learned how to slip through the gaps"
. Point made, fun had, are they wearing their sources thin already in trying to become that bit more serious?Well, yes and no - with more emphasis on the latter. On the one hand, it's the least directly effective of the three albums. Producer Paul Savage has just done a very good job of shoehorning the Phantom Band's myriad styles into a cohesive album, but it's not entirely convincing that becoming less raw (if not quite totally becalmed) suits Hamilton. This is a man who on stage always looks on the edge of aneurysm. More than previously there's parts of
Touchdown
that drift by without touching the sides, and the most noticeable attempt to broaden the palette leads to 'Oh! Forever'. You may have heard this as it was given away free under the title 'Crystal Tunings', and is a pretty straight ahead take-off of
Darklands
era Jesus And Mary Chain to no great lifting effect.However, as there'll always be complex music that burrows into your very soul, equally there'll always be a part of you that desires if not dumb thrills then certainly thrills that don't need to work on a million layers of analysis. And when they're not being monsters of alt-rock the countrified songs which at first felt smoothed out, far from the hotwired British Violent Femmes effect of earlier work, on repeated listening grow well in the retelling. This is especially true for the closing dusty Nashville road song 'Leaving England' and the hoedown 'Eternal Return', surely pop's first song about the frustration that comes with being continually reincarnated.Elsewhere 'Ancient Mysteries' was written by one Charles Douglas, who has recorded with Pixies' Joey Santiago, and accordingly sounds like early solo Frank Black as it details lives going wrong. 'Red Rag' stomps on a manaical guitar riff somewhere between their compadres 80's Matchbox B-Line Disaster and Pixies at their most crazed, and 'Don't Take Me To Space (Man)' is pretty much Kings Of Leon with grit inserted, the most straightforwardly potentially pop-anthemic thing they've done even if it is a tale of true love in the face of potential alien abduction. The answer, then: even if this is more place holder than dynamic progression for the new label, it's always more than fine to have Brakes around and
Touchdown
goes to prove that they've outgrown their side project origins to assert themselves as beloved entertainers.
72%
Brakes on Myspace