Dylan's latest bootleg series is hardly essential, but there's still much to admire
"Travellin' Thru, 1967 – 1969: The Bootleg Series, Vol. 15"
Release date: 01 November 2019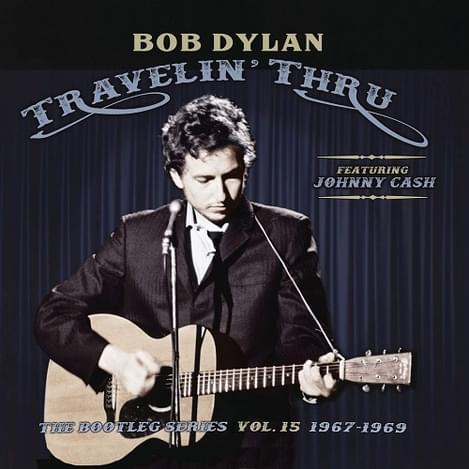 Take for instance 2017's Trouble No More, Vol. 13, which recontextualized his much-derided Christian albums and retconned his whole evangelical period, casting it as an era of spiritual cleansing and restoration of personal inspiration. How about last year's More Blood, More Tracks, which (if you had enough money) meant you could experience six hours of the various takes that went into the construction of Dylan's 1974 opus Blood on the Tracks – arguably the finest album of all time.
Listening to, understanding and coming to live with Bob Dylan's offcuts, session tapes, live takes and fuck-ups: that's the intention behind these collections. Prince aside, nobody has (had?) a deeper well, a more well-stocked vault from which to draw essential listening from scraps. But this new release, which again mines the end of the '60s (his third collection to explicitly come from this era), is the slightest collection of them all, for a few reasons.
Of the three collections drawn from this exact time period ('67 to '70, despite what it says on the tin), this is by far the lightest, most threadbare set. Where we had 4 hours of material on the Another Self Portrait set (arguably the best collection of the lot), and over 6 hours of material on the Basement Tapes Complete set, there are only just over two hours of material here, mostly drawn from rather dry recording sessions with Johnny Cash that would eventually go some way towards the construction of the surprisingly stellar Nashville Skyline album.
Dylan has long enjoyed the luxury of knowing that his worst material is still better than 99% of what other musicians release, and his reputation affords him more of a buffer than most. Ever since his triumphant return from the wilderness in 1997, he's released pretty much whatever the fuck he wants, and played whatever songs he likes in whatever key he likes for as long as he likes because he knows the fans will lap it up. And rightfully so. Thus that luxury extends to this boxset: even though the material here is sparse, and can be consumed in one afternoon sitting, it is still far superior to almost anything else you've heard this year, almost by accident.
This music was made in the period following 1965's Highway 61 Revisited and 1966's Blonde on Blonde, which are, for most people with functioning ears, commonly known as The Greatest Albums Ever Made. The genesis of those records was covered quite comprehensively on Vol. 12 of the Bootleg Series, The Cutting Edge 1965 – 1966. This set covers the follow-up albums, John Wesley Harding and Nashville Skyline, which are two of the least-loved and underappreciated sets in Dylan's whole catalogue, despite their obvious, immediate rustic charms.
Disc One is made up of alternate takes of tracks from those two albums, including a woody version of "Lay Lady Lay", a lovely version of "I Threw It All Away" (which was, ironically, already released on The Bootleg Series Vol. 10: Another Self Portrait) and splendid alternate versions of "Peggy Day" and "All Along The Watchtower".
Disc Two, which is where you get what you pay for, is made up of the sessions Dylan and Cash cut for Nashville Skyline. They alternate tunes from each other's back catalogue, and you get to enjoy them getting at "Ring of Fire", "Girl from the North Country", "I Walk the Line" and other cuts like Elvis' hit "That's Alright Mama", Carl Perkins' "Matchbox" and Sister Rosetta Tharpe's arrangement of "This Train is Bound for Glory". While it's fun to hear two legends experiment and get things wrong and attempt new ways of doing old numbers, it's also alarming how unprepared they seem to be - Dylan even forgets his own words at one point. One can only think of these sessions as a chance missed.
Disc Three is the material left at the bottom of the barrel, with a few outtakes, a 'rehearsal' and some live material from The Johnny Cash Show. Apparently some of the takes were also from the Self Portrait sessions, which further compounds the misery of fans wishing this material had been added onto that Bootleg Series set.
Overall, this material is essential listening for hardcore fans of Bob Dylan, recommended listening for fans of Johnny Cash, and somewhat life-affirming for folks who have Nashville Skyline as their favourite ever album. But for everyone else, there is the sense that this material making up its own standalone set shows either a lack of foresight or a thirst for dollars.
A cynic would argue that it seems as though this material was purposefully held back from the Another Self Portrait box set to further line the coffers of the record label, at the expense of quality control. If the material here was combined with the other box, it would have undoubtedly have been the best collection of material released in the Bootleg Series, and one of the best archival collections in recent memory.
As it is, by separating the two, Dylan (or his team) has given us one very strong collection and one meagre follow-up. We can only hope that there are no more collections left waiting in the vault from this time period, as logic tells us that the best won't be saved 'til last, and anything else that rears its head will need putting down before it does any harm.
With this box, the period from '67 to '70 is the most well-documented in Dylan's career. Whether it holds up to such scrutiny is entirely up to you.
Get the Best Fit take on the week in music direct to your inbox every Friday